Doc Brown Returns In 'Back To The Future' Short Film Coming In October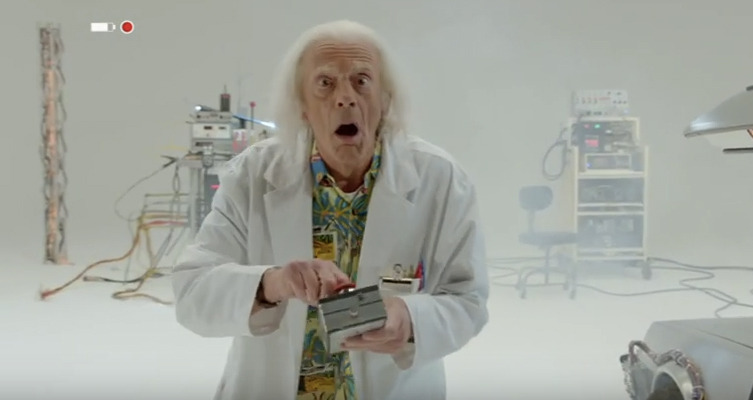 As we've previously reported, there's a 30th anniversary Blu-Ray and DVD release of the entire Back to the Future trilogy arriving on October 20th, the day before Back to the Future Day gets into full swing on October 21st, 2015, which is the exact day that Marty McFly and Doc Brown travel to the future in Back to the Future Part II. And if you weren't interested in buying the new set before, this latest tease just might convince you.
Doc Brown returns in a new short film called Doc Brown Saves the World, featuring Christopher Lloyd reprising his iconic role from the time traveling film franchise, and the only way to see this short film in October will be to get your hands on this 30th anniversary set of the movies. But thankfully, we've got a tease of the short film to watch now.
Here's the teaser for Doc Brown Saves the World:
This isn't the first time we've heard about this short, because Bob Gale mentioned it in a video detailing some of the cool Back to the Future Day celebrations that will be happening in October. From that video we learned that this short film will actually explain why the 2015 we're living in today isn't the same 2015 that he and Marty traveled to previously.
More than likely it involves Doc Brown having to change something in the past in order to avoid some sort of cataclysmic event that could tear open the space-time continuum or something like that. At the very least, the title tells us that Doc Brown had to do something in order to save the world from some kind of disaster in time.
If you want some more information on the Blu-Ray and DVD re-release of the Back to the Future trilogy, check out our previous post on the box set. There's even an awesome version that comes inside of a light-up flux capacitor, and it also comes with the Back to the Future animated series on DVD for the first time ever.
And if you're looking for any other cool ways to celebrate Back to the Future next month and beyond, don't forget to check out our definitive guide of anniversary screenings, events and memorabilia. This year is going to be quite the awesome one for fans of Back to the Future, and we can't wait to see what else is in store for the anniversary.