20th Century Fox Bringing 'The A-Team' Back To TV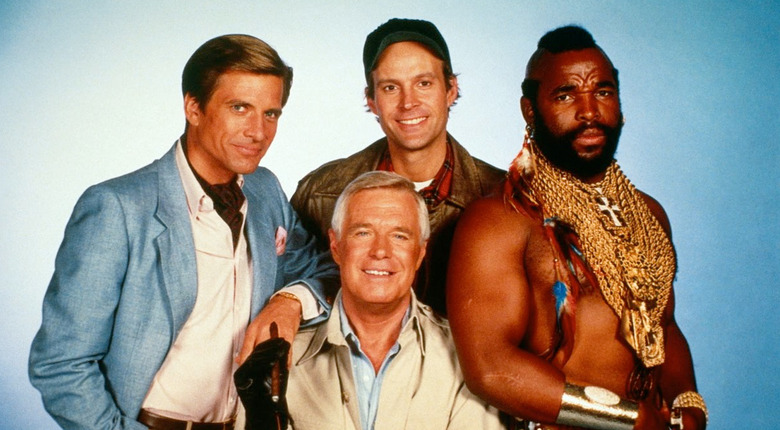 If you take a classic TV property to the big screen for a contemporary adaptation that doesn't turn into a film franchise as initially hoped, what do you do? You remake it on television, of course!
After bringing The A-Team to the big screen in 2010 with Bradley Cooper, Liam Neeson, Sharlto Copley and Quinton "Rampage" Jackson, 20th Century Fox is in early talks for The A-Team series remake on TV, which is where it all started back in the 1980s. We knew Hollywood was into saving the environment, but this level of recycling is getting a little old.
Variety has word on the early development of the new version of The A-Team with Fast and Furious franchise writer Chris Morgan executive producing the series along with Tawnia McKiernan, who is not only the daughter of the original series' creator Stephen J. Cannell, but also a television director for shows such as Criminal Minds and Warehouse 13.
The script for the TV reboot will come from Sleepy Hollow executive producer Albert Kim, and keeping with these progressive times, the titular squad won't be composed of just men this time. That's right, this time some women will be brought into the fray for this new take on the American Special Forces group.
For those who aren't aware, The A-Team followed a group of four Vietnam war veterans (played by George Peppard, Dwight Schultz, Dirk Benedict and Mr T.) who are sent to military court for a crime they didn't commit and sentenced to time in a military prison. But the four commandos escape their incarceration and decide to set up base in Los Angeles as underground soldiers of fortune. As the tagline said, "If you have a problem and there's no one else who can help, and if you think you can find them, maybe you can hire The A-Team."
Successful television remakes have been few and far between with Hawaii Five-0 being the most recent one to be a hit with audiences (it's entering season six this fall). But other shows such as Knight Rider and The Bionic Woman haven't fared so well.
Since nostalgia is pretty high for people of all generations, there's a chance that The A-Team could work as a fun new action adventure series on TV, but the success of the series likely hinges on just who they get to take on the four lead roles. And with some women in the mix this time, I'm anxious to see how the characters change from the original TV show.
Anyone out there interested in The A-Team series remake?