'Yakuza Apocalypse' Red Band Trailer: Vampires, Gangsters And Martial Arts Unleashed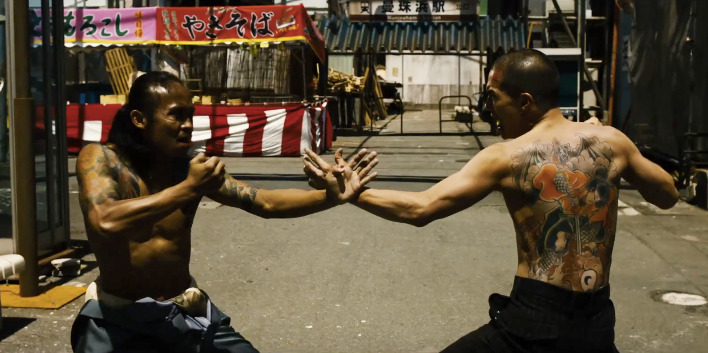 After playing Cannes this summer and the Toronto International Film Festival earlier this month, Takashi Miike's latest flick is on the way to theaters in October, and it looks positively insane.
Yakuza Apocalypse is a crime thriller with a whole lot of martial arts action, and this one also has vampires for some reason. For those who need to see what this movie is all about, a red band trailer has just surfaced showing off just how wacky this movie is going to be. Stay until the end of the Yakuza Apocalypse red band trailer to see a guy in a big frog suit kicking some ass.
Here's the red band trailer from Samuel Goldwyn:
While the movie looks thoroughly entertaining, reviews seem to be mixed on the festival circuit.
David Rooney at THR says, "Subtract stupid from yakuza and you have nothing left," says one angry gangster in Yakuza Apocalypse. The same could be said for this numbingly idiotic vampire yakuza tale, subtitled The Great War of the Underworld, a lesser entry from the indefatigable but erratic Japanese cult director Takashi Miike."
Meanwhile, Variety adds, "A supposed "return to origins," his vampire-gangster action-comedy "Yakuza Apocalypse: The Great War of the Underworld" is a lazily executed dud padded out with infantile pranks, shambolic plot turns and knockabout action. Recalling the kitschy "Sushi Typhoon" series churned out by the pic's distributor Nikkatsu, only boasting higher production values, it's instant ramen for fanboys at rowdy midnight fest sidebars, but "Sukiyaki Western Django" this isn't."
And The Film Stage says, "While on paper seeming like the Takashi Miike-est Takashi Miike film ever, it might be a surprising bummer for the Midnight Madness crowd expecting a kinetic horror-action film. Every shot lasts far longer than expected and with little to no music, creating a stream of silence followed by a burst of action rhythmic pattern."
Well that doesn't inspire much hope, but Yakuza Apocalypse looks like the kind of wild movie that you might have to see for yourself to make your own decision.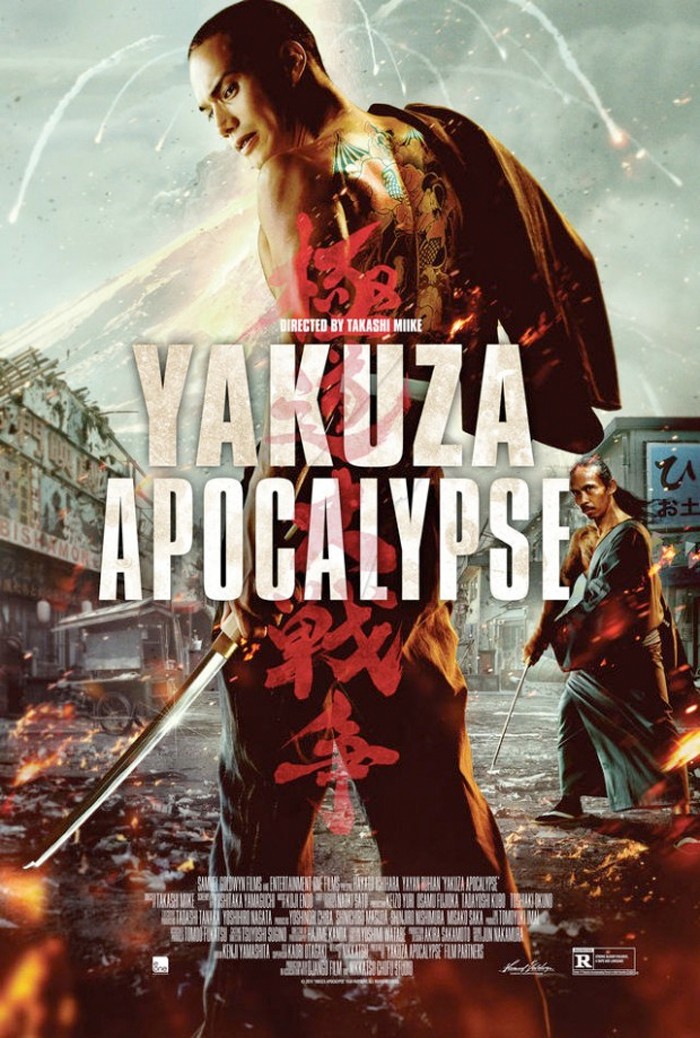 Kamiura (Lily Franky) is not your typical yakuza boss: he's a kindly man who dotes on the locals in his 'hood and extends life-saving loans to small businesses in order to keep the big corporations out. But when a Django-esque gunslinger in seventeenth-century Spanish garb comes to town, Kamiura is exposed for what he truly is: a vampire! Soon, Kamiura's young protegé Kagayama (Hayato Ichihara) is invested with his mentor's powers, and takes to the streets with a new gang made up of regular citizens who have sprouted fangs and are ready to fight for their turf.
Yakuza Apocalypse opens on October 9th.