Emma Stone And Kate Winslet Board Next Film By 'Dogtooth' Director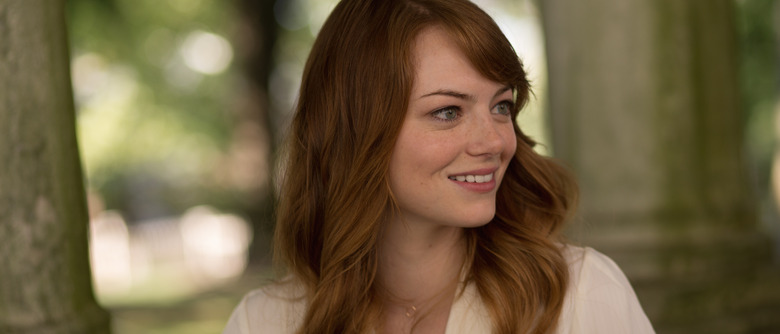 Yorgos Lanthimos is lining up a high-powered cast for The Favourite, as Kate Winslet, Emma Stone, and Olivia Colman have all entered talks to star. That's not too surprising, considering the success he's had with Dogtooth and now The Lobster. No, the weird part is how un-weird it sounds. As far as we can tell, The Favourite is a pretty straightforward historical drama.
Get details on the Emma Stone Yorgos Lanthimos movie after the jump. 
Deadline broke news of the Emma Stone Yorgos Lanthimos project. While Lanthimos has written or co-written most of his features so far, The Favourite has a script by Deborah Davis and Tony McNamara, which may explains why it sounds so normal. Set near the turn of the 18th century, it follows the political machinations behind the reign of Queen Anne, the last monarch of the House of Stuart.
Colman will play Queen Anne, while Winslet will portray the Queen's confidant Sarah, Duchess of Marlborough. Stone will play Abigail Masham, a poor and distant relative of Sarah's who lands a position tending to the queen. The film will follow the various leads as they vie for power and influence at court.
It says something about Lanthimos' oddball sensibility that The Lobster — a love story set in a dystopian community where single people are transformed into animals — seems like the expected route for him, whereas The Favourite sounds like a huge departure. It should be interesting to see how his surreal sensibility fits (or doesn't) with a more traditional narrative.
Colman, who co-stars in The Lobster, is coming off of TV shows Broadchurch and The Night Manager as well as the musical movie London Road. Winslet appeared in The Divergent Series: Insurgent this spring, and will be seen this fall in Steve Jobs. Stone is currently shooting Damien Chazelle's La La Land, which reunites her with her Crazy, Stupid, Love. co-star Ryan Gosling.
Shooting on The Favourite will begin next spring.