'Terminator: Genisys' Still Making Big Bank Overseas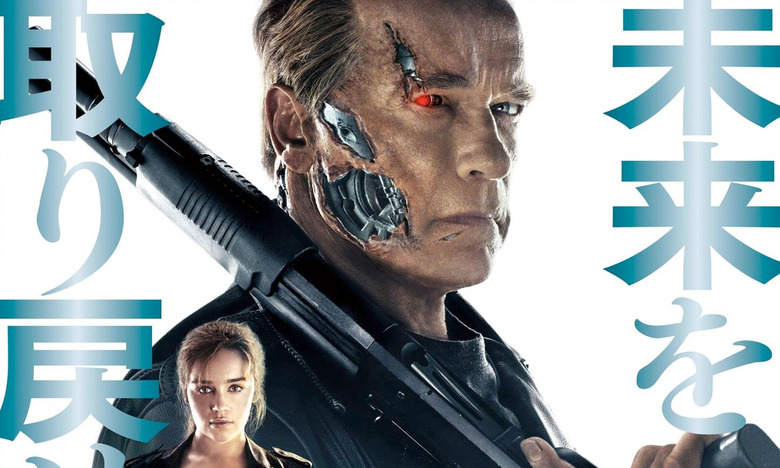 Before Terminator: Genisys hit theaters this past summer, Paramount Pictures was hopeful that the sequel, which also functions as a franchise reboot, would be a big hit for them. The studio even scheduled two sequels to arrive in 2017 and 2019. However, when the film only rounded up a disappointing $89 million, the future of the franchise remained uncertain.
But nearly a couple of months after being released in the United States, the film hit the big screen in China where it landed $27 million in a single day, making it the 4th best opening day ever for a Hollywood movie in China, just behind Furious 7, The Avengers: Age of Ultron and Transformers: Age of Extinction.
And since then, the Terminator Genisys box office overseas has only gotten bigger, with a total that just might be enough to get a sequel for fans who are still curious to see what happens in this new Terminator timeline.
According to Box Office Mojo (via CinemaBlend), Terminator: Genisys has pulled in over $350 million, just from international territories. That's nearly five times as much as the movie made at the domestic box office, and it's enough to have it sitting in the #10 spot for the worldwide box office right now (with just over $440 million), edging out moves like Ant-Man and Mad Max: Fury Road. Of course, that won't last long with Spectre, The Hunger Games: Mockingjay – Part 2 and Star Wars: The Force Awakens on the way.
But still, landing so high on the international box office is impressive, even if the film is only sitting at the #22 spot on the domestic box office. However, it remains to be seen whether or not this is what the studio needed to see in order to get a sequel off the ground.
While the box office totals may be high overseas, they're not exactly evidence of renewed interest in the movie. Curiosity will drive some crowds to theaters the first time, but if they're not impressed, they might not return for a sequel. The movie has a 26% on Rotten Tomatoes from critics, but the audience scores culled from nearly 75,000 ratings have it at 60%, so perhaps there's enough of an audience to make a sequel worthwhile.
It also helps that there are a lot of unanswered questions in this new Terminator timeline, mostly with regards to Matt Smith's new character, and that might be enough to get fans of the film series back in theaters.
For now, Paramount Pictures will likely wait to see how the movie performs on home video before making any decisions about whether or not to proceed with the initial plan for two more sequels. We at least know that J.K. Simmons and Arnold Schwarzenegger will be back for more, and surely Jai Courtney and Emilia Clarke will be coming with them, if a sequel does happen. Otherwise, we'll just have to play the waiting game.