Expect An 'Independence Day: Resurgence' Trailer Around Christmas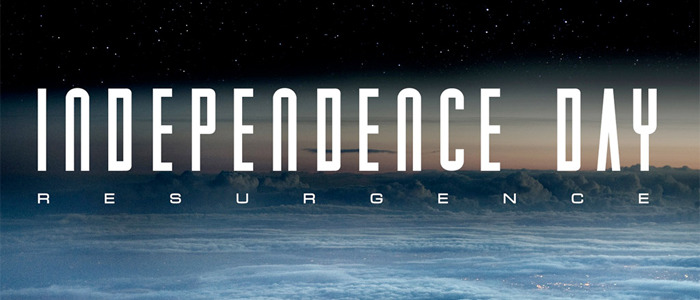 Over the summer, a live streaming press conference introduced everyone to the cast of Independence Day 2, officially titled Independence Day: Resurgence (or IDR for those who were a fan of the ID4 shorthand for the original 1996 blockbuster). In that little event, we also learned some key details about the setting for the sequel, but with regards to the plot, we're still largely in the dark.
But hopefully we'll learn a little more about IDR this winter as director Roland Emmerich recently revealed in an interview that the Independence Day 2 trailer release will be right around Christmas. But that's not all the director had to say about the sequel.
There were rumblings of an Independence Day: Resurgence teaser playing around July 4th with Terminator: Genisys this past summer, but it wasn't anything that had footage from the movie, mostly because it was still in the middle of production. But CinemaBlend got the official trailer news out of Emmerich, who responded simply:
"It will probably be happening around the Christmas season."
With regards to specifically when we'll see the trailer, 20th Century Fox has three films arriving in December, and they are Alvin and the Chipmunks: The Road Chip, Joy and The Revenant. None of those jump out as the perfect film on which to debut the first trailer for Independence Day: Resurgence, but perhaps Fox will merely get the trailer to play in front of Star Wars: The Force Awakens, which seems like a much better audience for the blockbuster sequel.
Production on the film is done, and Emmerich was actually taken away from the editing room to promote his gay rights drama Stonewall, and he was a little perturbed about having to step away from the post-production process:
"I was just in the first week of the editing room and now I have to do this [Stonewall press junket]. [Laughs] I was a little bit pissed about that. No, but, when you start editing, it's a very intense process and you don't want to be in any way distracted from it... But it's [the junket] like kind of necessary."
Speaking with Collider, Emmerich took the time to hype up the young new cast members leading the charge this time:
"You don't expect this from a movie like this, but we have a super-fresh, incredible cast. I take the casting process very, very seriously. I cast two young actors [Jessie Usher and Maika Monroe], and they were voted on by Variety as two of the 10 most promising, up and coming actors. Maika is incredible in our film and she became a friend, honest to God. I love that girl. Also Jessie Usher is incredible, and Liam [Hemsworth] is probably the nicest man on Earth. I always said it was Channing Tatum, but I think he may have a little competition there. Movies like Anonymous and Stonewall helped me to be more forward with actors, and they are actually so thankful to get feedback."
That's exactly what a director is supposed to say when talking about the cast for a forthcoming film, but if this is true, then we'll likely have a similar ensemble dynamic that made the first film flow so well. It may actually be a blessing in disguise that Will Smith didn't end up coming back for this movie, because then it would have been crafted as a starring vehicle for him instead. There will surely be some kind of reference made to his character's absence in the movie as well.
And don't forget, a whole slew of other cast members from the original movie will be back. Jeff Goldblum, Bill Pullman, Vivica A. Fox, Judd Hirsch and Brent Spiner are all returning while other new cast members include Charlotte Gainsbourg, Joey King, William Fichtner and Sela Ward, the latter playing the new president.
The sequel takes place 20 years after the original where the world has united to form a program called Earth Space Defense, complete with a base on the moon and some cool new vehicles supported by alien technology that they've adapted into our own devices. To find out everything that was revealed at the IDR press conference, check out our previous post right here.
As for what we can expect from the sequel, Emmerich said this:
"What we did this time, we tried to expand the universe, too. It's not as simple as the last one because you cannot make it as simple as the last one. Also it's a little bit about what happened to our world when you know that they are coming back. We had 20 years to come together as a planet and to build incredible things to have a little more even fight."
Independence Day: Resurgence arrives on June 24th, 2016. Stay tuned for more.