Watch Andy Samberg's 2015 Emmys Opening Musical Number, Monologue & 'Mad Men' Spoof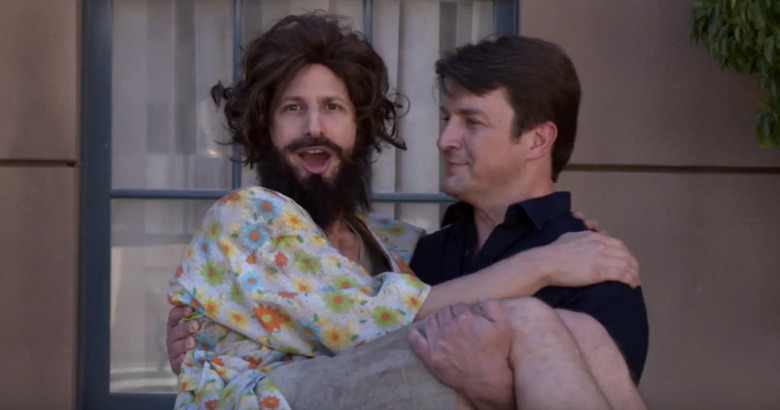 Last night brought the 67th annual Primetime Emmy Awards to Fox, and you can find the full list of big winners from television's biggest night right here. But in addition to the awards being handed out, some fun was hand thanks to host Andy Samberg.
While Samberg's jokes struggled here and there, his earnest charm and goofiness helped some of the more silly jokes land pretty well, unless of course you just don't like the Saturday Night Live veteran.
And if you missed last night's telecast completely, and you're just looking to catch some of the funnier highlights, we've got Andy Samberg's 2015 Emmys opening monologue, as well as the really fun opening musical number featuring our host joined by the likes of Kerry Washington, Nathan Fillion and Jon Hamm. Speaking of Jon Hamm, there's also an awesome Mad Men spoof that you should just watch for the shocking conclusion.
Here's the opening musical number with Andy Samberg, a bunch of nominees, including Will Forte as Javert from Les Miserables, and a We Didn't Start the Fire-style listing of a bunch of the Emmy nominated shows:
Samberg followed the opening musical sequence with a pretty solid monologue as well:
But perhaps the most shocking moment of the night came with this Mad Men finale spoof:
Seriously though, I've had the gruesome thought of what would happen if one of the winning TV stars took a tumble, fell on their Emmy and impaled themselves fatally. We need to get Amazon to wrap some of those air pocket utility belts around those Emmys just to be safe.
All in all, the 67th annual Primetime Emmy Awards were just another awards show with a lot of show business glad-handing, and aside from some fantastic speeches from Jeffrey Tambor and more (which you can watch right here), you didn't miss much. Again, be sure to check out the full winners list to find out who took home awards.