Kristen Bell Joins Husband Dax Shepard In 'CHiPs' Movie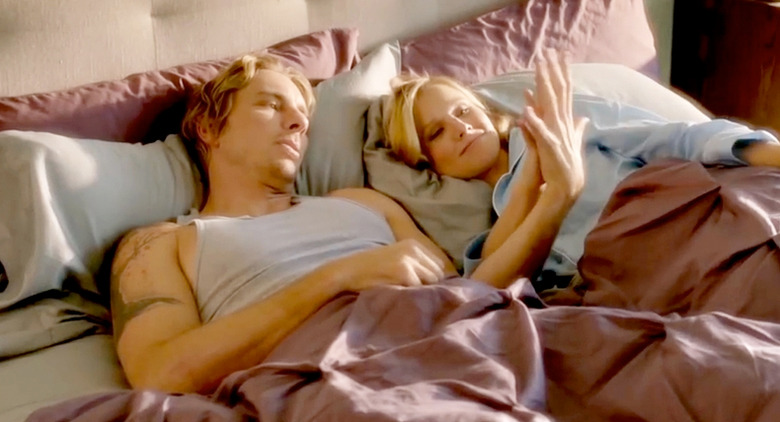 Over a year ago we learned that comedian and Punk'd prankster turned actor Dax Shepard was taking on quite the responsibility by writing, directing and starring in a big screen adaptation of the popular NBC television series CHiPs.
The series has been filling out the supporting cast in recent months, and now one more unsurprising addition has just been revealed as Kristen Bell, who is the real-life wife of Dax Shepard, will have a role in the movie.
The Wrap has news of the Frozen and Veronica Mars star Kristen Bell joining CHiPS at Warner Bros., however, at this time there's no indication of what kind of role she'll have in the action comedy adaptation that is said to be similar to Lethal Weapon and Bad Boys, making it a little more series than the lighter, original TV series that ran from 1977-1983.
Dax Shepard and Michael Pena are leading the film as two California highway patrol officers and their adventures in crime-fighting. Shepard is taking the role of Officer Jon Baker, originated by Larry Wilcox, while Pena takes over the role of Frank "Ponch" Poncherello from Erik Estrada.
And as if Shepard wasn't doing enough already, he's also producing the film by way of his own Primate Pictures banner. Here's hoping the movie fares better than his last directorial effort, the quickly forgotten and sparsely seen 2012 comedy Hit & Run, in which Shepard also starred with his wife, as well as Tom Arnold, Kristen Chenoweth and somehow Bradley Cooper.
The rest of the cast includes Adam Brody, Rosa Salazar and Vincent D'Onofrio as the film's villain, the ringleader of an exotic car theft ring who also happens to be a ruthless former cop. That's quite an odd but also intriguing array of talent bringing this one to life, so at the very least it will be interesting to see what they do with the old property.
Contemporary adaptations of older TV shows are hit or miss, with hits ranging from The Fugitive and 21 Jump Street to misses like I Spy and Wild Wild West. Fans of the old show expect one thing, while those who are clueless don't care about the nostalgia factor, so it's tough to satisfy both audiences by bringing something that feels both new and familiar.
Dax Shepard isn't the first person who comes to mind when I think of who could pull this off, but he must be a big fan of the show to take on so many facets of the production, which could be a great asset on a film like this. As usual, we'll be hoping for the best out of this one.