Ernie Hudson Lands A Cameo In The 'Ghostbusters' Reboot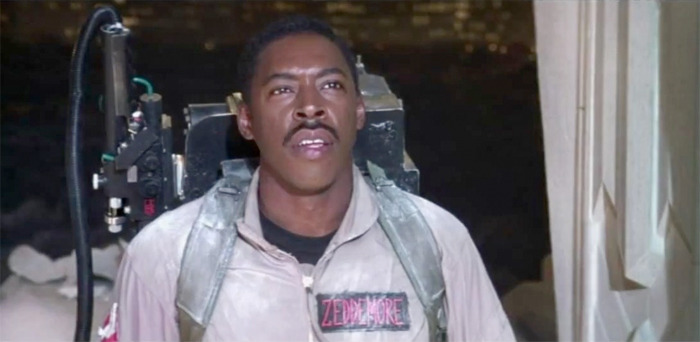 Today marks the last day of shooting for the Ghostbusters reboot from Bridesmaids, The Heat and Spy director Paul Feig. And on wrap day, we've just learned of one more cameo featuring one of the stars of the original Ghostbusters from 1984.
Ernie Hudson, who played the newly recruited Winston Zeddemore in both Ghostbusters and Ghostbusters II in 1989, was on set shooting a cameo on the last day of shooting for the reboot today. But who will he play?
Sadly, no details on the Ernie Hudson Ghostbusters cameo were revealed at this time. And while THR says, "It is unknown if he is reprising his Winston Zeddemore character or not," the film isn't supposed to have any narrative ties to the original franchise, so that's likely not going to happen, especially since none of the other original Ghostbusters stars are playing their characters from the classic paranormal comedy.
Previously it was reported that Dan Aykroyd would have a cameo in the movie as a cab driver in a scene with Kristen Wiig. Then about a month and a half later, Bill Murray finally came on board to shoot a role. And while there have been rumors about his character in the movie, we'll let you seek them out yourself, because his role has the potential to be a lot of fun if you don't know anything about his character. It's just a shame Harold Ramis isn't around to join the gang.
Since filming is done today, that likely means we won't be seeing Rick Moranis, Sigourney Weaver or Annie Potts making cameos, unless they were already shot and no one noticed. There's the chance that reshoots could result in those three stars getting cameos, but we won't count on it. That would likely feel like overkill and having the three surviving Ghostbusters make cameos is good enough.
Hudson was initially against the idea of the new Ghostbusters last fall, saying:
I heard it was going to be a total reboot, and that it would have nothing to do with the other two movies. If it has nothing to do with the other two movies, and it's all female, then why are you calling it Ghostbusters?
I love females. I hope that if they go that way at least they'll be funny, and if they're not funny at least hopefully it'll be sexy. I love the idea of including women, I think that's great. But all-female I think would be a bad idea. I don't think the fans want to see that.
Maybe it will come out and be the most amazing thing, but in my opinion I think it would be wrong to do another movie that didn't include the guys. And that didn't include me!
But then he changed his tune early in 2015, praising the new cast:
"Four fiercely funny, foxy, females busting ghosts ... phenomenal!"#Ghostbusters #Ghostbusters2016 pic.twitter.com/wC8bSniGFS

— Ernie Hudson (@Ernie_Hudson) January 29, 2015
More than likely Hudson preferred cashing a paycheck for a cameo in the reboot as opposed to being a stick int he mud and bashing a movie that he couldn't stop from being made. He said it in the original movie himself, "If there's a steady paycheck involved, I'll believe anything you say."
The original Ghostbusters likely won't be the only ones making cameos either, as there have been unconfirmed reports of a rock star appearing in the movie as well. Let's just hope this movie isn't overstuffed with potentially distracting appearances like this though.
Beyond the cameos, the cast includes Kristen Wiig, Melissa McCarthy, Leslie Jones and Kate McKinnon in the lead roles with Chris Hemsworth, Andy Garcia, Michael K. Williams, Neil Casey, Cecily Strong, Matt Walsh and more also appearing in the movie.
Here's Paul Feig confirming the cameo and also celebrating the wrap on shooting:
Thanks to the great @Ernie_Hudson for joining us on our last day of production. He is a class act and an incredibly talented and funny man.

— Paul Feig (@paulfeig) September 19, 2015
It's a wrap on Ghostbusters!!! pic.twitter.com/gzQFRrLUYU

— Paul Feig (@paulfeig) September 19, 2015
Ghostbusters hits theaters on July 22nd, 2016.