'Star Wars' Theatrical Cut Again Rumored To Be Coming To Blu-Ray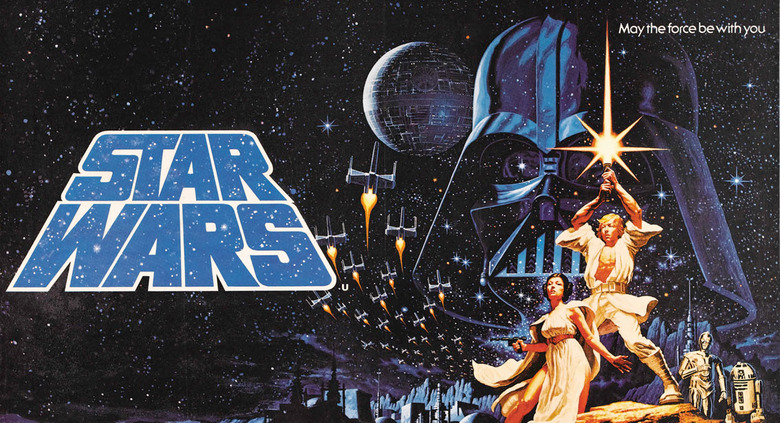 For the past few years, there's always been some kind of rumor about the original Star Wars theatrical cuts being made available on Blu-Ray for the first time ever. The most recent rumor pointing to such a release came over a year ago, and since then we've even seen some cool fake mock-ups for Blu-Ray covers for the hopeful releases.
However, nearly three years ago, we laid out why it wasn't likely that Disney would be releasing a box set of the theatrical cuts of the original trilogy anytime soon, mainly because 20th Century Fox still owns the release rights to both the original trilogy and the prequel trilogy until 2020.
Making matters even more complicated is that Fox actually owns the rights to A New Hope "in perpetuity in all media worldwide." That means they'll never lose the rights to Episode IV, so unless they come to some kind of deal with Disney, a box set release of all the movies, including the original theatrical cuts, isn't in the cards.
Well, this rumor has cropped up yet again, though it's somewhat more credible this time than previously. Find out more about the Star Wars theatrical cut Blu-Ray below.
Empire Magazine attended a Q&A where director John Landis was on hand, and here's what they posted to Twitter:
At a Q&A tonight John Landis dropped that Disney are finally going to re-release the theatrical cuts of the original Star Wars trilogy.

— Empire Magazine (@empiremagazine) September 19, 2015
Apparently George mentioned it when last they spoke. Somebody put Yub Nub on. Let the celebrations commence!

— Empire Magazine (@empiremagazine) September 19, 2015
Considering the sources, this is the most credible rumor there has ever been about the theatrical releases of the original Star Wars trilogy on Blu-Ray. And since we know Star Wars is likely going to explode with even more interest once The Force Awakens arrives, it would make sense for the original, non-special edition cuts of the movies to finally be made available officially in the best format possible.
For me, this sounds like an inevitable release for fans. Landis has no reason to make up something like this, and considering he apparently spoke to George Lucas about this, he would still be in the know if the original, untainted cuts of the Star Wars trilogy were finally going to be release in high-definiition. And fans have been clamoring for an HD cut of these versions of the movies since they were released on DVD years ago for a limited time and never again.
As of now, we'll consider this a rumor just to be safe, but it's probably a smart bet that we'll finally see the theatrical cut of the original Star Wars trilogy available to buy sometime in the near future. Will it be before Star Wars: The Force Awakens hits theaters this winter? We can't say for sure, but Disney will go all out for hype leading up to the release of the movie, and if getting the original cut of the sci-fi saga into fans' hands keeps the hype machine going strong, then they'll probably do it. Stay tuned.
Otherwise, if you're a collector of all formats of the Star Wars movies, don't forget that there's a whole new set of Steelbook Blu-Rays available for purchase right now.