Denzel Washington To Direct And Star In August Wilson's 'Fences' Adaptation At HBO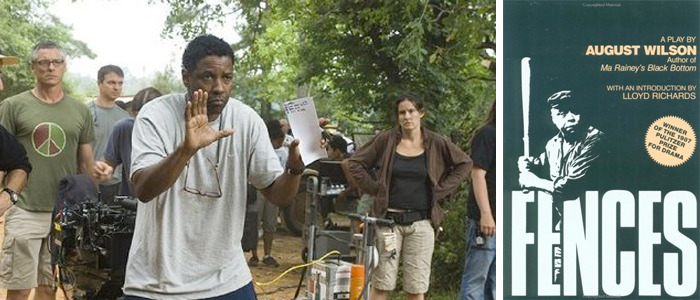 While everyone knows Denzel Washington for his two-time Oscar-winning acting skills, you may forget that the actor has also gotten behind the camera as a director for Antwone Fisher and The Great Debaters. And now he's preparing for another stint wearing several hats on the movie set as director, producer and star of a new project at HBO.
During An Evening With Denzel Washington & Dr. Todd Boyd Friday night at the Wallis Annenberg Center for the Performing Arts, the actor revealed that he recently made a deal with HBO to adapt August Wilson's 2010 Broadway play Fences into a film at HBO. And that's just the beginning of a whole batch of HBO projects based on Wilson's work.
Find out more about the Denzel Washington Fences project and more below!
THR has word from the even with Denzel Washington where the actor revealed a major deal with HBO for not just Fences, but 10 total adaptations of August Wilson's plays. Washington said:
"He did 10 plays. I've been given the opportunity by the August Wilson estate. I'm directing and producing and acting in [Fences] and I'm executive producing the other nine. I made a deal with HBO...We're going to do one a year for the next nine years. I'm really excited about that."
If you're not familiar with the work of August Wilson, the actor described his plays:
"His stories are specifically African American stories, but the themes are universal. Families, love, betrayal whatever the theme is. People relate and enjoy listening to or seeing his work. He was just a bright, brilliant shining light who was here and then he was gone, but his work will live forever to be interpreted by actors and directors for as long as we're here."
Wilson's set of ten plays is also known as The Pittsburgh Cycle or The Century Cycle, and they all take place in a different decade of the 20th Century. In addition, all except one are set in Pittsburgh's Hill District neighborhood, which is where Wilson grew up, dealing with plenty of racial tension as an African-American child growing up in sometimes turbulent times.
As for Fences, the story follows a former baseball athlete who struggles to provide for his family as a trash collector in 1950s Pittsburgh after being denied to join the Major Leagues due to being African American. The original production took place in 1987 with James Earl Jones in the lead, and Washington won a Tony in 2010 for his work in the same role on stage with Viola Davis, who will also be reprising her role in the HBO film adaptation.
If you want to look up information about the rest of the planned Wilson adaptations, they're called Gem of the Ocean, Joe Turner's Come and Gone, Ma Rainey's Black Bottom, The Piano Lesson, Seven Guitars, Two Trains Running, Jitney, King Hedley II, and Radio Golf. Sounds like HBO has quite a full roster of work for Washington in the future, though he won't be directing and starring in all of them.
We're not sure when Fences might get off the ground, but as soon as we hear something about Denzel Washington's next directorial endeavor, we'll be sure to let you know.