Rumor: Booster Gold / Blue Beetle Movie In The Works At Warner Bros.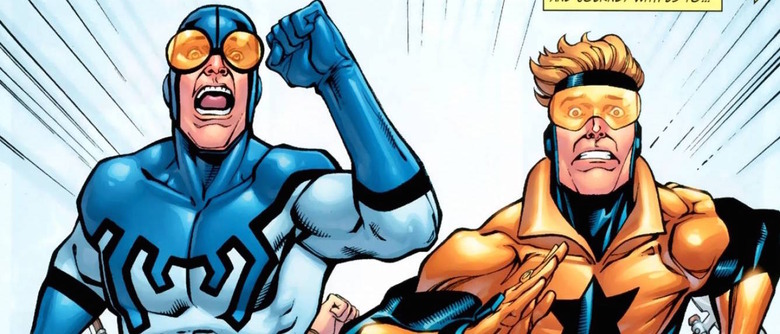 Warner Bros. has about ten DC Extended Universe movies planned for the next five years, and it looks like they're crowding in one more. Rumor has it a Booster Gold / Blue Beetle team-up is in the works, with Greg Berlanti directing and Zak Penn writing. In contrast to the dark and gritty vibe of the other DC projects, this one is envisioned as a buddy comedy. More details on the Booster Gold movie after the jump. 
According to The Tracking Board, who first reported on the developing Booster Gold movie, Berlanti will executive produce and direct, Sarah Schechter will also executive produce, and Julia Spiro will oversee for the studio. Heroic Hollywood added the detail of Penn's involvement. No casting has been announced, though Nathan Fillion has already voiced his interest in playing Booster Gold. Warner Bros. has yet to officially announce any plans for a Booster Gold movie, so take it all with a grain of salt for now.
The Booster Gold movie is envisioned as a "superhero buddy cop movie," with an emphasis on comedy. That automatically separates it from the resolutely serious Man of Steel and Batman v Superman: Dawn of Justice. Both Booster Gold and Blue Beetle have been involved with the Justice League in the comics, and will appear in the Justice League movies if all goes according to plan.
Booster Gold, a.k.a. Michael Jon Carter, is a 25th century football star whose reputation is ruined after he's caught betting on his own games. He steals a power suit and travels to the past, rebranding himself as a superhero named Booster Gold. The Tracking Board calls him "the DC universe's equivalent of Tony Stark," thanks to his arrogant but ultimately well-intentioned personality.
Blue Beetle is Ted Kord, a tech genius who comes to realize his Uncle Jarvis is a mad scientist. He foils his uncle's plans with the help of Dan Garret, the original Blue Beetle, and takes over the Blue Beetle mantle after Dan dies. Ted doesn't have any powers, so he relies on his wits, his athletic skills, and his high-tech equipment to defeat evil.
Along with Schechter, Berlanti is an executive producer of DC TV shows Arrow, The Flash, Legends of Tomorrow, and Supergirl. He also served as writer and producer on the 2011 Green Lantern movie. Penn wrote Elektra, X-Men: The Last Stand, and The Incredible Hulk, and has story credit on X2 and The Avengers. In addition, he was co-creator of the Syfy superhero show Alphas.