Emily Blunt In Talks For Disney's 'Mary Poppins' Sequel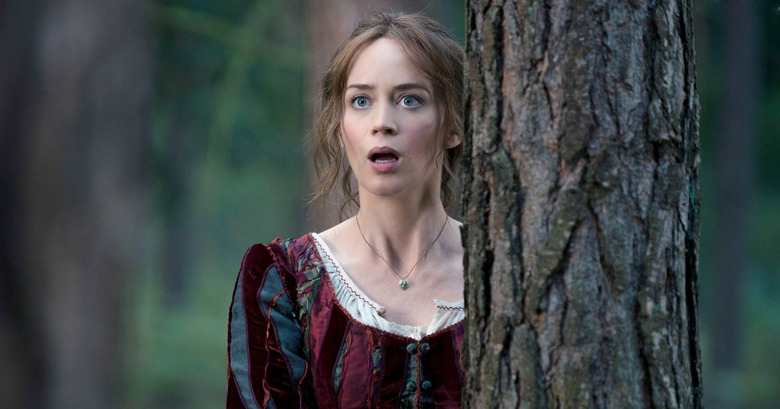 UPDATE: After many months of rumors, Variety has finally confirmed that Emily Blunt is in talks for Mary Poppins. Original story from September 17, 2015 follows.
Disney has already invested in Emily Blunt with a small role as Miss Piggy's assistant in The Muppets and one of the lead roles in the Broadway musical adaptation of Into the Woods. Recently there have been rumblings that Blunt is under consideration for Captain Marvel along with Mission: Impossible – Rogue Nation star Rebecca Ferguson, but the actress had an interesting theory as to why those rumors keep circling.
And now Disney has another role for which they think the star of Edge of Tomorrow and this weekend's Sicario would be perfect: Mary Poppins. That's right, according to a new rumor, the House of Mouse wants Emily Blunt as Mary Poppins in the recently announced musical sequel set in Depression-era London, about 20 years after the original.
Den of Geek has the story, which should just be considered a rumor for now, pegging Blunt as the frontrunner for the lead role. That likely means she doesn't have an offer but may have already talked to the studio about taking the part just as preliminary talks. Or she could just merely be at the top of a shortlist of women in consideration for the role. I remember rumblings a few years ago that Gemma Arterton was up for this role, but Blunt's star power has grown a lot since then and is probably a safer bet for the studio.
Just a few days ago was when we first heard about the Mary Poppins sequel, and if Blunt ends up taking the lead role, it would mark a Disney reunion since the actress' Into the Woods director Rob Marshall is already attached to be at the helm with a script from David Magee, with Marc Shaiman and Scott Wittman.
As of now, we don't know much about the movie, but since the setting is 20 years after the original, doesn't it seem odd to have Emily Blunt play Mary Poppins in that timeframe? Julie Andrews was 29 when the original Mary Poppins was made, and Emily Blunt is 32, so shouldn't the musical, magical nanny have aged considerably more?
We don't know all the details on this sequel yet, so maybe there's just some conflicting information out there at this time. After all, the original report stressed that this wasn't envisioned as a sequel, so perhaps there's some kind of plot element that changes things up a bit. Maybe the story is told in flashbacks? We'll have to wait and see.