'Steve Jobs' Trailer: Michael Fassbender Brings An American Icon To Life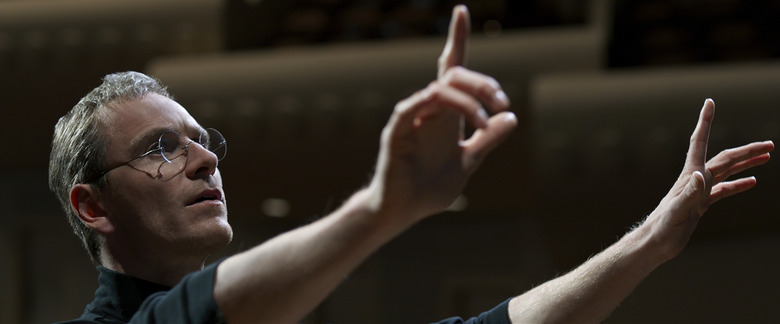 Universal has released a new trailer for Steve Jobs. Michael Fassbender stars as the iconic tech guru, seen here at three key product launches in his career — the Macintosh in 1984, NeXT in 1988, and the iMac in 1998. Kate Winslet plays his "work wife" Joanna Hoffman, Seth Rogen is Apple co-founder Steve Wozniak, and Jeff Daniels is former Apple CEO John Sculley. Behold the new Steve Jobs trailer after the jump.
Universal unveiled the new Steve Jobs trailer on YouTube.
Apple CEO Tim Cook's recent criticism of "opportunistic" Steve Jobs movies notwithstanding, early buzz out of Telluride on Steve Jobs has been very strong. The one big caveat is that it also sounds very Aaron Sorkin-y. If you're not a fan of the screenwriter's sharp, rhythmic style, Steve Jobs might not be for you.
Directed by Danny Boyle, Steve Jobs opens October 9, two weeks after the release of the iPhone 6s. Katherine Waterston and Michael Stuhlbarg also star.
Set backstage in the minutes before three iconic product launches spanning Jobs' career—beginning with the Macintosh in 1984, and ending with the unveiling of the iMac in 1998—Steve Jobs takes us behind the scenes of the digital revolution to paint an intimate portrait of the brilliant man at its epicenter.
Steve Jobs is directed by Academy Award® winner Danny Boyle and written by Academy Award® winner Aaron Sorkin, working from Walter Isaacson's best-selling biography of the Apple founder. The producers are Mark Gordon, Guymon Casady of Film 360, Scott Rudin, Boyle, and Academy Award® winner Christian Colson.
Michael Fassbender plays Steve Jobs, the pioneering founder of Apple, with Academy Award®-winning actress Kate Winslet starring as Joanna Hoffman, former marketing chief of Macintosh. Steve Wozniak, who co-founded Apple, is played by Seth Rogen, and Jeff Daniels stars as former Apple CEO John Sculley. The film also stars Katherine Waterston as Chrisann Brennan, Jobs' ex-girlfriend, and Michael Stuhlbarg as Andy Hertzfeld, one of the original members of the Apple Macintosh development team.