Cool Stuff: Keep Warm This Fall With Mondo Slasher Sweaters And Scarves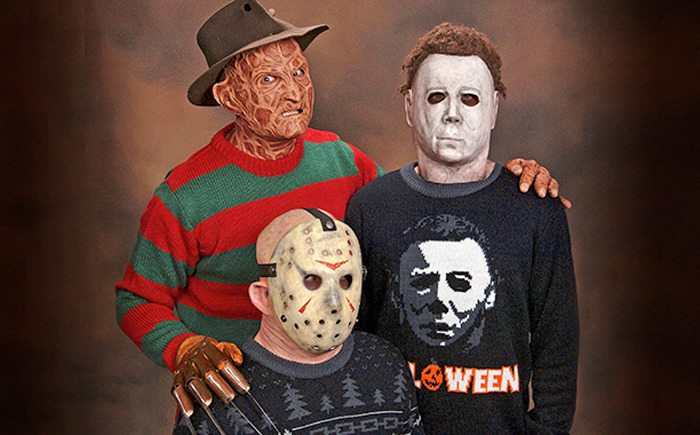 The change of the season is upon us, and soon we'll be packing up the shorts and tank tops for hoodies and cardigans. So if you're gonna warm up this fall, why not do it with some cool stuff that shows people just how much of a horror fanatic you truly are?
If that sounds like your cup of tea, then Mondo has you covered with a new line of sweaters and scarves paying tribute to three of the most iconic horror slashers in the history of cinema: Freddy Krueger, Michael Myers and Jason Voorhees. And the good news is that the new Mondo slasher sweaters and scarves are available to buy right now.
Here's the fuzzy new gear straight from Mondo's official website:
Designed by Middle of Beyond, the sweaters and scarves are 100% acrylic heavy knit. The sweaters range from XS to 3XL large while the scarves are just one size, measuring six feet in length with tassels at the ends.
As you can see, there are three different versions of the iconic Freddy Krueger sweater, even one that's a nice cardigan that Mr. Rogers would probably enjoy. And the Jason Vorhees sweaters has two different versions as well. Poor Michael Myers only gets one sweater though.
If you want to show off your love of Halloween, A Nightmare on Elm Street and Friday the 13th, it'll cost you a bit though. Each of the sweaters are $85, with the exception of the Freddy Krueger cardigan which costs a little less at $75. Both of the scarves cost $40. Those prices are a little salty, but Mondo does deliver some high-quality items, so you can be sure it will be worth throwing down some cash. They might even make a good Christmas present for that very special horror fan in your life.