Watch A Sneak Peek Of Jon Favreau's 'The Jungle Book' Before Trailer Arrives On Monday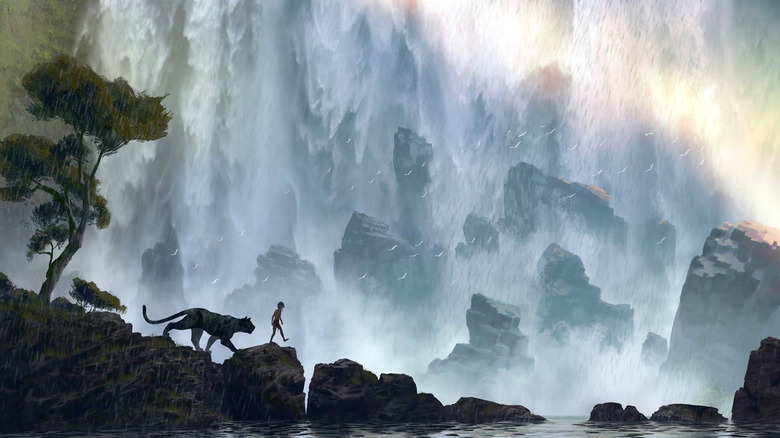 As you've surely noticed, Disney is obsessed with turning their animated classics into new live-action movies. Just this year alone we've gotten word of Tim Burton directing Dumbo, Alex Ross Perry writing Winnie the Pooh, and Reese Witherspoon starring in a Tinkerbell movie, not to mention live-action takes on Mulan, Pinocchio, Prince Charming and now an Aladdin prequel called Genies. And that's not even all of them.
But the next one hitting theaters is The Jungle Book from Elf and Iron Man director Jon Favreau. The footage that played at D23 last month blew people away, and now you can get a sneak peek of that footage in a quick tease from the movie before the full trailer arrives on Monday. Watch The Jungle Book teaser below!
Disney posted the following teaser on Instagram:
It's just a quick tease for the trailer that's coming next week and we only see Mowgli (Neel Sethi) at the very end of the clip. But there's no sign of any of the animal characters just yet. Word out of D23 was that the digital effects used to bring them to life were incredible, so I can't wait to see what they show us in the trailer.
The opening shot of this quick tease is pretty cool, almost as if it's from the point-of-view of a slithering snake, perhaps even the python Kaa voiced by Scarlett Johansson. We'll just have to wait and see.
Until the trailer arrives on Monday, you can see some photos from behind the scenes of the movie right here as well as some concept art from the movie right here. Otherwise, check out our impressions of the footage at D23 for more.
Directed by Jon Favreau ("Chef," "Iron Man," "Elf"), based on Rudyard Kipling's timeless stories and inspired by Disney's classic animated film, "The Jungle Book" is an all-new live-action epic adventure about Mowgli (newcomer Neel Sethi), a man-cub who's been raised by a family of wolves. But Mowgli finds he is no longer welcome in the jungle when fearsome tiger Shere Khan (voice of Idris Elba), who bears the scars of Man, promises to eliminate what he sees as a threat. Urged to abandon the only home he's ever known, Mowgli embarks on a captivating journey of self-discovery, guided by panther-turned-stern mentor Bagheera (voice of Ben Kingsley), and the free-spirited bear Baloo (voice of Bill Murray). Along the way, Mowgli encounters jungle creatures who don't exactly have his best interests at heart, including Kaa (voice of Scarlett Johannsson), a python whose seductive voice and gaze hypnotizes the man-cub, and the smooth-talking King Louie (voice of Christopher Walken), who tries to coerce Mowgli into giving up the secret to the elusive and deadly red flower: fire.
The Jungle Book hits theaters on April 15th, 2016.