Check Out The Hawkman And Hawkgirl Costumes For 'Legends Of Tomorrow'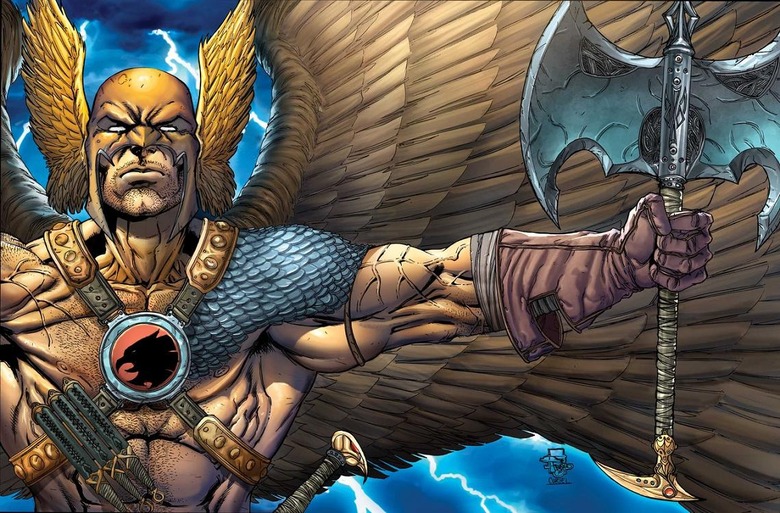 We're long past the point where anyone can claim that there's no way to translate comic book characters to the screen based on looks alone. Whether you're OK with the spandex to ballistic design evolution we've seen in the X-Men films, or if you want something more literal, like the great Spider-Man suit seen in that character's last two films, there's been a viable approach to many of the biggest, and even some of the weirdest comic book characters.
And Hawkman is still tough. He's a warrior with a mace, wings, relatively little upper body coverage, and a hawk mask that looks awesome when drawn on the page, but isn't necessarily so great when 3D printed for an actor to wear.
Hawkgirl (played by Ciara Renée) and Hawkman (played by Falk Hentschel) will both appear in a crossover event between Arrow and The Flash this fall, before being seen in The CW's upcoming series Legends of Tomorrow. The first Hawkgirl and Hawkman image from the show is below, and it fits right in with the aesthetic of the shows from The CW — a lot of leather, but some very comics-faithful touches.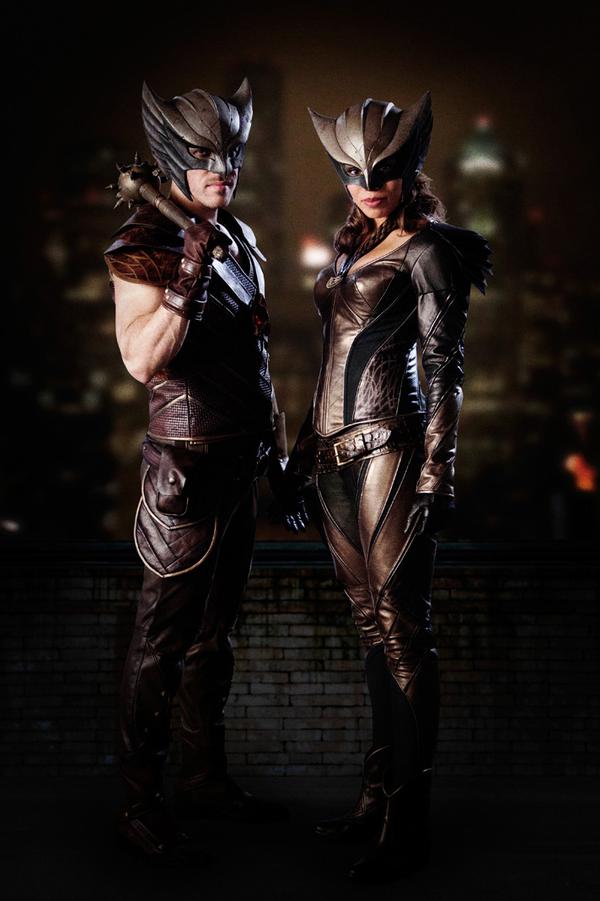 So where are the wings? That's probably something we won't see until we actually get footage of the characters appearing in their first actual episode.
Here's what DC says about the debut image:
With powers derived from the ancient Egyptian hawk god, Horus, Kendra and Carter are destined to reincarnate through time as winged, helmeted warriors. On DC's Legends of Tomorrow, Hawkgirl and Hawkman will fight alongside the Atom, Firestorm, White Canary, Captain Cold and Heat Wave against the immortal Vandal Savage. Look for them to initially debut in this season's Arrow and The Flash crossover episode before moving on to DC's Legends of Tomorrow.
The real test will be seeing how these characters move, and how other characters in the series interact with them. The Flash (and to a lesser extent Arrow) has been surprisingly good at making us believe in pretty much any crazy character they can put on screen, and so there's every possibility that these characters will really fly when they show up.
***
Legends of Tomorrow premieres on The CW in 2016, but we'll first see these two characters during the Arrow and The Flash crossover episodes in early December.
When heroes alone are not enough... the world needs legends. Having seen the future, one he will desperately try to prevent from happening, time-traveling rogue Rip Hunter is tasked with assembling a disparate group of both heroes and villains to confront an unstoppable threat — one in which not only is the planet at stake, but all of time itself. Can this ragtag team defeat an immortal threat unlike anything they have ever known?