Throw Back Some Strong Potions At The Lockhart Harry Potter Bar In Toronto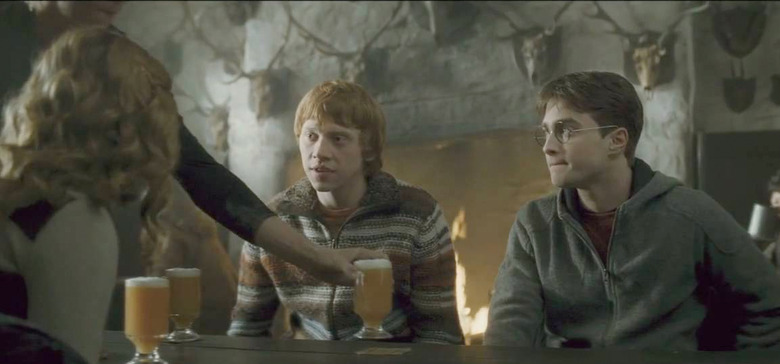 Even though the Harry Potter franchise was mostly geared towards younger readers, as the heroes of the fantasy story grew up, they came to start hanging out at some more mature establishments such as The Three Broomsticks, or in more desperate times The Hog's Head, both bars in the village of Hogsmeade near Hogwarts School of Witchcraft and Wizardry (people really loved hogs when the area was founded apparently).
For fans who always wanted to visit these fictional locations, they can already sip some real butterbeer in the iconic wizarding pubs if they go to the Wizarding World of Harry Potter theme park at Universal Studios, but that's not the only place you can toss back some potions after a long day working in the Department of Mysteries.
There's also a Harry Potter bar in Toronto that recently opened called The Lockhart. It's a cool place regardless of whether or not you're a Harry Potter fan, but for those who have read the books or watched the movies, it's a more fun.
Here's some images of The Lockhart Harry Potter bar from (via ComicBook.com):
The bar, named after the fraud of a Defense Against the Dark Arts professor Gilderoy Lockhart, isn't just a straight-up Harry Potter establishment, mostly because that would likely result in some copyright and trademark issues with Warner Bros. Pictures. Instead, as co-owner Paris Xerx (yes that's his real name) told Toronto Now:
"Without knowing any of the Harry Potter stuff, you already will think of this as a cool bar. You'd come here and see the stag's head on the wall and go, 'Wow, I love that,' but a Harry Potter fan might say, 'That's a Patronus.'"
The decor, which includes some Harry Potter Funko POP! Vinyl figures among other items, isn't the only thing that references fantasy series. They also have some special drinks inspired and named after certain fantasy elements. There are drinks called Ludo's Debt and The Shacklebolt, named after Ludo Bagman and Kingsley Shacklebolt respectivly, and another called the Befuddlement Draft. Isn't that every alcoholic drink though?
They also have some other genre-themed drinks that reference Star Trek: The Next Generation and Watchmen, but if you want to know more, you'll have to check out their official website, or just go see them in Toronto at 479 Dundas West, at Dufferin. It may just be a gimmick to get more people to stop by for a drink, but it could make a nice stop for a break during the Toronto International Film Festival, happening right now.