Our 16 Most Anticipated New Fall 2015 TV Shows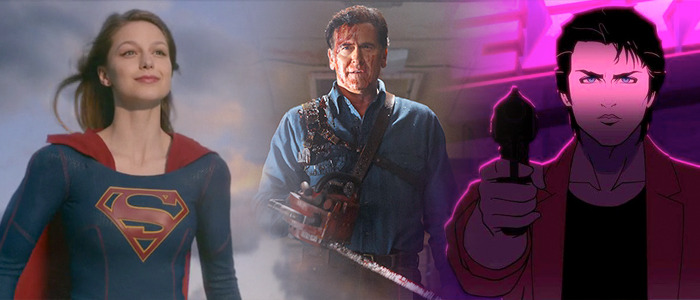 We may receive a commission on purchases made from links.
It's September, and that means new television is just around the corner. The Late Show with Stephen Colbert really kicked things off, but it's not until later this month that the new fall 2015 TV shows really swing into full gear. What will audiences latch onto this season?
Well, we're not sure what's going to land and stick around, but we've come up with a list of 16 Most Anticipated New Fall 2015 TV Shows, ranging from the return of The Muppets on ABC to the small screen versions of movies like Limitless on CBS to cable offerings such as Ash vs the Evil Dead and even a couple new Netflix shows.
Check out the full list after the jump!
#16. Best Time Ever with Neil Patrick Harris
Premiere Date: September 15th on NBC
Why We're Excited: Neil Patrick Harris has made the long-winded Emmy, Oscar and Tony award telecasts a little easier to endure by bringing his charisma, energy and general cheekiness to the table, and now he's doing that with his very own show. Based on a British variety show and feeling like a throwback to the old days of television, the show will be full of sketches, pranks, audience fun, musical numbers (of course) and who knows what other kind of shenanigans. Sounds like it could be a blast.
Official Synopsis:
Five Emmy Awards and a Tony Award make multi-talented Neil Patrick Harris the perfect star for this live one-hour show that is unlike any other currently on American television. Complete with stunts, skits, pranks, audience interaction, musical numbers, giveaways and unlimited surprises, this show proves that anything can happen, and it can happen to you. Based on the wildly popular British hit "Ant & Dec's Saturday Night Takeaway," the modernized variety show format and its fearless, multi-talented star will make for one of the best nights ever on TV week after week.
Neil Patrick Harris, Orly Adelson, Siobhan Greene, David A. Hurwitz, Anthony McPartlin and Declan Donnelly executive produce. "Best Time Ever with Neil Patrick Harris" is produced by ITV Studios America.
#15. Moonbeam City
Premiere Date: September 16th on Comedy Central
Why We're Excited: It's an animated series much different than what we've come to expect from Comedy Central. Taking cues from anime and the 80s, particularly the art of Patrick Nagel, the show certainly has influences of Archer, and it looks just as ridiculous. But for me, the big selling point is the voice cast, which includes Rob Lowe in the lead role as Dazzle Novak, and supporting characters played by Elizabeth Banks, Will Forte and Kate Mara.
Official Synopsis:
The animated series Moonbeam City stars Rob Lowe as Dazzle Novak, a detective in America's most fluorescent metropolis, whose desire to serve is second only to his nonstop sex drive. But with Chief Pizzaz Miller (Elizabeth Banks) cramping his style and his rival Rad Cunningham (Will Forte) undermining him at every turn, he may have to face the (very synthy) music and do some actual police work.
#14. Blindspot
Premiere Date: September 21st on NBC
Why We're Excited: While this has the potential to fall into typical serial mystery territory, getting drawn out and taking too many twists and turns, there's something about NBC's new show that has me curious. Maybe it's Jaimie Alexander in the lead role, covered in tattoos, popping out of a gym bag in Times Square. Maybe it's just the vibe of The Bourne Identity with a woman in the lead role. Or maybe it's because the show hails from Greg Berlanti of The Flash and Arrow. Whatever it is, I'm intrigued to see where this goes.
Official Synopsis:
From executive producer Greg Berlanti ("Arrow," "The Flash," "The Mysteries of Laura") comes "Blindspot": A vast international plot explodes when a beautiful Jane Doe, completely covered in mysterious, intricate tattoos, is discovered naked in Times Square with no memory of who she is or how she got there. But there's one tattoo that is impossible to miss: the name of FBI agent Kurt Weller, emblazoned across her back. "Jane," Agent Weller and the rest of the FBI quickly realize that each mark on her body is a crime to solve, leading them closer to the truth about her identity and the mysteries to be revealed.
The cast includes Sullivan Stapleton, Jaimie Alexander, Audrey Esparza, Rob Brown, Marianne Jean-Baptiste, Ukweli Roach and Ashley Johnson.
Martin Gero serves as writer and executive producer. Greg Berlanti, Sarah Schechter and director Mark Pellington also executive produce. "Blindspot" is produced by Warner Bros. Television and Berlanti Productions.
#13. Minority Report
Premiere Date: September 21st on Fox
Why We're Excited: It's a pseudo-reboot/continuation of the Steven Spielberg directed sci-fi film, based on the short story of the same name by acclaimed sci-fi author Philip K. Dick. The pre-crime program is dead, but one of the former pre-cogs has returned to law enforcement in secret to help a police detective by helping to stop the murders that he keeps having visions of before they happen. It's the appeal of the Minority Report world meeting the crime procedural genre of television that has piqued my interest, and I'm hoping it's not too repetitive or dull.
Official Synopsis:
The future is coming. Based on the international blockbuster film by executive producer Steven Spielberg and the first of his films to be adapted for television, MINORITY REPORT follows the unlikely partnership between a man haunted by the future and a cop haunted by her past, as they race to stop the worst crimes of the year 2065 before they happen. Set in Washington, D.C., it is 10 years after the demise of Precrime, a law enforcement agency tasked with identifying and eliminating criminals...before their crimes were committed. To carry out this brand of justice, the agency used three precogs – "precognitives" Dash, Arthur and Agatha – who were able to see the future. Now, in 2065, crime-solving is different, and justice leans more on sophisticated and trusted technology than on the instincts of the precogs. Precog DASH (Stark Sands, "Inside Llewyn Davis") – driven by his terrifying, but fragmented visions – now has returned in secret to help a brash, but shrewd police detective, LARA VEGA (Meagan Good, "Think Like A Man" franchise, "Californication"), attempt to stop the murders that he predicts. As they navigate this future America, they will search for Dash's missing twin brother, ARTHUR, and elude others who will stop at nothing to exploit their precog abilities. Also complicating matters is Dash and Arthur's ingenious, but reclusive, foster sister, AGATHA (Laura Regan, "Mad Men," "Unbreakable"), who just wants Dash to return home. A drama of crime and conspiracy, this is a timeless story of connection: two lost souls, Dash and Vega, who find friendship, purpose and redemption in each other.
#12. The Grinder
Premiere Date: September 29th on Fox
Why We're Excited: There's just something about Rob Lowe and Fred Savage playing feuding brothers that tickles my fancy. Plus, I love the fact that this series will likely skewer the silliness of some legal dramas that never seem to end on network television and TNT. Savage has long had a place in TV history thanks to The Wonder Years, and having him star in a comedy series as an adult (after directing episodes of shows like It's Always Sunny in Philadelpha, Party Down, Happy Endings, Modern Family and tons more) has a lot of potential to be something really fun.
Official Synopsis:
How many TV lawyers does it take to try a real-life case in a real-life courtroom? One, and his name is THE GRINDER. Starring Emmy Award nominee Rob Lowe ("Parks and Recreation," "The West Wing"), THE GRINDER is a new comedy about a famous TV lawyer at a crossroads. When his legal series ends, he decides to move back home and join his family's real law firm – despite having no formal education, no bar certification, no license to practice and no experience in an actual courtroom. DEAN SANDERSON (Lowe) spent eight seasons playing the title role on the hit legal drama "The Grinder." Now he's moving back to his hometown of Boise, Idaho, where his brother, STEWART (Emmy Award and Golden Globe Award nominee Fred Savage, "The Wonder Years"), is a real-life attorney who is poised to take over the family law firm. It doesn't take long for Dean to start injecting his TV drama into every aspect of Stewart's life, both in the courtroom and at home, impacting Stewart's wife – and Dean's high school sweetheart – DEBBIE (Mary Elizabeth Ellis, NEW GIRL, "It's Always Sunny in Philadelphia"); their two kids, 15-year-old LIZZIE (Hana Hayes, "Bucket and Skinner's Epic Adventures") and 13-year-old ETHAN (Connor Kalopsis, "Days Of Our Lives"); and Dean and Stewart's father, the law firm's head, DEAN SR. (William Devane, "24: Live Another Day"). Dean and Stewart don't see to eye to eye, but when they stop arguing with each other and start arguing together in court...they make a formidable team. THE GRINDER is the story of two brothers, who took different paths, but meet again in the middle – for justice...sort of.
#11. Heroes Reborn
Premiere Date: September 24th on NBC
Why We're Excited: After the original iteration of Heroes crashed hard, despite such a promising first season, rebooting series sounds like the best idea. In addition to bringing back characters from the original series, there's a whole new cast of superpowered characters to drive the story, including Chuck star Zachary Levi in a lead role. Perhaps the most exciting aspect of this "new" show is that the series only has a 13-episode order, so the show won't overstay its welcome hopefully, and won't have any hollow filler episodes just to meet a quota.
Official Synopsis:
After a terrorist attack in Odessa, Texas, left the city decimated and lives in shambles, those with extraordinary abilities are in hiding after being blamed for the catastrophic event. A new world order has them being hunted by those with nefarious motives, such as Luke (Zachary Levi) and Joanne Collins (Judi Shekoni), who are out to avenge a tragic loss of their son. Meanwhile, Noah Bennet (Jack Coleman) has taken measures to put his old life behind him and start over, until he comes face to face with Quentin Frady (Henry Zebrowski), a conspiracy theorist out to uncover the truth behind the Odessa tragedy. Elsewhere, some are discovering their newfound skills. Awkward teen Tommy (Robbie Kay) just wants to be normal and win the girl of his dreams, Emily (Gatlin Green), but normalcy is virtually impossible after learning of a new ability that terrifies him. Coming from a very sheltered upbringing, a bold and ethereal teenager, Malina (Danika Yarosh), has been told she is destined for greatness. In Tokyo, a quiet and unique young woman, Miko (Kiki Sukezane), is trying to track down her missing father while hiding an extraordinary secret that will make her a force to be reckoned with. In Los Angeles, a different type of hero is emerging through former soldier Carlos (Ryan Guzman). For better or for worse, some are fated to cross paths with assorted heroes of the past and together their ultimate destiny is nothing less than saving the world and mankind.
#10. Into the Badlands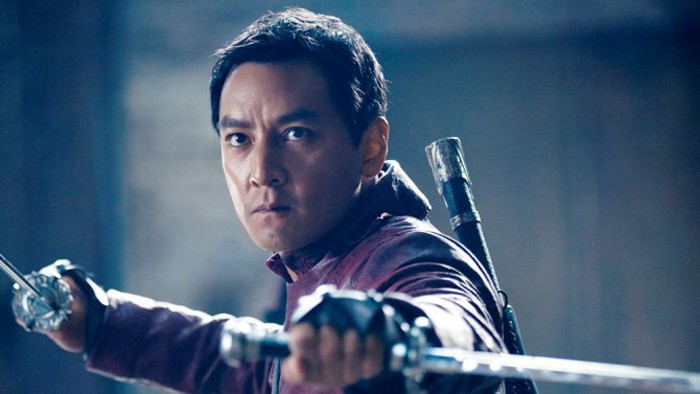 Premiere Date: November 15th on AMC
Why We're Excited: This could either be insanely awesome, or incredibly bad, but since it's an AMC series, we're hoping for the best. After all, it's hard not to get excited about a show that promises tons of awesome martial arts action.  The cast features the likes of Daniel Wu and Avatar villain Stephen Lang, and the network has been touting an influence of Quentin Tarantino. That's a pretty bold comparison, but we'll be tuning in this fall to see what the show brings to the table. Watch the trailer for the show right here.
Official Synopsis:
Into the Badlands is a genre-bending martial arts series inspired by the classic Chinese tale Journey to the West. In a land controlled by feudal barons, Into the Badlands tells the story of a great warrior and a young boy who embark on a journey across a dangerous land to find enlightenment. After cities fall into ruins and survivors return to the fields, a new society forms where the strongest prosper and the weak serve.
A high-octane fantasy story filled with martial arts action and a "Tarantino" touch, this series is about an unlikely band of adventurers who embark on a quest through this futuristic world in search of a better life.
Created by AMC Studios and produced by Oscar-nominated Stacey Sher and Michael Shamberg (Pulp Fiction, Erin Brockovich, A Fish Called Wanda, Django Unchained, Contagion), and master martial arts filmmakers Daniel Wu and Stephen Fung (Tai Chi Zero)
Series is written by the creators of hit drama Smallville Al Gough and longtime writing partner Miles Millar (Shanghai Noon, Spider-Man 2), who will also serve as show runners and executive producers.
#9. Limitless
Premiere Date: September 22nd on CBS
Why We're Excited: This is one of several TV adaptation of previously released movies, but this is the only one with direct ties to the source material. Bradley Cooper reprises his role as Edward Mora, now a senator, who influences Brian Finch (Jake McDorman), a new user of the brain-boosting drug known as NZT. Cooper won't be popping up all the time, likely only guest starring when it's sweeps time, but the idea of keeping the show in the universe of the movie's narrative is fascinating and just might make this worth watching.
Official Synopsis:
LIMITLESS, based on the feature film, is a fast-paced drama about Brian Finch (Jake McDorman), who discovers the brain-boosting power of the mysterious drug NZT and is coerced by the FBI into using his extraordinary cognitive abilities to solve complex cases for them. Working closely with Brian in the major case squad in New York City is Special Agent Rebecca Harris (Jennifer Carpenter), a formidable investigator with a dark past, and Special Agent Boyle (Hill Harper), a former military officer and Rebecca's confidante. They report to Special Agent in Charge Nasreen "Naz" Pouran (Mary Elizabeth Mastrantonio), a canny manipulator of the reins of power. Unbeknownst to the FBI, Brian also has a clandestine relationship with Senator Edward Mora (Academy Award nominee Bradley Cooper, recurring), a presidential hopeful and regular user of NZT who has plans of his own for his new protégé. Fueled now with a steady supply of NZT that enables him to use 100% of his brain capacity, Brian is more effective than all of the FBI agents combined, making him a criminal's worst nightmare and the greatest asset the Bureau has ever possessed. Craig Sweeny, Marc Webb, Alex Kurtzman, Roberto Orci, Heather Kadin, Bradley Cooper, Todd Phillips, Ryan Kavanaugh, Tucker Tooley and Tom Forman are executive producers for CBS Television Studios in association with K/O Paper Products and Relativity Television. The pilot was directed by Marc Webb ("The Amazing Spider-Man" 1 and 2 Feature Films).
#8. The Bastard Executioner
Premiere Date: September 15th on FX
Why We're Excited: Basically, this feels like Game of Thrones by way of Sons of Anarchy creator Kurt Sutter, and that's about all you need to know. The cast includes Lee Jones, Stephen Moyer, Katey Sagal, Flora Spencer-Longhurst, Sam Spruell and Sutter himself too. The series may not have a deep mythology drawn from books like Game of Thrones, but since it's on a network like FX, there just might be room for two gritty fantasy shows on cable.
Official Synopsis:
The Bastard Executioner is a blood-soaked, medieval epic that tells the story of Wilkin Brattle, a 14th century warrior, whose life is forever changed when a divine messenger beseeches him to lay down his sword and lead the life of another man: a journeyman executioner. Set in northern Wales during a time rife with rebellion and political upheaval, Wilkin must walk a tight rope between protecting his true identity while also serving a mysterious destiny.
Guided by Annora, a mystical healer whose seeming omniscience keeps Wilkin under her sway; manipulated by Milus Corbett, a devious Chamberlain with grand political aspirations; and driven by a deepening connection with the Baroness Lady Love, Wilkin struggles to navigate political, emotional and supernal pitfalls in his quest to understand his greater purpose.
#7. Master of None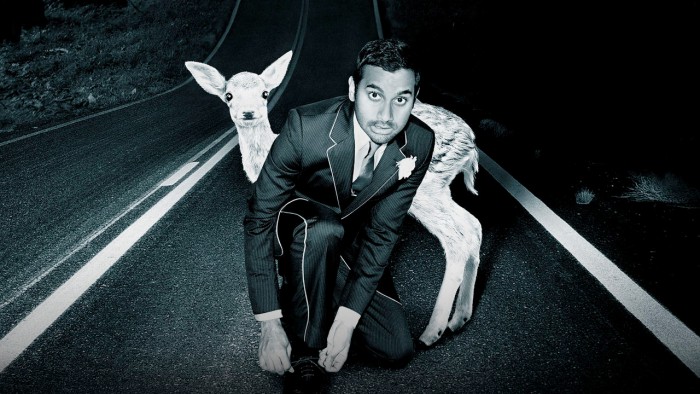 Premiere Date: November 6th on Netflix
Why We're Excited: Even though nearly every successful stand-up comedian gets their own show playing some version of themslves, it's the caliber of the comedian that gets fans excited. And in this case, it's Parks & Recreation star Aziz Ansari leading his own show on Netflix. Ansari isn't exactly playing himself, but he is playing an actor living in New York, and that's not too far off. There's no trailer out yet, but I just have a good feeling about this one, especially with people like Claire Danes, Noah Emmerich, Colin Salmon, H. Jon Benjamin and fellow stand-up Todd Barry involved.
Official Synopsis:
Based on the comedic viewpoints of Aziz Ansari, the show follows the personal and professional lives of Dev (Aziz Ansari), a 30-year-old actor in New York who has trouble deciding what he wants to eat, much less the pathway for the rest of his life. Ambitious, funny, cinematic, and both sweeping in scope and intensely personal, Dev's story takes him through subjects as diverse as the plight of the elderly, the immigrant experience, and how to find the most delicious pasta for dinner.
#6. Supergirl
Premiere Date: October 26th on CBS
Why We're Excited: Do you even have to ask? The show may not be part of the growing DC Comics television universe situated firmly at The CW, but this is the first time Supergirl is getting a live-action television series of her own. Melissa Benoist, the very promising supporting star of Whiplash and Glee, takes the lead role as Superman's cousin Kara Zor-El who is finally embracing her powers and starting to live up to her potential. It has a vibe that we haven't really seen in a superhero TV series before, a little lighter than you might expect, and it marks new territory for CBS. Here's hoping they make it work.
Official Synopsis:
SUPERGIRL is an action-adventure drama based on the DC Comics character Kara Zor-El (Melissa Benoist), Superman's (Kal-El) cousin who, after 12 years of keeping her powers a secret on Earth, decides to finally embrace her superhuman abilities and be the hero she was always meant to be. Twelve-year-old Kara escaped the doomed planet Krypton with her parents' help at the same time as the infant Kal-El. Protected and raised on Earth by her foster family, the Danvers, Kara grew up in the shadow of her foster sister, Alex (Chyler Leigh), and learned to conceal the phenomenal powers she shares with her famous cousin in order to keep her identity a secret. Years later at 24, Kara lives in National City assisting media mogul and fierce taskmaster Cat Grant (Golden Globe Award winner Calista Flockhart), who just hired the Daily Planet's former photographer, James Olsen (Mehcad Brooks), as her new art director. However, Kara's days of keeping her talents a secret are over when Hank Henshaw (David Harewood), head of a super-secret agency where her sister also works, enlists her to help them protect the citizens of National City from sinister threats. Though Kara will need to find a way to manage her newfound empowerment with her very human relationships, her heart soars as she takes to the skies as Supergirl to fight crime. Greg Berlanti ("The Flash," "Arrow"), Ali Adler, Sarah Schecter and Andrew Kreisberg are executive producers for Berlanti Productions in association with Warner Bros. Television. The pilot was directed by Glen Winter ("Arrow").
#5. The Man in the High Castle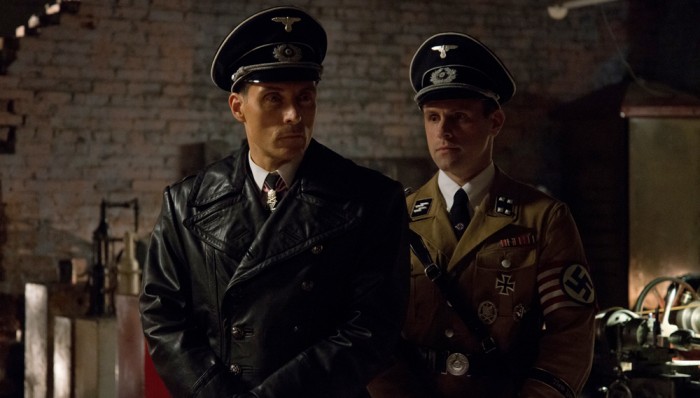 Premiere Date: November 20th on Amazon (pilot available now for free)
Why We're Excited: The pilot left little doubt that Amazon would pick up this show, thanks to its rich depiction of an alternate history of World War II in which the Allies lost, leaving North America occupied by Germany in the east and Japan in the West. The compelling vision of this different world order was enough to convince us that the show might rise to the potential of the rich characters in Philip K. Dick's original novel, even if the pilot's versions of those characters weren't quite there yet. And we're dying to see how the series tackles the novel's particular, and at times peculiar ideas about the dissemination of revolutionary ideas.
Official Synopsis:
Based on Philip K. Dick's award-winning novel, and executive produced by Ridley Scott (Blade Runner), The Man in the High Castle explores what it would be like if the Allied Powers had lost WWII, and Japan and Germany ruled the United States. Starring Rufus Sewell (John Adams), Luke Kleintank (Pretty Little Liars) and Alexa Davalos (Mob City).
#4. A Very Murray Christmas
Premiere Date: TBA December on Netflix
Why We're Excited: We may be breaking the rules a bit by including a TV special on this list, but that should show you how excited we are to see Bill Murray team up with Lost in Translation director Sofia Coppola for the first Netflix Christmas spacial. The show is supposed to be a sort of homage to classic variety shows of the past, with holiday music and plenty of special guests including George Clooney, Miley Cyrus, Paul Shaffer, Amy Poehler, Chris Rock, Jason Schwartzman, Jenny Lewis, Phoenix, Michael Cera, Maya Rudolph, Rashida Jones, David Johansen, Frederic Moulin, Julie White, Dimitri Dimitrov and more. How could we not be excited?
Official Synopsis:
Written by Sofia Coppola, Bill Murray and Mitch Glazer and directed by Sofia Coppola, A Very Murray Christmas is an homage to the classic variety show featuring Bill Murray playing himself, as he worries no one will show up to his TV show due to a terrible snow storm in New York City.  Through luck and perseverance, guests arrive at the Carlyle hotel to help him; dancing and singing in holiday spirit.
The star-studded cast also includes George Clooney, Paul Shaffer, Amy Poehler, Julie White, Dimitri Dimitrov, Michael Cera, Chris Rock, David Johansen, Maya Rudolph, Jason Schwartzman, Jenny Lewis, Phoenix, Frederic Moulin, Rashida Jones, Miley Cyrus, and more
A Very Murray Christmas is executive produced by Coppola, Glazer, Roman Coppola and Tony Hernandez
#3. Ash vs. the Evil Dead
Premiere Date: October 31st on Starz
Why We're Excited: Bruce Campbell is returning as Ash after decades of being away from the Evil Dead. And now that a a Deadite plague threatens to destroy all of mankind, we need the King back. Evil Dead is the film that made Bruce Campbell the cult icon he is today, and having him back in the role that started it all, especially on a cable series where the blood will be limitless, is essentially a dream come true. Plus, Lucy Lawless is getting in on the action this time? It might be time to get Starz.
Official Synopsis:
"Ash vs Evil Dead" is the long-awaited follow-up to the classic horror film franchise The Evil Dead. The 10-episode first season of the half-hour series executive produced by Sam Raimi, Rob Tapert and Bruce Campbell, the original filmmakers of the franchise, and Craig DiGregorio, who will serve as executive producer and showrunner.
Campbell will be reprising his role as Ash, the stock boy, aging lothario and chainsaw-handed monster hunter who has spent the last 30 years avoiding responsibility, maturity and the terrors of the Evil Dead. When a Deadite plague threatens to destroy all of mankind, Ash is finally forced to face his demons –personal and literal. Destiny, it turns out, has no plans to release the unlikely hero from its "Evil" grip.
The cast is led by Bruce Campbell (Evil Dead, "Burn Notice") in the role of Ash Williams, Lucy Lawless ("Salem," "Spartacus") as Ruby a mysterious figure who believes Ash is the cause of the Evil outbreaks, Ray Santiago ("Touch," Meet the Fockers) as Pablo Simon Bolivar, an idealistic immigrant who becomes Ash's loyal sidekick, Dana DeLorenzo (A Very Harold & Kumar 3D Christmas) as Kelly Maxwell, a moody wild child trying to outrun her past and Jill Marie Jones ("Sleepy Hollow") as Amanda Fisher, a disgraced Michigan State Trooper set to find our anti-hero Ash and prove his responsibility in the grisly murder of her partner.
#2. Jessica Jones
Premiere Date: November 20th on Netflix
Why We're Excited: As part of the expanding television side of the Marvel cinematic universe, this is the next comic book series set up at Netflix leading to the assembly of The Defenders. This time it's Krysten Ritter taking the title role as a former superhero turned private eye in the heart of Hell's Kitchen. This series will also introduce us to Luke Cage, who will get his own series in 2016. The Marvel universe just keeps getting bigger, and it'll be nice to have another strong female character in the MCU.
Official Synopsis:
Ever since her short-lived stint as a Super Hero ended in tragedy, Jessica Jones has been rebuilding her personal life and career as a hot-tempered, sardonic, badass private detective in Hell's Kitchen, New York City. Plagued by self-loathing, and a wicked case of PTSD, Jessica battles demons from within and without, using her extraordinary abilities as an unlikely champion for those in need... especially if they're willing to cut her a check.
#1. The Muppets
Premiere Date: September 22nd on ABC
Why We're Excited?: It's the return of Jim Henson's beloved creations to their own series for the first time since the 90s, and this is a take on the characters that we haven't seen before. Taking a cue from The Office and Parks & Recreation, it's a mockumentary series that will give us a more intimate and (mostly) mature glimpse into the personal lives of Kermit the Frog, Miss Piggy, Gonzo, Fozzie Bear and more as they embark on making a new show for ABC. The 10-minute pitch video (above) that landed the show at ABC indicates that the spirit of The Muppets is fresh and familiar in the all the right ways.
Official Synopsis:
The Muppets return to primetime with a contemporary, documentary-style show. For the first time ever, a series will explore the Muppets' personal lives and relationships, both at home and at work, as well as romances, breakups, achievements, disappointments, wants and desires. This is a more adult Muppet show, for "kids" of all ages.
Bill Prady ("The Big Bang Theory") and Bob Kushell ("Anger Management") are co-writers and executive producers. Randall Einhorn ("Wilfred"), Bill Barretta, Debbie McClellan and Kyle Laughlin are also executive producers. "The Muppets" is produced by ABC Studios and The Muppets Studio.