Final Two 'Divergent' Films Get New Titles, Logos, And Taglines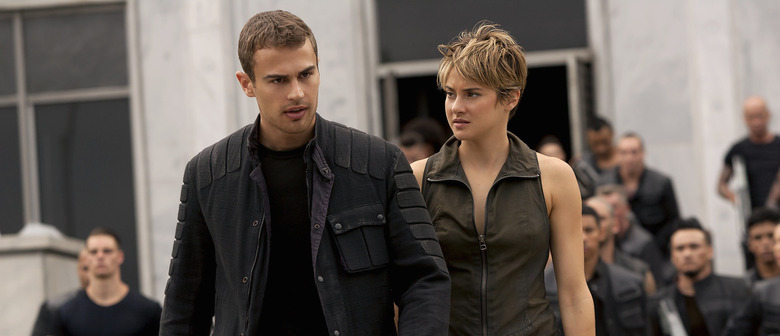 The Divergent Series did a very typical thing when it decided to split the last book Allegiant into two movies, following the precedent set by Harry Potter, Twilight, and The Hunger Games. But now it's taking a cue from its feisty heroine and bucking convention.
Rather than simply attaching "Part 1" and "Part 2" to the final two films — again, like Harry Potter, Twilight, and The Hunger Games — it's renaming them. Find out the new Divergent Series titles, and see the first logo treatments and taglines, after the jump. 
As reported by MTV, the third film in the franchise will now keep The Divergent Series: Allegiant title all to itself, while the fourth and last film in the franchise shall henceforth be known as The Divergent Series: Ascendant. The site also debuted the new logos and taglines, which you can check out below.
The Divergent Series: Allegiant image is about what we expected. That stylized wave symbol is based on the cover of the Allegiant book, and the "break the boundaries of your world" line fits what we know about the story so far: Protagonist Tris doesn't fit into any of the categories prescribed by her restrictive society, and as of the end of the last film has discovered there's a whole world waiting outside the borders of her city.The Divergent Series: Ascendant one is more interesting, as the line "the end is never what you expect" promises a surprising conclusion. Fans of the books will remember that the ending of Veronica Roth's novel did indeed come as a surprise, but not necessarily in a good way. Maybe Lionsgate is suggesting it's changed that controversial ending, or maybe it just wants people to think it did.
In any case, here's what we do know about the last two films: Woodley will be back as Tris, who continues to try and figure out what the hell is going on with her messed-up society. Theo James returns as love interest Four, Ansel Elgort as her brother Caleb, Miles Teller as her sometimes-nemesis Peter, and Zoë Kravitz as her best friend Christina.
Robert Schwentke returns from The Divergent Series: Insurgent to direct both Allegiant and Ascendant. The Divergent Series: Allegiant opens March 18, 2016, and The Divergent Series: Ascendant opens March 24, 2017.