'Transformers 5' May Take Optimus Prime To Space, Bring Back Dinobots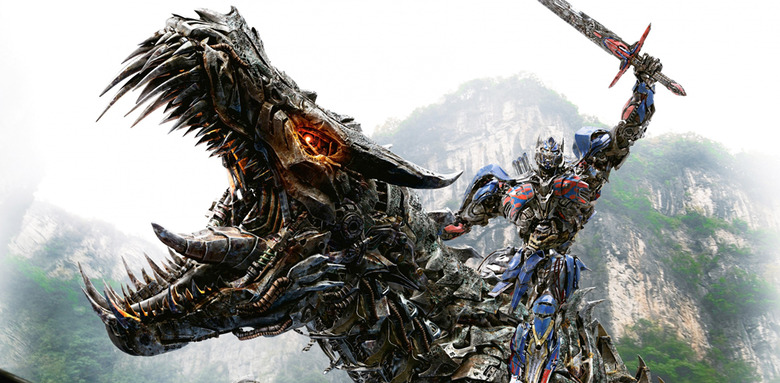 As we learned earlier this year, Paramount Pictures is hoping that their Transformers franchise can be turned into a more diverse collection of movies not unlike the Marvel cinematic universe, with spin-offs for characters like Bumblebee rumored to be in development. But before that, Transformers 5 is expected to arrive sometime in 2017, and some story details have just come to light.
Mark Ryan is an actor who voiced Jetfire in Transformers: Revenge of the Fallen and Lockdown in Transformers: Age of Extinction, and while appearing at the Wings and Wheels convention in the United Kingdom, he revealed two possible Transformers 5 plot possibilities that take our human and Autobot heroes in very different directions.
Christian Post (via MovieWeb) was on hand to get details from Ryan who explained that the story for Transformers 5 will have two different storylines happening simultaneously. The first will follow Cade Yaeger (Mark Wahlberg, already confirmed to return for the sequel) who must team up with the Dinobots to save the Earth from some kind of impending threat. There will be some Autobots to help out too, but not our main semi-truck protagonist.
There's some potential spoilers from here on out, so if you wish to keep reading, you've been warned.
Instead of helping Cade Yaeger again, Optimus Prime will be continuing on his own personal mission that was teased at the end of Transformers: Age of Extinction: to find his "creators" who sent Lockdown to Earth to take him prisoner. This will take him to space to presumably find the Quintessons, a race of tentacled overlords who created the Autobots to be their laborers and Decepticons to be their military might. In addition, Prime may also come to encounter a couple of Transformers with religious implications.
Taking Ryan's information into account, it stands to reason that Prime may end up confronting the Transformer known as Unicron, which Zimbio describes as the ultimate force of evil in the Transformers universe, said to be the embodiment of chaos and destruction. Unicron has internal computers that are constantly evaluating and monitoring time ripples in both the future and past, and he also has the ability to travel between dimensions, bringing balance by causing chaos where there is order.
If Unicron is part of Transformers 5, then it stands to reason that his opposing twin Primus may also be in the movie too. Unicron is the yin to Primus' yang, which makes the latter Transformer the ultimate force of good, bringing order and light where there is chaos and darkness. A being known as "The One" created Primus by splitting him from Unicron, thus creating a sort of holy trinity in the Transformers universe.
Keep in mind that all that information about where the Transformers come from is taken from the mythology of the animated series and movie, and some of these details could end up changing in the film. But even so, it sounds like we're going to venture into some strange existential subject matter in the Transformers universe.
It may be safe to consider this a rumor for now, if only because we're not sure Ryan would have these kind of plot details about the new movie just yet. But we do know that there's a lot of planning going on behind the scenes with an entire writers' room rounded up by Akiva Goldsman, composed of Zak Penn (Last Action Hero, The Avengers), Jeff Pinker (Lost), Art Marcum & Matt Holloway (Iron Man), Robert Kirkman (The Walking Dead), Christina Hodson (The Fugitive remake), Lindsey Beer (Short Circuit remake), Andrew Barrer & Gabriel Ferrari (Ant-Man), Ken Nolan (Black Hawk Down), Steven S. DeKnight (Netflix's Daredevil) and Geneva Robertson-Dworet.
As for who will direct Transformers 5, new franchise star Mark Wahlberg thinks that Michael Bay will get back behind the camera, but Paramount hasn't confirmed that fact just yet. So we'll have to wait and see how the next installment of the Transformers franchise shakes out.