Early Buzz: Charlie Kaufman's Anomalisa Is "Simply Brilliant Or Brilliantly Simple"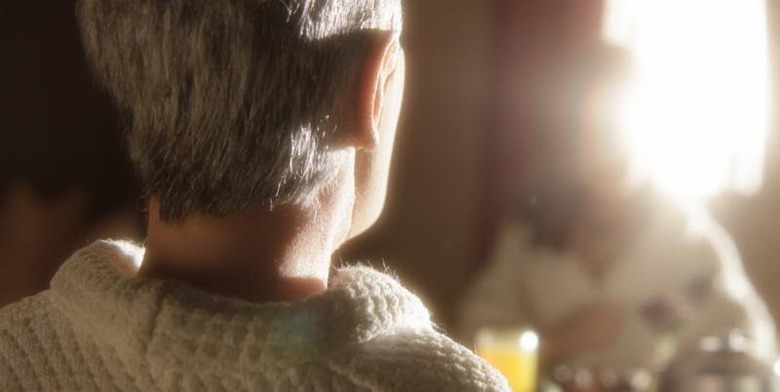 You probably know Charlie Kaufman from his screenplay contributions to Spike Jonze and Michel Gondry's filmography, which includes Being John Malkovich, Adaptation. and Eternal Sunshine of the Spotless Mind. Or you might even have even seen his 2008 directorial debut Synecdoche New York, which we've analyzed on the podcast and in a series of videos.
Kaufman's newest film Anomalisa made its premiere at the Telluride Film Festival over the weekend, and we have rounded up the early buzz. The film is notable not only because Kaufman's involvement but it is the auteur's first stop-motion film. The story is about "a man crippled by the mundanity of his life" and $406,237 of the project's projected $8 million budget was funded on kickstarter. Hit the jump to find out the early reactions in the first Anomalisa reviews.
First here is the description of the film from the Telluride Film Festival program:
Fasten your seatbelts. Michael Stone, spending the night in a Cincinnati hotel on business, is beset by a dramatic stream of insane and intense characters. Just before he spirals into desperation, he finds escape through a surprising, astonishingly tender erotic encounter. If the preceding description seems enigmatic, it's because revealing anything more might spoil the intricate, tragicomic dreamscape created by Charlie Kaufman (SYNECDOCHE, NEW YORK) and Duke Johnson (the Adult Swim series "Mary Shelley's Frankenhole" and "Moral Orel"). ANOMALISA is animated, with wondrous stop motion; David Thewlis and Jennifer Jason Leigh and the gifted Tom Noonan do the voice honors, superbly; and Carter Burwell's string-based score is perfect. We know Charlie Kaufman's status as a visionary and one of the American filmmakers who really matters; we can now discover Duke Johnson as a major creative force. –LG
Early Anomalisa Reviews And Reactions
Heres a sample of reactions from twitter:
Felt a split-second flash from "that's it?" to "that's it!" as the lovely, unexpectedly simple but quiveringly exploratory ANOMALISA ended.

— Guy Lodge (@GuyLodge) September 8, 2015
ANOMALISA gives us the best Jennifer Jason Leigh since at least 2007. Match that, "greatest actors' director" QT. I'll be elated if you do.

— Guy Lodge (@GuyLodge) September 8, 2015
Anomalisa – Not sure if it's simply brilliant, or brilliantly simple, but coming from Kaufman I know there's depth. "Don't forget to smile."

— Alex B. (@firstshowing) September 5, 2015
As with every Charlie Kaufman movie, it will be swimming around in my mind for days. I really dug the style & the characters in Anomalisa.

— Alex B. (@firstshowing) September 5, 2015
Among its many other virtues, ANOMALISA takes onscreen puppet sex to a whole new level. It's a long way from TEAM AMERICA. #venezia72

— Jill Lawless (@JillLawless) September 8, 2015
One way or another, by hook or by crook, Charlie Kaufman is goung to take us down another morose, gloomy, lonely-guy rabbit hole. Yeah!

— Hollywood Elsewhere (@wellshwood) September 5, 2015
"Anomalisa" checklist: I'm lonely, we're all clueless & miserable, I smoke, I'm a dickish horndog, I urinate, I'm a pudgebod, fuck my life.

— Hollywood Elsewhere (@wellshwood) September 5, 2015
What does it mean to be a flabby-bellied author-puppet with a dick & detachable mouth-jaw who likes martinis and hurts the women he fucks?

— Hollywood Elsewhere (@wellshwood) September 5, 2015
What's it mean to be human and aching as I sit in a Telluride theatre & watch a smartly gloomy Charlie Kaufman film about a depressed dick?

— Hollywood Elsewhere (@wellshwood) September 5, 2015
And here are some actual quotes from reviews:
"Anomalisa" will seem bizarre and enigmatic on the surface to some viewers. It can be a disorienting at first, as the movie makes you work to understand it at times, and it certainly never spell its intentions out. Some of its nightmarish, occasional sub-Kafka-ish surrealist qualities — minor shades of David Lynch meets "Inception," but only at times — may throw the audience off balance too, but once you've adjusted to its off-kilter rhythms, the movie is a relatively clear-eyed picture about grappling with the anxieties of life, our struggles to connect and find happiness, and the personal dilemmas that often feel insurmountable (ok, relatively).
"Charlie Kaufman teams with stop-motion whiz Duke Johnson to bring his conceptual stageplay to life, resulting in another uniquely cerebral yet satisfying bout of self-analysis." ... What follows is both beautiful and heartbreaking, and ultimately unforgettable. Kaufman has done it again, writing a deeply flawed male protagonist and a woman who seems so incredibly ideal despite (or perhaps due to) her imperfections, and he's engineered it so that we fall in love: Michael's gray and overcast, Lisa just wants to walk in the sun, and for as long as he can make the moment last, she's the one. The anomaly. The Anomalisa."
"I'm still not sure what to make of it" ... " I'm unsure if Anomalisa is simply brilliant, or brilliantly simple, in showing the importance of the connections we make with other people." ... "On the surface, Anomalisa is a very simple story. The stop-motion animation work is unlike any stop-motion I've seen before, but is still impressive. The characters are designed to look realistic, but some still feel fake – on purpose. As the film progresses, you start to realize this animation and character design is actually an intimate part of the film itself. "
"An authentic, hand-made original" ... "beguiling poignancy and emotional nuance of this funny-sad, haunting meditation on depression, disguised as a melancholy love story." ... "
Kaufman and Johnson create a vivid, dismally relatable world here, both droll and dreary, but fascinating precisely because of its numbing banality."
"With the animated tale of a motivational speaker struggling to cope with his isolation in the universe, the Telluride film festival has screened a future classic" ... "Kaufman and co-director Duke Johnson offer images so moving and yet also so filthy Anomalisa might just make the first R-rated best animation Oscar winner. And it addresses in new and fruitful ways the kinds of questions cinema sometimes aspires to answer. What does love look like? How does it feel to be deeply disconnected from the rest of the race? And, to quote its hero: "What is it to be human? To ache?""
"The Charlie Kaufman touchstones are certain male neuroses and a certain ambiguity with the reality of the film. It resonates just as deeply and the conceit works as powerfully as Synechdoche, New York; Eternal Sunshine of the Spotless Mind or Adaptation. Co-director Duke Johnson and the animators of Starburns Industries proved a fruitful partnership as they matched sensibilities and pulled it off flawlessly."
"Charlie Kaufman is back – with a wistful, resonant film, a bracing, wry, honest dose of cinematic melancholy, in which an anonymous chain hotel somewhere in Cincinnati becomes an existential and emotional staging post for a depressed motivational speaker. " ... "Told thus, Anomalisa seems almost a short film, but the back-of-a-postcard storyline insulates Kaufman from the overweening ambition of Synecdoche and allows the director to focus on an imperfect man's small moment of crisis in a nowhere place, and to expand it from the inside. As with Lost In Translation, a hotel with its minibars and muzak, its frustrating electronic key cards and endless, reassuring variations on browns and beiges, becomes a limbo, a transitional space where things unravel, but also where new possibilities seem just a room-service-call away."
The master of Kafkaesque character studies delivers a visually compelling mystery with more than a few profound ideas. If the confounding twists of "Being John Malkovich," "Adaptation" and "Synecdoche, New York" fused with the tone of "Eternal Sunshine of the Spotless Mind" and collided with an episode of "Robot Chicken," the result might resemble the peculiar animated odyssey "Anomalisa."
Charlie Kaufman's existential stop-motion animation is predictably strange but unexpectedly profound. .... The premise is classic Kaufman: an existential cup-and-ball trick entirely in keeping with his previous work, which include the screenplays for Adaptation and Being John Malkovich and both writing and directing duties on the monumental Synecdoche, New York. But however much you think you're ready for it, nothing can prepare you for its sheer flesh-creeping oddness in practice – which would be impossible to achieve, of course, in any medium other than animation.
The master of misanthropy returns with a superb, quasi-animated feature on the nature of empathy. An animated but crushingly real exploration of how empathy is our only escape from ourselves .... Charlie Kaufman is back. It's good to hear his voice.
...a stop-motion animation film shot with puppets that is full of laughs, tenderness and more than a touch of the surreal. But with an explicit sex scene between two of the puppets about halfway through, it won't be one for the whole family.