'Arrow' Season 4 Trailer: Oliver Queen Can't Live A Quiet New Life For Long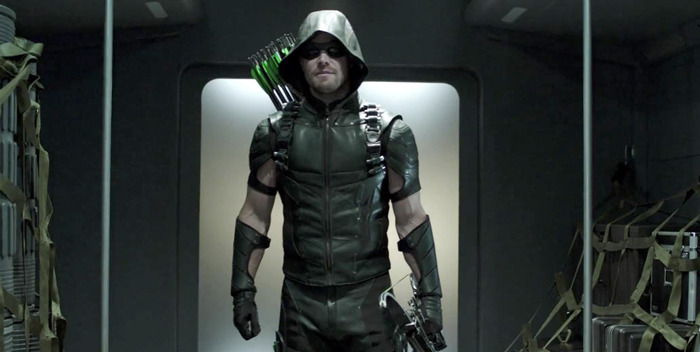 It's almost time for the new season of Arrow to begin this fall, and that means there's no better time for a full trailer to give us a sneak peek of what we can expect this season from The CW's resident vigilante.
The Arrow season 4 trailer starts off with a bright and happy tone as we see Oliver Queen (Stephen Amell) enjoying his new life, removed from the responsibilities he gave himself as The Arrow, and living with Felicity in a lovely little suburb. But the honeymoon can't last forever as the newly renamed Star City ends up facing new threats for Queen to deal with yet again.
Here's the trailer for the fourth season of Arrow from The CW:
There's a lot of new characters to absorb in this trailer, including Echo Kellum as Mr. Terrific, JR Bourne as the villain Double Down, and the recently revealed Diggle (David Ramsey), who still has a Magneto vibe to him that can't be unseen. There's also glimpses of Thea (Willa Holland) in costume as Speedy, as well as the return of Matt Ryan reprising his role as Constantine, which we heard would be happening not too long ago.
Some conflict is also teased between Nyssa al Ghul (Katrina Law) coming face to face with Malcolm Merlyn (John Barrowman), now the new Ra's al Ghul at the top of the League of Assassins, replacing Nyssa's father.
But the big bad guy seems to be Neal McDonough as Damien Darhk making his own motivations known in the trailer by saying, "You're all fretting about this city dying. I'm here on behalf of an organization that wants you to let it die." Oliver Queen definitely won't be able to stay away from stopping chaos in Star City for very long, and he'll have a new suit to fight crime in when he heads back.
After defeating his most formidable foe to date and riding off into the sunset with longtime flame Felicity Smoak, Oliver Queen (a.k.a. The Arrow) left Starling City with the hopes of beginning a new life. But will Oliver ever truly be able to leave behind his past as the Arrow, and, if so, what becomes of the team he has worked so hard to assemble? Will Diggle, Thea, and Laurel be left to continue Oliver's crusade without him? And with Malcolm Merlyn having ascended to the top of the League of Assassins as the new Ra's al Ghul, is anyone really safe?
Arrow returns to The CW on October 7th.