'Steve Jobs' Early Buzz: The Tech Genius Finally Gets A Proper Biopic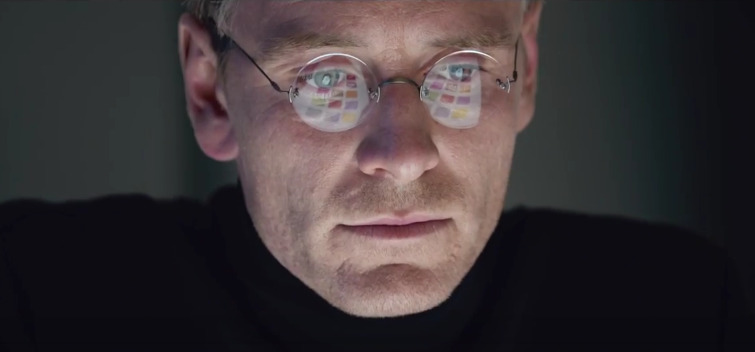 The simply titled biopic Steve Jobs premiered at the Telluride Film Festival over the weekend, and the first reviews coming from the mountains of Colorado seem to indicate that we have our first Oscar frontrunner.
Michael Fassbender takes the titular role as the Apple co-creator and tech genius who brought us innovations such as the iPod, iPhone and perhaps most importantly, the first mainstream home computer. The supporting cast is nothing to scoff at either with Seth Rogen, Kate Winslet, Jeff Daniels, Michael Stuhlbarg and more giving plenty more reason to pay attention to this drama.
Slumdog Millionaire director Danny Boyle is behind the camera this time with a script by The Social Network scribe Aaron Sorkin driving the whole film. And if the Steve Jobs early buzz from reviews and reactions following the film are any indicator, this team of talent has delivered an intense, powerful, home run of a biopic that finally paints a portrait of Steve Jobs that's worth hanging on the wall.
Basically, it sounds like despite the fact that Fassbender doesn't look or sound anything like Jobs, he still turns in an amazing performance, churning out Sorkin's quick, long diatribes out like poetry. Seth Rogen seems to have turned in quite a fine dramatic performance as well.
At times Danny Boyle seems to get in the way of just letting Sorkin's script do the heavy lifting, but for the most part, it sounds like the two compliment each other rather nicely. Here's some more detailed reviews and reactions from those attending the premiere at Telluride: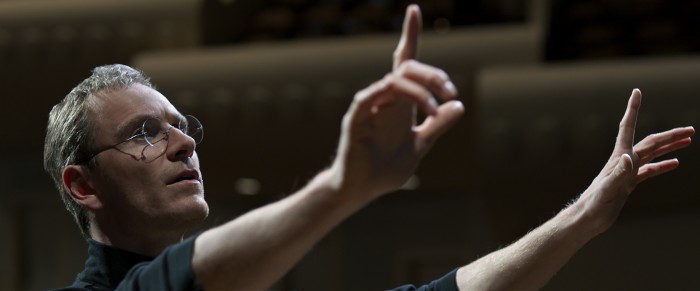 Reviews
This isn't, of course, the first time Sorkin has turned an unflattering eye on a tech-world revolutionary, and those viewers who thought "The Social Network" was a bit too show-offy will find this even more brazenly written picture truly insufferable by comparison. The virtues of Sorkin's style are as self-evident as the vices; his work here is by turns ferociously inventive and cloddishly on-the-nose — a high-wire achievement that's easy to admire even when it's nearly impossible to like.
And something similar could surely be said of Steve Jobs himself, whose profound disinterest in soliciting anyone's affection is what ultimately lends Boyle and Sorkin's film its underlying integrity, despite the outrageous factual, dramatic and aesthetic liberties they've taken with the material. In this unabashedly fictionalized context, Fassbender overcomes the obvious casting hurdle (he looks nothing like Jobs, whose Arab-American lineage is briefly referenced) and delivers a performance as enthralling and fully sustained as any on his estimable resume. That the actor is onscreen at every minute makes it all the better that it's impossible to take your eyes off him, or your ears: This is an actor who knows exactly how to toss off Sorkin's dialogue, emphasizing rhythm and inflection over volume, while embodying confidence and authority in his every atom. It's a performance that sets the tone for equally fine work all around: Rogen delivers a lovable, downright huggable spin on Wozniak; Stuhlbarg mines layers of wry wisdom from Hertzfeld; and as Jobs' right-hand woman, Winslet overcomes a wobbly Polish accent to provide the audience with an essential lifeline to reason and sanity.
Todd McCarthy at The Hollywood Reporter:
Propulsively fast, fleet and inquisitive, the film is at the same time somewhat less flashy than most of Boyle's most famous and successful works, including Trainspotting, Slumdog Millionaire and 127 Hours. Due to its "backstage" setting and approximate real-time frame, Jobs can't help but provoke memories of the recent Birdman, which breathtakingly covered continuous action with unprecedented fluidity. Boyle's sophisticated but pragmatic visual approach to evoking a maelstrom of activity stands somewhere between that and more conventional cinema-verite, befitting, perhaps, the period in which it's set.
But hardly any of this would matter without a dynamic actor at the center of things nailing the part of Jobs, and while Fassbender doesn't closely physically resemble the man, he fully delivers the essentials of how we have come to perceive the man: Along with intellectual brilliance and force of personality, the actor also taps into the man's frequently unreachability, power to inspire, unswerving faith in his own instincts, attention to the smallest detail, utter lack of sentimentality and the certitude that can come from occupying a different, loftier realm. Most of all, you get the strong sense from Fassbender of a mind that is always several steps beyond everyone else's, one that allows him to shift gears without taking a breath.
Fassbender spits out Sorkin's dialogue like an ice cube maker — each withering insult sticking its landing. Jobs suffered no fools. This is not a story that sugar coats his past. He is, in many ways, a monster who feeds on ego and builds machines that do not cooperate with other machines but are closed systems onto themselves.
'Steve Jobs' has the look and feel of a three act play with a stage, a backstage, an adoring crowd and lots and lots and lots and LOTS of dialogue. Sorkin and Boyle have found a way to tell this familiar story as a kind of talk opera. Dramatic speech and monologues take up so much room there isn't much left for anything else.
It's a high wire act that might leave some feeling left behind. Somehow, though, Boyle pulls it off not by backing off the speechifying but by leaning into it and allowing it to sing.
Makeup and hair attempts aside, Fassbender doesn't look or sound very much like Jobs, but considering he's clearly playing an imagined version of the Apple founder that's OK.  Where the 38-year-old actor excels is in eventually prompting sympathy for an obviously stubborn egomaniac.  This may not have been how the real Jobs acted in 1998, but Fassbender finds a way to make it feel credible.
Beyond Fassbender's impressive performance the movie is assisted by a universally brilliant supporting cast. Winslet gives one of the best performances of her career providing Hoffman with a gravitas that isn't always in the script. Rogen does more for Wozniak's legacy with his performance in this one film than any of the computer pioneer's recent public interviews ever have.  Daniels makes you root for Sculley even though he's supposedly to blame for the dismal Apple Newton (it should be noted the movie depicts Sculley's run as CEO as a complete disaster which simply isn't the case). Stuhlbarg is absolutely fantastic as the one Apple employee Jobs has hurt the most, but who continues to look out for him. Waterston beautifully conveys the humiliation Chrisann feels after Jobs insists Lisa isn't his daughter in TIME magazine of all places.
Rodrigo Perez at The Playlist:
A deliriously quick-footed and orchestrally pitched character study, "Steve Jobs" is an ambitious, deeply captivating portrait of the high cost of genius. The Danny Boyle-directed "Steve Jobs" is a dazzling showcase of the brilliant multi-layered and rat-a-tat delivery of screenwriter Aaron Sorkin. And for all its dimensions of an iconoclastic, trailblazing thinker and digital revolutionary, "Steve Jobs" is also a movie about fatherhood, absentee fathers, rejected children (Jobs was also adopted) and the price of committing yourself to a visionary way of thinking.
A sort of companion piece to "The Social Network" — also about tech geniuses and what made them tick— "Steve Jobs" is actually even more accelerated and nimble. The entire movie is kind of pitched like the opening scene of Fincher's 'Social Network' where Jessie Eisenberg and Rooney Mara engage in quick-fire tête-à-tête full of confusion as Eisenberg's Mark Zuckerberg is pinballing his way through five different subjects and the exasperated Erica Albright can barely keep up. "Steve Jobs" is that mode on steroids —Sorkin on an all-night Red Bull bender — and its breakneck results are utterly absorbing.
Steve Jobs is a locomotive. Danny Boyle's biopic of the former Apple CEO is crisply directed, wonderfully acted, and beautifully edited. Aaron Sorkin's script is breathless, witty, urbane, but also exhausting and painfully circular. It spans 15 years, and three different Jobs product launches. This train makes you feel like it's covered a lot of ground, but there are windows on the train—and we can see that it's just traveled in circles, and stopped at the same spot as it began; the conductor asks you to step out and see the place as new. Unfortunately, this is how Steve Jobs goes from being great to merely good.
David Ehrlich at Time Out New York:
Steve Jobs the movie is a lot like Steve Jobs the person: astonishingly brilliant whenever it's not breaking your heart. Screenwriter Aaron Sorkin, who's written about America's Great Flawed Men with such fire and hyperarticulate pathos that he's threatened to become one himself, outdoes his work on The Social Network with an even sharper and more savage script about a tech visionary whose genius threatens to corrupt his ethics. Meanwhile, Slumdog Millionaire director Danny Boyle—at turns an agreeably rambunctious and disastrously literal choice for this material—does his best to stay out of sight, but whenever he shows his hand, you want to smack it away.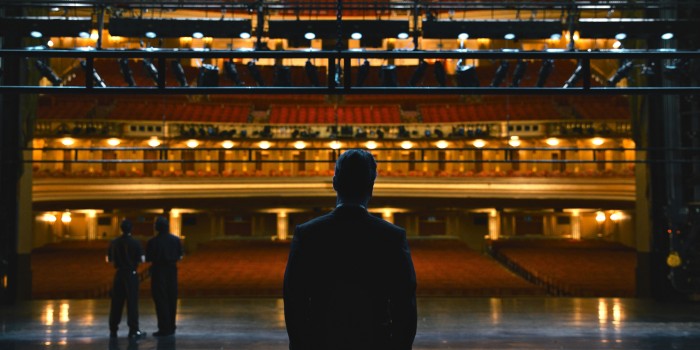 Reactions
Steve Wozniak was in attendance of the premiere at Telluride, but he had already seen the film beforehand and told Deadline:
"I saw a rough cut and I felt like I was actually watching Steve Jobs and the others, not actors playing them, I give full credit to Danny Boyle and Aaron Sorkin for getting it so right."
Cast is superb. Fassbender captures depths of Jobs' dark side & humanity w/ fluidity. Daniel Pemberton's score=LOVE! #SteveJobs #Telluride

— Tomris Laffly (@TomiLaffly) September 6, 2015
Watching everyone pick up their iPhones to snap a shot of real Steve Wozniak at JOBS premiere. Somewhere Steve Jobs is smiling. #Telluride

— Rebecca Keegan (@ThatRebecca) September 6, 2015
Basically if you love Aaron Sorkin Steve Jobs is for you. If you find his style grating a times you probably won't enjoy. #telluride

— Gregory Ellwood -The Playlist 🎬 (@TheGregoryE) September 6, 2015
My goodness is Sorkin's script so fucking delicious. Floored by how much depth there is to every last sentence. What a film, what a film.

— Alex B. (@firstshowing) September 6, 2015
Steve Jobs – This is one for the ages. Sorkin's script, through Boyle's lens, makes for a breathtakingly phenomenal film. Perfection. Wow.

— Alex B. (@firstshowing) September 6, 2015
It's still too early to make any real predictions, but this kind of buzz coming out of Telluride is pretty good. There's a chance it could cause the film not to live up to this early hype, but considering the kind of talent on screen, behind the camera, and on the page, this should be quite the drama to see this fall.
Steve Jobs hits theaters on October 9th. You can watch the most recent trailer right here.