'Agents Of SHIELD' Season 3 Trailer: The Inhumans Are Back In Full Force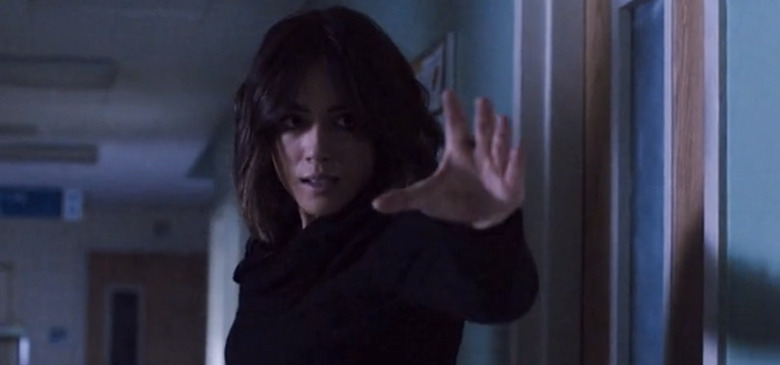 It's time to say goodbye to Skye and hello to Daisy Johnson. Agents of SHIELD is coming back this fall, and Chloe Bennet is embracing her new status as a bonafide part of the superhuman race known as Inhumans.
The Agents of SHIELD season 3 trailer has just surfaced online, giving just a quick peek of what we can expect from this new season of the Marvel Studios television program with ties to the Marvel cinematic universe. And fans who have been wanting to see more superhuman action should be happy to see that Daisy is very much in control of her powers, and she's not afraid to use them.
Here's the Agents of SHIELD season 3 trailer from Yahoo:
After fighting against Jiaying and the Inhumans at the end of the second season this past spring, Agent Coulson (Clark Gregg) and Daisy are searching the world for more superpowered people. And what they find are scared individuals who have no idea how to deal with their newfound abilities, and begin to pose a threat to themselves and the rest of the world.
However, since the conclusion of the Inhuman battle last season, the team is in a bit of disarray with Agent Melinda May (Ming-Na Wen) still on an impromptu vacation with her ex-husband Andrew (Blair Underwood), Agent Bobbi Morse (Adrianne Palicki) still reeling from her torture at the hands of double agent Grant Ward (Brett Dalton), and Fitz (Iain De Caestecker) obsessed with finding his missing counterpart Simmons (Elizabeth Henstridge).
That's just the tip of the iceberg that's right ahead for the third season of Agents of SHIELD. Here's the rest of the necessary information, courtesy of an official synopsis from Marvel:
Ever since the existence of Super Heroes and aliens became public knowledge after the Battle of New York, the world has been trying to come to grips with this new reality. Coulson assembled a small, highly select group of Agents from the worldwide law-enforcement organization known as S.H.I.E.L.D. (Strategic Homeland Intervention Enforcement and Logistics Division). S.H.I.E.L.D.'s mission: to protect those who cannot protect themselves from threats they cannot conceive.
But bigger threats loom ahead, setting the stakes even higher for the Agents, including the spread of Terrigen, an alien substance that unlocks superhuman abilities in select individuals; the emergence of new Inhumans who cannot yet control nor understand their powers; the rise of a new government organization that will go toe-to-toe with S.H.I.E.L.D.; the unknown properties of the massive alien Kree monolith, which has taken one of their own; and the constant threat of a rebuilt Hydra terrorist organization under S.H.I.E.L.D. traitor Grant Ward, who is making it his personal mission to take down Coulson and S.H.I.E.L.D.
New faces, both friend and foe, will join the series, including the no-nonsense, highly-skilled and somewhat mysterious leader (Constance Zimmer) of the ATCU (Advanced Threat Containment Unit), her intimidating partner, Banks (Andrew Howard), Lash (Matthew Willig), a monstrous Inhuman whose loyalties remain ambiguous, and new Inhuman Joey (Juan Pablo Raba), who is struggling to harness his newfound abilities, among other surprising characters.
Coulson, with the help of Daisy and Mack (Henry Simmons), will work to slowly assemble a team that is stronger than ever before, combining the highly skilled Agents of S.H.I.E.L.D. with powered individuals in the hopes of protecting the innocent in a world where the balance of power is ever-shifting, and new dangers are constantly emerging."
It sounds like there's going to be a lot of crazy stuff happening this season. But the question is will it begin to have a bigger impact on the Marvel cinematic universe? The show makes endless references to the MCU, but that doesn't really happen the other way around. However, the growing number of Marvel shows at Netflix might give Agents of SHIELD something to latch onto as well, especially with someone as dangerous as The Punisher stirring up trouble in the second season.
Agents of SHIELD returns to ABC on September 29th.