Chris Evans Will Keep Playing Captain America As Long As Marvel Wants Him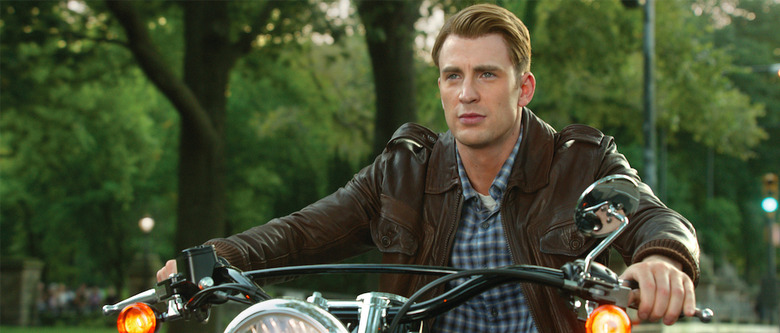 Last year there were some rumblings that Chris Evans might be stepping away from acting, including his role as Captain America for Marvel Studios after he completed the final films in his current contract, the last being The Avengers: Infinity War – Part 2 in 2019. The actor wanted to focus more on directing, but he eventually pulled back on thoughts of retirement and wasn't necessarily eager to leave Captain America behind.
Now it sounds like his tune has changed entirely as a new interview has Evans flat out saying, "Listen, if Marvel wants me they got me." Chris Evans not leaving Captain America certainly shakes up some theories fans have had about his passing the shield, but it's definitely good news.
Here's what Evans told Collider while promoting his directing debut Before We Go:
"Listen, if Marvel wants me they got me. I've never had such a relationship where you have such—I mean look at my resume, I'm used to being on set being like, 'Ah is this movie gonna be terrible?' Marvel just can't stop making great movies, they do it in their sleep. It's wonderful directors and producers and actors and scripts, and it's like a playground as an actor."
Evans even paused for a quick thought about how he would feel if he passed on the role the first time around:
"It's so mind-boggling that I was so tentative in the beginning to jump onboard. What an a**hole I would be if I hadn't done this. I mean can you imagine? Kicking myself—I'd never forgive myself!"
When Evans was offered the role, he wasn't sure if he wanted to take on another comic book character and get caught up in the sequels and whatnot again. But fans are certainly glad that he did, and he seems to have made believers out of people who didn't think the former Human Torch made for a good Captain America.
Clearly his success in the role and the quality of Marvel's movies (which is arguable from time to time) has him full invested in the role. But what truly helped change his tune as far as further dedication to Captain America?
Well, it just so happens this interview took place very shortly after we learned that Kevin Feige had just gained more control at Marvel Studios and their movies. This restructuring was important because it helps Feige get around the constant frustrations tied to Ike Perlmutter, the CEO of Marvel Entertainment. Most of the bad things you hear about behind the scenes matters at Marvel Studios, such as them low-balling actors and directors, are related to Perlmutter. But thanks to the restructuring, that shouldn't be a problem anymore.
So why wouldn't someone like Chris Evans, often pulled into multi-movie contract deals with Marvel Studios, be even more eager than he was before to keep playing this character? With Feige more in control, it will likely be a more friendly creative environment, and Evans won't have to throw Cap's shield around the office in order to get the deal that he deserves as one of Marvel's flagship superheroes.
It sounds like the restructuring at Marvel Studios is having even more of a positive effect on the Marvel cinematic universe than we initially thought. And as we previously prognosticated, hopefully this means we'll get more female superheroes coming soon as well, something Perlmutter was also consistently putting the kibosh on.
So for any fans who were thinking that Steve Rogers was going to be killed off, allowing for Bucky Barnes (Sebastian Stan) to step up and become the new Captain America, as inspired by the comics, it might not be time for such a drastic change yet. Chris Evans doesn't have his own super soldier serum, so he can't play the character forever, but it seems he's not leaving anytime soon.
Are you happy to have Chris Evans stick around as Captain America?