LOL: 'Toy Story' Meets 'Batman V. Superman' In Trailer Mash-Up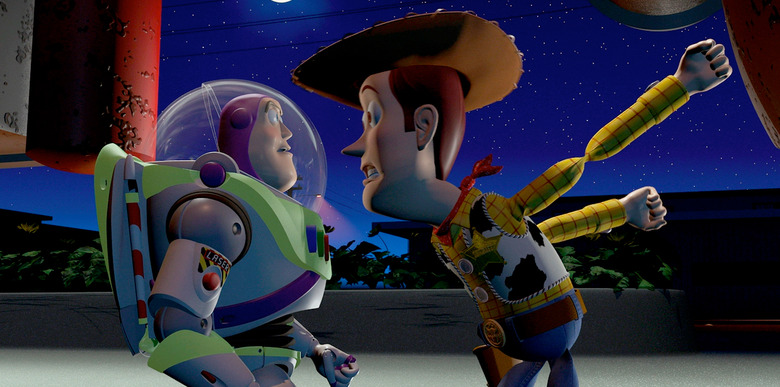 Next spring, before Steve Rogers and Tony Stark square off in Captain America: Civil War, the big screen will see a comic book match-up that is unprecedented in Batman v. Superman: Dawn of Justice. But two heroes at odds is nothing new, and a modern classic tale that pitted two now-iconic heroes against each other has been given a DC Comics twist.
It's no secret that Woody and Buzz Lightyear weren't the best of friends when Toy Story premiered in 1995, and now they're given The Dark Knight and Man of Steel confrontation treatment in this cleverly edited Toy Story Batman v Superman mash-up. Watch below!
Here's the Toy Story Batman v. Superman mash-up from CineMash:
There's some pretty nice editing at work here to make Toy Story much more intense than the Pixar film really is. However, the editor did cheat a bit by using footage from the opening of Toy Story 2. And there's also a little effect added by making gunfire come out of the Army Men's weapons. But otherwise, it's the editing that gives Toy Story a whole new tone.
Not unlike Batman and Superman, Buzz and Woody were at odds only to learn that they needed to work together in order to deal with an even bigger threat: the next door neighbor, Sid. And while their original owner, Andy, bid them a fond farewell in Toy Story 3, the whole gang is coming back for Toy Story 4.
However, we're not entirely sure what kind of shenanigans the living toys will get into this time. As of now, the only thing we know is that Woody and Buzz go in search of Bo Peep (we have no idea where she's at) and it's supposed to be a sort of love story.  The movie doesn't arrive until June 16th, 2017, so we have plenty of time to find out more.