First Look: Bryan Cranston Is Unrecognizable As LBJ In HBO's 'All The Way'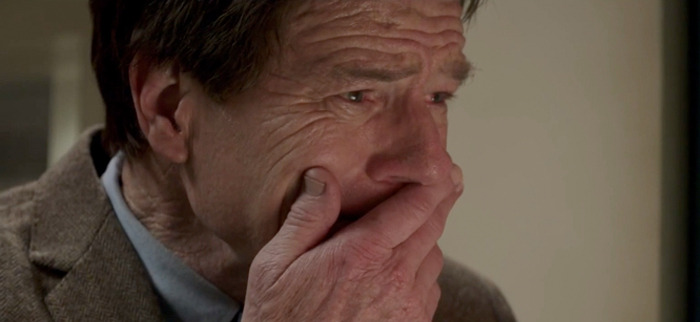 Back in the summer of 2014, we learned that Emmy-winning Breaking Bad star Bryan Cranston would be taking his Tony-winning performance as President Lyndon B. Johnson to HBO in an adaptation of the stage play All the Way.
Production is now underway on the HBO Films production, and we have a first look photo of Bryan Cranston as LBJ, in which the actor is completely unrecognizable.
Here's the photo of Bryan Cranston in All the Way, from People Magazine:
If you've seen photos from the stage production of All the Way, then you know that Cranston wore a lot of make-up for the role. However, as a film production, the make-up work is even more impressive, and I'm willing to bet that no one would be able to tell that Cranston is under all that make up. In case you haven't figured it out, the real Lyndon B. Johnson is on the right.
Even though we're just coming up on the Emmy awards for the previous year on September 20th this month, I would say that it's almost a guarantee that Cranston will get an Emmy nomination for this role when the time comes next year. Director Jay Roach, fresh off working with Cranston on Trumbo coming later this year, told People Magazine:
"Physically and emotionally Bryan completely channels LBJ. We just filmed him and Lady Bird in the Oval Office, after JFK's assassination. LBJ has arrived as the 'accidental President.' He's almost overwhelmed. In spiritual support, Lady Bird touches his cheek. We melted, like we went back in time and witnessed a private, heart-wrenching moment between these two great people."
Cranston isn't alone though, with a notable ensemble joining him in the movie. The cast also features Anthony Mackie (portraying Martin Luther King), Melissa Leo (Lady Bird Johnson), Bradley Whitford (Hubert Humphrey), Stephen Root (J. Edgar Hoover), Marque Richardson (Bob Moses), Aisha Hinds (Fanny Lou Hamer), Todd Weeks (Walter Jenkins), Mo McRae (Stokely Carmichael), Spencer Garrett (Walter Reuther) and Frank Langella (Senator Richard Russell).
HBO's The Pacific writer Robert Schenkkan (who also won a Pulitzer Prize for The Kentucky Cycle), has adapted the play for film, giving us a behind-the-scenes look at President Johnson's tumultuous first year in office. The story begins as he takes the oath in the wake of President Kennedy's assassination, moves through the escalation of the Vietnam War and chronicles his struggle to balance opposing interests to launch his landmark civil rights bill and win election to his first full presidential term.
1964: A pivotal year in American history—a landmark civil rights bill was passed, America began its involvement in Vietnam...and one man sat at the center of it all, determined to lift the country out of the ashes and rebuild it into The Great Society—by any means necessary. Hero. Bully. President. He played whatever part it took to win the day. It's not personal, it's just politics.
All the Way doesn't have a release date yet, but we'll keep you posted.