'Star Wars: The Force Awakens' Merchandise Sales Could Total $5 Billion In A Single Year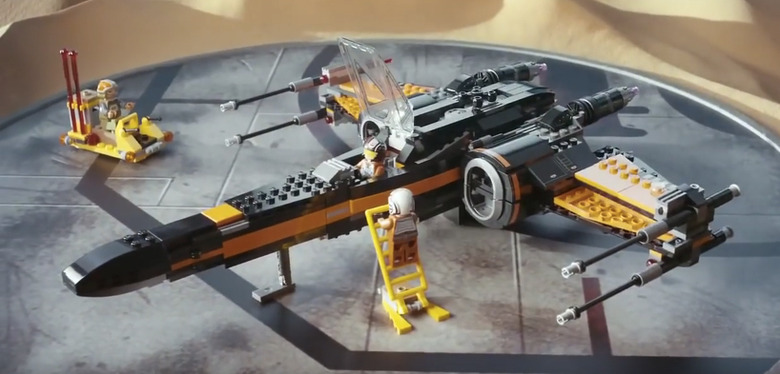 This weekend, Disney and Lucasfilm unleash an onslaught of Star Wars: The Force Awakens merchandise into stores around the world with a little event they've called Force Friday, which will be preceded by an 18-hour unboxing live stream of tons of goodies hitting shelves for Star Wars fans.
There's no doubt that people are going to spend tons of money on this stuff, whether it's for themselves or for their kids, and a new report unsurprisingly indicates Disney will make quite the pretty penny on all this. But the real surprise is just how much these sales will total in a single year.
THR cites a report from Macquarie Securities analyst Tim Nolle that was released on Monday, taking a closer look at Disney's stock, which has actually dropped 16% in the past four weeks. But Nolle points out that Disney has nothing to worry about with several upcoming catalysts: a new football season (Disney owns ESPN), the launch of a Shanghai Disneyland theme park overseas, and more immediately, the arrival of Star Wars: The Force Awakens and everything that comes with it.
Nolle believes that sales on Force Friday could result in "an immediate catalyst this week with the Sept. 4 global consumer product launch, leading into the film release Dec. 18." In fact, he goes on to estimate that The Force Awakens "could generate $5 billion in consumer merchandise sales in its first year of release, assuming it does better than Cars 2's $3 billion."
However, not all that $5 billion would be going to Disney. If it did, that would cover the $4 billion that Disney spent on Lucasfilm. Revenue from all these sales has to go to retail and merchandise partners first, but even after all the numbers are crunched, assuming The Force Awakens merchandise pulls in $5 billion as projected, Disney would still make $500 million in licensing and retail revenue.
And that's just after a single movie. This trend will continue with each and every Star Wars movie that comes out every year, though I would imagine that they'll never top the excitement of The Force Awakens. However, these numbers certainly aren't a guarantee, as this is just a prediction. The analyst says:
"It's not clear how to model this as we can't name a similar such event. But looking at another successful Disney franchise, Cars 2 sold more than $2.8 billion worth of merchandise in its first year alone in 2011, and the original Cars movie sold approximately $10 billion worth of merchandise in its first five years of release. Taking into account the strength of the Star Wars franchise, which has altogether sold over $20 billion worth of licensed goods in its lifetime, we estimate that Star Wars: The Force Awakens could perhaps bring in merchandise sales of $5 billion in the first year."
That doesn't seem out of the ordinary because the appeal of the Star Wars franchise is extremely high and has always sold tons of toys, shirts, lunchboxes, backpacks, notebooks, towels, coffee mugs and almost anything you can slap a logo or character on.
But the report does note that they've assumed a higher licensing fee from Disney for their toys and products. The House of Mouse doesn't disclose their licensed revenue share per product or brand, but using numbers from 2014, they were able to see that Disney earned $2.54 billion in licensing and publishing revenue out of the $45.2 billion total retail sales of Disney's licensed products, which means they had roughly a 6% licensing fee. However, for something as big as Star Wars, they've assumed a 10% licensing fee. So there's a chance these estimates could be a little off in the end.
The report also gave their own box office predictions, "We also estimate the movie itself should gross about $2 billion at the global box office, netting nearly $1.2 billion in revenue for the company." That would put it at #3 on the all-time box office charts, beating out Jurassic World, and landing right behind Avatar and Titanic. That sounds pretty realistic, but only time will tell.