'Saturday Night Live' Adds Comedian Jon Rudnitsky As Featured Cast Member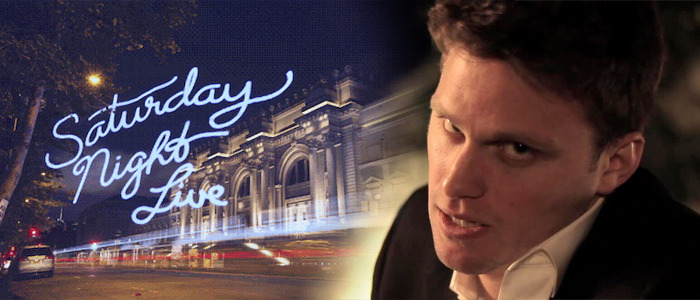 Fall is almost upon us, which means your favorite shows will be returning for a new season very soon. As usual, one of those shows will be Saturday Night Live, the long-running sketch comedy series that will be entering its 41st season.
Just recently we learned the show will feature a season premiere hosted by Miley Cyrus in October, and episodes hosted by Amy Schumer and SNL veteran Tracy Morgan will follow. However, we had yet to hear any new information about the cast of SNL. But that changes today.
NBC made an announcement this morning about Jon Rudnitsky joining Saturday Night Live as a featured player, and if you're interested in what he'll bring to the table, we've got some samples of his work below.
Rudnitsky joins a cast that currently includes Vanessa Bayer, Aidy Bryant, Taran Killam, Kate McKinnon, Bobby Moynihan, Jay Pharoah, Cecily Strong and Kenan Thompson as repertory players, while the featured players are Beck Bennett, Michael Che, Pete Davidson, Leslie Jones, Colin Jost, Kyle Mooney and Sasheer Zamata.
The featured player line-up is the second tier of cast members, often comprised of comedians who may be experimental, seeing if they work well enough to become part of the repertory players. Often times, featured players will only be around for a couple years before they are either bumped up to repertory players or simply let go from the show. Al Franken is the only exception, having been a featured player at various points on and off for about 10 years over a span of 20 years.
So who is Jon Rudnitsky? He's a New Jersey native turning 26 in November who graduated from the University of Southern California's acting program and also sharpened his improv skills as a performer at The Groundlings, an improv group where many SNL cast members have also gotten their start. Starting comedy in high school, Rudnitsky went on to win the 2012 Laugh Factory's Laugh Bowl college comedy competition, and was just recently part of he 2015 New Faces lineup at the Just For Laughs festival.
There's a chance you might have seen some of his work online as some of his comedic exploits have gone viral. Here's an eclectic sample of this work that can be found online, some of which gives us an indication of what we can expect him to do at SNL this season:
I wouldn't be surprised if we see Rudnitsky's "Rambling Waiter" character get tried out this season, though it would need to make it past the writers' room first. And that Straight Outta Newport parody is pretty great, and it'll be interesting to see how he blends with the likes of Beck Bennett, Kyle Mooney and former featured player/seasoned writer Mike O'Brien, who have been behind much of the pre-recorded material at SNL lately.
The 41st season of Saturday Night Live kicks off on October 3, and I'll be reviewing new episodes of the show right away, so stay tuned to see how Rudnitsky fares in his first season on the show. There's a chance he might not be the only new addition to the cast, but since no one seems to be leaving the show, and it's still a crowded cast, that just as easily may not happen. Stay tuned.