Star Wars Bits: Darth Vader Street, 'Rogue One' Speculation, 'Star Wars Rebel' Clip, And More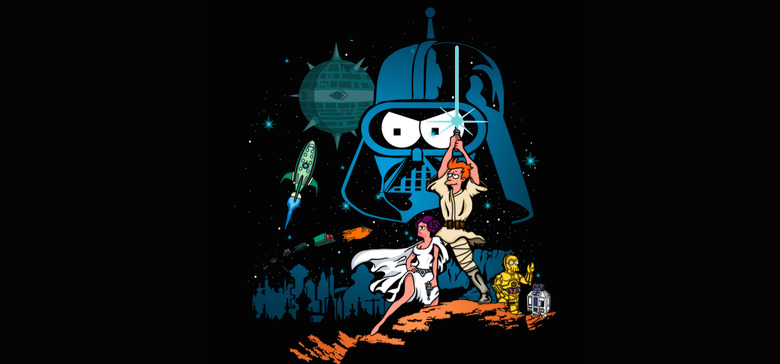 What better way to ease back into the workweek than with a bounty of new Star Wars nuggets? After the jump:
The Star Wars Facebook page has the perfect response to an ignorant comment
The city of Reykjavík names a street after Darth Vader
Has Star Wars: Rogue One cast British actor Regé-Jean Page?
A new theory about whom Felicity Jones is playing in Rogue One
See the cover of the Star Wars Battlefront: Twilight Company novel
Disney XD serves up a clip from the Star Wars Rebels Season 2 premiere
Star Wars: Shattered Empire gets another variant team and more artists
(Header image: "Future Wars" by DC Visual Arts. Buy the t-shirt at Neatoshop.)
***
Gwendoline Christie's Captain Phasma has already attracted tons of admirers thanks to her shiny chrome armor and her badass swagger, even months ahead of Star Wars: The Force Awakens. However, there are some fans who aren't so into her look. Specifically, it seems some don't think her armor is sufficiently "feminine" enough. So the official Star Wars Facebook account (via Upworthy) shut one of these complainers down in brutally efficient fashion.
Well played @StarWars, well played... pic.twitter.com/xL3HyPALkc

— Man vs. Pink (@ManVsPink) August 28, 2015
And now that Star Wars has shut down that debate, we can go back to arguing about more important things. Like whether Captain Phasma is a terrible name.
***
Star Wars has fans all over the world, but few cities have gone as far as Reykjavík, Iceland to show their love for the series. The City Council has reportedly approved a motion to rename a street "Svarthöfði" — which translates to "Black-head," which is what Darth Vader is called in Icelandic.
The Star Wars homage doesn't end there. Reykjavík mayor Dagur B. Eggertsson additionally announced that houses on the street of Svarthöfði will be numbered Star Wars style: "4, 5, 6, 1, 2, 3, 7, 8." As of yet, there's no word on how or if Reykjavík plans to account for the upcoming spinoffs in their numbering system.
***
The already fantastic cast of Star Wars: Rogue One may have just added one more to their number. Star Wars Post notes British actor Regé-Jean Page has been linked to Rogue One on his Spotlight.com page — essentially an online CV for actors and agents.
Page is an up-and-comer seen earlier this year in James McTeigue's crime thriller Survivor. He's also appeared on the British drama series Waterloo Road. Neither he nor Disney have publicly confirmed his Rogue One casting, but Star Wars Post reports Spotlight has yielded some good scoops in the past, so we'll be keeping an eye on him.
***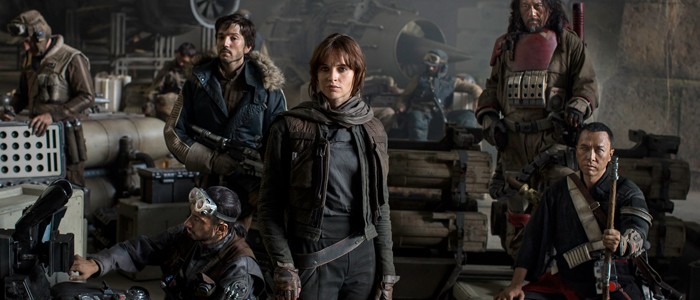 Felicity Jones' character in Rogue One has been the subject of widespread speculation for months now. Is she Ahsoka Tano? (No, she looks too human.) Sabine? The daughter of Boba Fett? Now Star Wars 7 News adds another theory to the pile: Maybe she's playing Aphra, the young droid programmer introduced in Star Wars: Darth Vader #3. Here's how they describe the character:
The third issue in the series introduced readers to a brand new character by the name of Dr. Aphra, a twenty-something-yr-old droid programmer and adventurer whose introduction into SW canon was reminiscent of that of Indiana Jones in Raiders of the Lost Ark – ducking and diving through lasers to obtain her prize, accidentally setting off the defense system, and barely escaping with her life as a Clone Wars era destroyer droid barreled after her. Vader quickly recognizes her talents and hires her to aid him in his efforts to get back his master's favor after his failure at the Death Star. Aphra proves to be a valuable asset to Vader, albeit chatty and naïve at times.
You can learn much more about Aphra, and why she might make sense for Jones, at Star Wars 7 News.
***
Behold: The cover of Star Wars Battlefront: Twilight Company by Alexander Freed, as revealed on StarWars.com.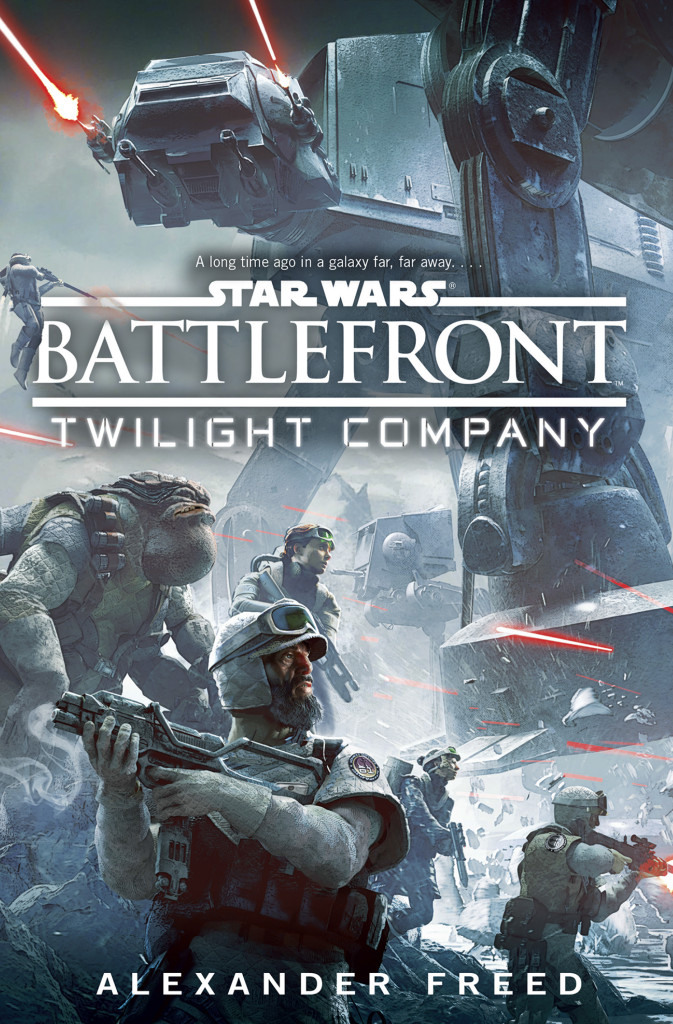 As the title suggests, the novel is based on the Star Wars Battlefront video game. At the center of the story are "a squad of soldiers caught in the trenches of the ultimate galactic war between good and evil." (You can get a much more detailed synopsis here.) Said squad, Twilight Company, get to sport their own special patches, which you can see below.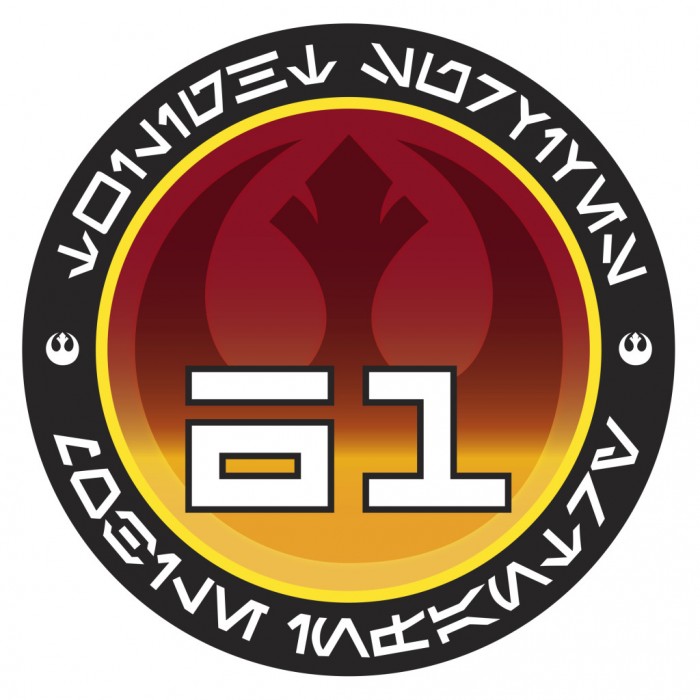 Star Wars Battlefront: Twilight Company will be published by Del Rey on November 3.
***
Ready for a new season of Star Wars Rebels? Well, too bad; Season 2 is still six weeks away. But to tide you over in the meantime, here's a clip from the season premiere, titled "The Lost Commanders." Disney XD describes the clip as follows: "Ahsoka gives the Ghost crew some easy advice as they set out to find her mysterious ally."
Star Wars Rebels Season 2 kicks off October 14.
***
The U.K.'s Disposable Heroes Comics has revealed a Star Wars: Shattered Empire #1 variant cover by Julian Totino Tedesco. It's the first of four — Tedesco has created a variant cover for each issue of the miniseries, as explained in the flyer below.
Meanwhile, Bleeding Cool notes that the creative team for the comic is growing. In Star Wars: Shattered Empire #2 — the one with that mystery woman on the cover — artist Marco Checchetto will be joined by Angel Unzueta and Emilio Laiso. Shattered Empire #1 hits September 9.