'Captain America: Civil War' Promo Art Shows Heroes Ready For Battle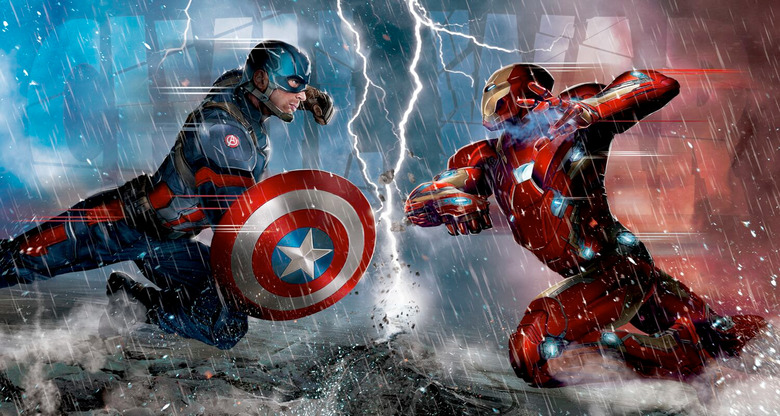 Production on Captain America: Civil War just wrapped over the weekend, and while some footage from the film was recently shown at D23 Expo, I wouldn't count on the first official trailer for the Marvel Studios sequel arriving until later this year, maybe with Star Wars: The Force Awakens.
In the meantime, there have been a lot of rumors floating around, including word on which superheroes align themselves with Captain America (Chris Evans) and Iron Man (Robert Downey Jr.) when they end up at odds. The aforementioned footage from D23 essentially confirmed those rumors, but in case you needed more substantial evidence, some Captain America Civil War promo art has surfaced showing each of the teams, but beware of spoilers below.
Here's the artwork that has surfaced online from CBM:
Jeremy Renner also noticed these images online and posted to Twitter:
Yeah. I'm diggin this. You? #avengers #captainamerica #civilwar #hawkeye #ironman pic.twitter.com/uTNrgdS5bg

— Jeremy Renner (@JeremyRenner) August 27, 2015
To recap, the last rumor we heard pegged Captain America's team being composed of Falcon (Anthony Mackie) and Bucky Barnes (Sebastian Stan), aka The Winter Soldier, as well as Hawkeye (Jeremy Renner), Scarlet Witch (Elizabeth Olsen) and Ant-Man (Paul Rudd).
Meanwhile, Iron Man's team was a little short-handed with War Machine (Don Cheadle), Vision (Paul Bettany) and surprisingly, Black Widow (Scarlett Johansson), and eventually Spider-Man, which makes sense since we heard that the webslinger comes to blows with Captain America in the movie at some point.
However, these images shake things up slightly, because they have Black Panther (Chadwick Boseman) on Iron Man's team, which confirms that he won't be neutral during this fight as previously rumored. And then over on Cap's side, there's no Scarlet Witch, but there is Emily VanCamp as Sharon Carter.
Does Scarlet Witch, the former Hydra experiment, end up bowing out of the fight entirely, allowing Sharon Carter to take her place? Also, it looks like Falcon's drone Redwing is pretty prominent in this fight, too, since it is featured in two of the images.
These images add some confusion as to who ends up in the final battle between superheroes, but because this is promo artwork and not concept art, they might not be entirely indicative of what we'll see on the big screen. Most of these images are made for promoting toys and other merchandise, so we'll have to wait and see how the rosters evolve and change as the movie gets closer.
Captain America: Civil War arrives on May 6th, 2016.