VOTD: 'Rick And Morty' Finally Meets 'Back To The Future' In Necessary Mash-Up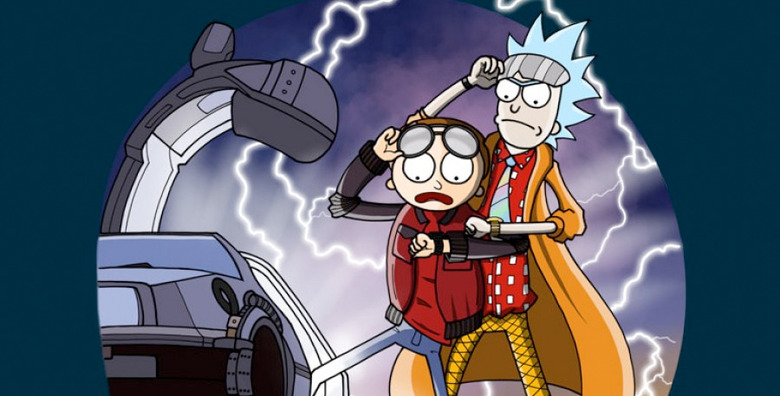 It's no secret that the hit Adult Swim series Rick and Morty takes plenty of inspiration from Back to the Future protagonists Doc and Marty. In fact, the series began as an animated parody from co-creator Justin Roiland called The Adventures of Doc and Mharti, which co-creator Dan Harmon has referred to as "a bastardization, a pornographic vandalization" of the classic time traveling trilogy.
Well, now everything has come full circle as a fan of both the aforementioned animated series and film franchise has created a Back to the Future Rick and Morty mash-up that probably actually exists as a feature length film in some parallel universe.
Here's the mash-up from YouTube user Yalda M (via HitFix):
The only difference between Rick and Morty and Doc and Marty, besides the obvious vulgar nature of the characters' adventures, is that the latter duo aren't related at all. And in some ways, that actually makes the relationship between Doc and Marty even stranger. Because what's an old scientist doing being friends with a high school kid? Though a new Back to the Future comic book will aim to answer that question once and for all.
Anyway, because of how much the characters from Back to the Future inspired Rick and Morty, the voices of Christopher Lloyd and Michael J. Fox match perfectly with their alternate animated versions. Though part of the appeal of the real Rick and Morty comes from the fact that co-creator Justin Roiland does such a good job voicing both of the titular characters, complete with some of the most gross burps we've ever heard on television.
If you're not watching Rick and Morty, you're missing out on some of the best comedy on television right now. Catch up immediately and join the second season in progress, airing Sundays at 11:30pm Eastern. It's time to get schwifty!