Star Wars Bits: Card Trader Explained, Force Friday Details, Original Trilogy Audiobooks, Rogue One Set Pics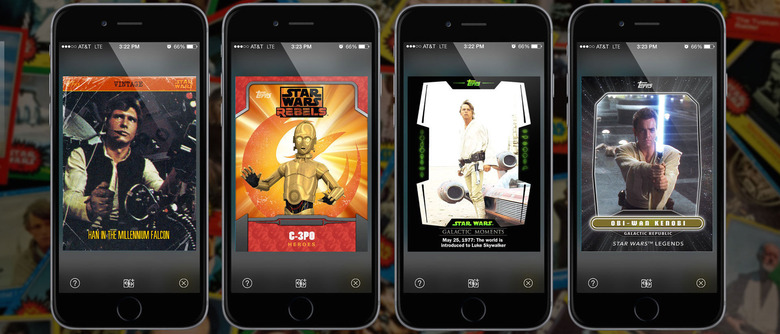 Sure, you've already watched the new Force Awakens footage and cooed over that adorable BB-8 magazine cover. But there's still more where that came from. After the jump:
A Star Wars: Card Trader explainer for those who haven't jumped on the bandwagon
More details on the Skellig Michael shoot for Star Wars: The Force Awakens
Is that a lander we see in these new Star Wars: Rogue One set photo?
The original Star Wars trilogy radio adaptations are getting rereleased as audiobooks
Get info on the Star Wars Force Friday merchandising event at Disney parks
Here's how you can snag a Drew Struzan Episode VII poster on Force Friday
Target prepares for Force Friday with Star Wars-themed conveyor belts
***
Heard of Star Wars: Card Trader? Wondering how a JPG of Han Solo could possibly be worth $225? Our good friend Germain Lussier explains how digital collecting works, why it's taking off, and what the appeal is:
The attraction and obsession come from a personal obsession with Star Wars, plus the way it scratches that human itch to always want something new. That itch you get to buy something when you go to a store. With Star Wars: Card Trader, every single day, I can get something new and cool for free. And then I can enjoy it, trade for it, and it's always fun, even when it's stressful.
Read more at io9.
***
We've previously heard Star Wars: The Force Awakens would be returning to Skellig Michael for more shooting. Now there are some new rumors about what exactly that entails. They're potentially spoiler-y, so we won't repeat them here. But if you're curious, click over to Star Wars 7 News at your own risk.
***
New photos from the Star Wars: Rogue One set reveal what may or may not be a lander. Head to Making Star Wars to see for yourself — and if you think it is a lander, speculate away in the comments about what the lander might be doing at the rebel base.
***
Star Wars merch isn't limited to action figures, comic books, and art prints. (Though we love those, too.) Humble Bundle and HighBridge Audio are teaming up to release a new Star Wars audiobook bundle, which includes the radio adaptations of the original Star Wars movie trilogy.
Originally adapted by Brian Daley for NPR, they bring back several familiar voices — including Mark Hamill, Billy Dee Williams, and Anthony Daniels — for extended versions of the stories we saw onscreen. Also part of the bundle are adaptations of several Star Wars comic books, such as Star Wars: Dark Empire and Star Wars: Tales of the Jedi – Dark Lords of the Sith, and William C. Dietz's Dark Forces novella trilogy.
The first adaptation, Star Wars, is currently selling for pay-what-you-wish. Those who shell out more also receive The Empire Strikes Back and Return of the Jedi. And as if all that weren't enticing enough, proceeds from the audiobook promotion go toward helping First Book and UNICEF. Head over to Humble Books to purchase or get more info.
***

That 18-hour Star Wars toy unboxing livestream will definitely leave you wanting to buy some Star Wars toys. Fortunately, you'll be able to do just that at Disneyland and Walt Disney World Resort, where Star Wars merchandise lands September 4, 2015 at exactly 12:01 AM.
Tickets for the Force Friday merchandising event tickets go for $50 each, and you can reserve them now at DisneyParksMerchandise.com (via Disney Parks Blog).
***
Target is very, very excited about the release of Star Wars: The Force Awakens. (Or rather, the tsunami of tie-in merchandise that'll send people running to Target stores around Star Wars: The Force Awakens.) They're so excited, in fact, that they've added a Star Wars-style opening crawl to their cash register conveyor belts.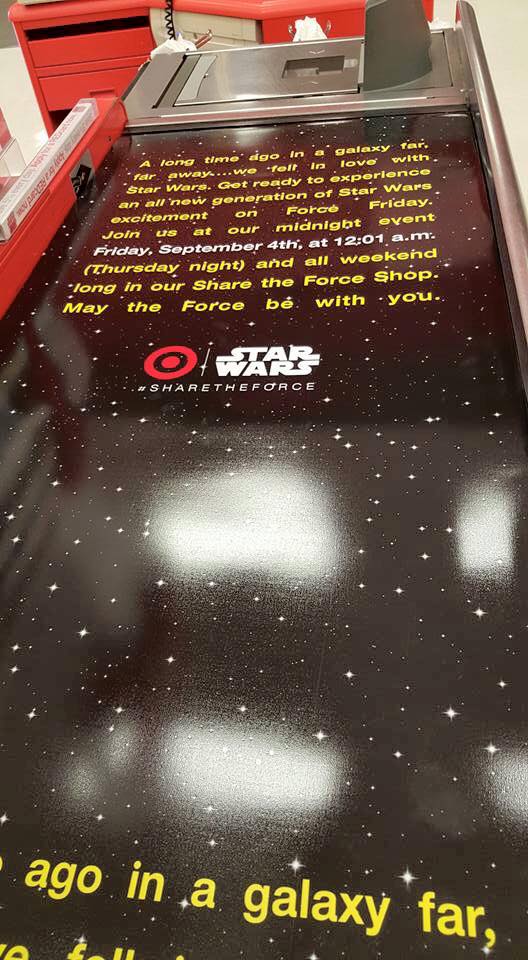 More on Target's Force Friday plans here. H/T Rebel Scum.
***
Miss your chance to snag one of those sweet Drew Struzan Force Awakens posters at D23? You'll get another opportunity on Force Friday — provided you can be one of the first 1,000 customer at one of three Disney Stores in New York, Chicago, and San Francisco.
so if you bought that #D23Expo poster on eBay for $200, you can just stay home. Otherwise, you can get it for free on 9/4.

— Stitch Kingdom (@stitchkingdom) August 27, 2015
Get more details on the Disney Store's Force Friday plans here.
***
With all the excitement about the Star Wars live-action movies — including, of course, this winter's The Force Awakens — the two Star Wars animated series sometimes get lost in the shuffle. But Star Wars: The Clone Wars and Star Wars Rebels are in fact canon, and a new essay makes the argument that they're absolutely essential viewing for Star Wars fans. Here's a taste:
Thankfully, The Clone Wars directly shows why the characters become legends. Instead of a whiney love-sick teen, The Clone Wars depicts Anakin Skywalker as a valiant and powerful Jedi, struggling to do what he thinks is right, often succeeding through unorthodox (and reckless) means. Laying seeds for his dark turn, seeing the hero in his prime makes his fall all the more tragic and, similarly, makes his return in Rebels as Darth Vader all the more ominous – especially since the Rebels Vader is at his most terrifying and powerful.
Read the rest at ScreenRant.