Banksy Releases Dismaland Trailer; Plus: Watch The Short Film Selections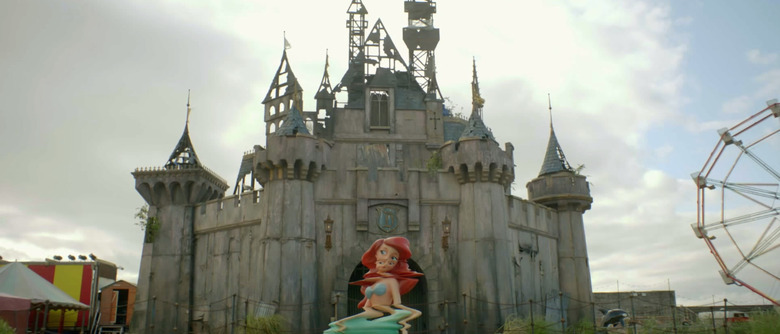 Disneyland is billed as "The Happiest Place on Earth," but happy isn't for everyone. Some people find all that relentless cheer to be kinda creepy, or simply prefer to mix things up with more offbeat, macabre entertainments. For all those people, there's Banksy's Dismaland.
Touted as "the UK's most disappointing new visitor attraction," Dismaland showcases work by Damien Hurst, Jenny Holzer, and other artists (in addition to Bansky himself). It also features an hourlong program of short films by Ze Frank, Kristen Lepore, and many more. Get the Banksy Dismaland preview, and watch all 24 shorts, after the jump.
Check out a preview of the Banksy Dismaland theme park:
You can also see many photos here. Located inside a defunct water park formerly known as the Tropicana, in the English resort town of Western-super-Mare, Dismaland highlights work from 59 artists and 22 directors and animators. All in all, it adds up to a gloomy, dystopian take on bright, shiny theme parks. The installation runs through September 27; get tickets at the Dismaland website.
Besides all the eerie art pieces — which include a decrepit Cinderella castle, a glitchy Little Mermaid statue, and a Grim Reaper on a bumper car — you can also enjoy an hourlong cinema program curated by Christopher Jobson. Or, if you can't actually make it to Dismaland, you can just enjoy the short films below.
(Note: Some of the films will play in slightly different form at Dismaland. Details here.)
Bottle by Kristen Lepore:
F*ck That: A Guided Meditation by Jason Headley:
New York Park by Black Sheep Films:
Symmetry by the Mercadantes:
Magic Hats by Jake Sumner:
Golden Age of Insect Aviation: The Great Grasshoppers by Wayne Unten:
Walking on By by Mr. Freeman:
Merry-go-round by Vladimír Turner:
The Gap by Daniel Sax:
5 mètres 80 by Nicolas Deveaux: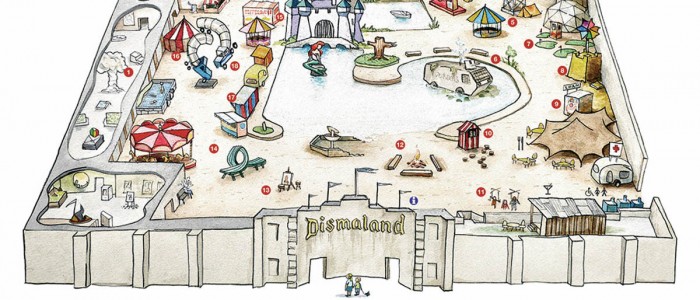 I've fallen, and I can't get up! by Dave Fothergill:
Danielle by Anthony Cerniello:
Anamorphose Temporelle by Adrien M. & Claire B.:
Stainless / Shinjuku (excerpt) by Adam Magyar:
Collapsing Cooling Towers by Ecotricity:
Liberty by Vincent Ullmann:
The Employment by opusBou:
Yawns by the Mercadantes:
Rush Hour by Black Sheep Films:
Pug Particles by Ramil Valiev:
Shell's priceless Grand Prix moment by Greenpeace:
Living With Jigsaw by Chris Capell:
Teddy Has An Operation by Ze Frank:
Don't Hug Me I'm Scared #1 by Becky and Joe: