Star Wars Bits: Is Mads Mikkelsen A 'Rogue One' Villain? Force Awakens X-Wing Squadrons, Boba Fett And More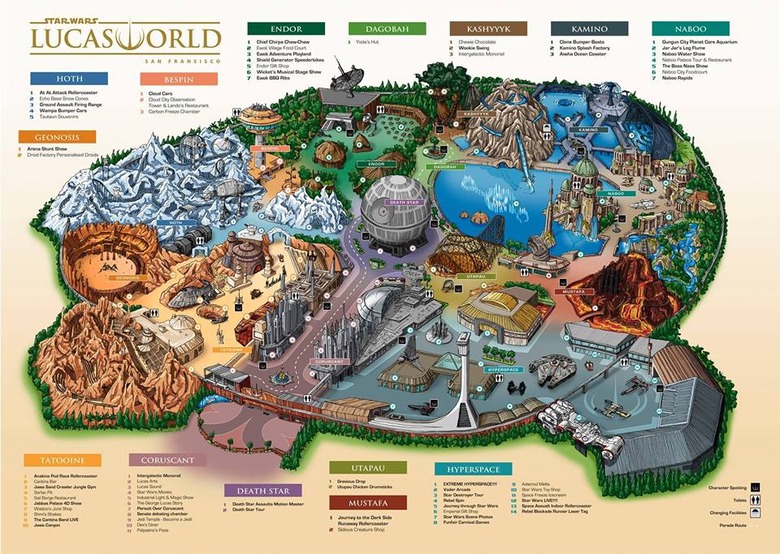 In today's edition of Star Wars Bits, we taker a look at the following items:
Details on Mads Mikkelsen Role in Star Wars: Rogue One.
How many X-Wing Squadrons can we expect in Star Wars: The Force Awakens.
An official description of the Star Wars Launch Bay exhibit space being added to Disneyland.
How Boba Fett will be used in Star Wars Battlefront.
How big is a Super Star Destroyer? Is it bigger than Manhattan?
How will Target handle Force Friday?
Poster Posse is teaming with ACME Archives and LucasFilm for an official Star Wars art show.
And above is a fan design for a LucasLand theme park. While its not what Disney's Star Wars Land is going to look like, I thought it would be fun to feature.
All this and more. Hit the jump to go to hyperspeed.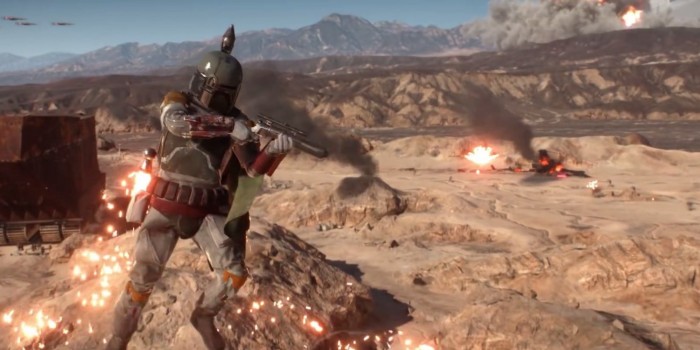 We've known that Star Wars: Battlefront will allow you to play as Boba Fett, but we haven't been told how that will work until now. EA and DICE have made a post explaining how the character can be played and what equipment he will have available to him in the game. According to senior producer Jamie Keen:
As originally portrayed in the films, Boba Fett has a wealth of gadgets at his disposal but we only see him use a fraction of these in the films. There's much more than the jetpack and blaster rifle going on. Boba Fett's got a disintegrator pistol, a flame pack in one arm, rockets, dart launchers, and even lasers. So there was a lot to choose from before we wound up with the final loadout.
So you'll be about to fly around the arena to gain a height advantage on opponents but Boba Fett's jetpack will have a limited amount of fuel so you'll have to recharge in between uses. According to the developer, playing as Fett will rely a lot on how the gamer balances his skills and cooldowns:
One of the things I enjoy watching is seeing people chain attacks together and using the systems to their best. Managing cooldowns is part of it, too. We've seen players coming up with tactics that we haven't thought about, and that is truly awesome,

September 4th marks "Force Friday," the day Disney will release all of the Star Wars: The Force Awakens merchandise worldwide. CosmicBookNews has learned how Target stores will be handling the event:
207 Target stores are opening at midnight on Force Friday, September 4th. Check target.com and enter your zip code to find participating stores.
While not every Target story is participating in the midnight launch, Target stores are participating in "Share The Force Saturday," which is labeled as an "exciting in-store event that will include an exclusive giveaway and unique interactive photo opportunities got guests to #sharetheforce on social media." The front of the stores will have stormtrooper door clings, an "interactive Chewbacca stanchion" and an overhead TIE fighter. In the seasonal department, Target stores will have an X-Wing fight cockpit photo op and an overheard TIE fighter/X-Wing fight scene.
Each store will also have one or two 48" Darth Vaders that will retail at $99.99.
Head to CosmicBookNews for photos and much more.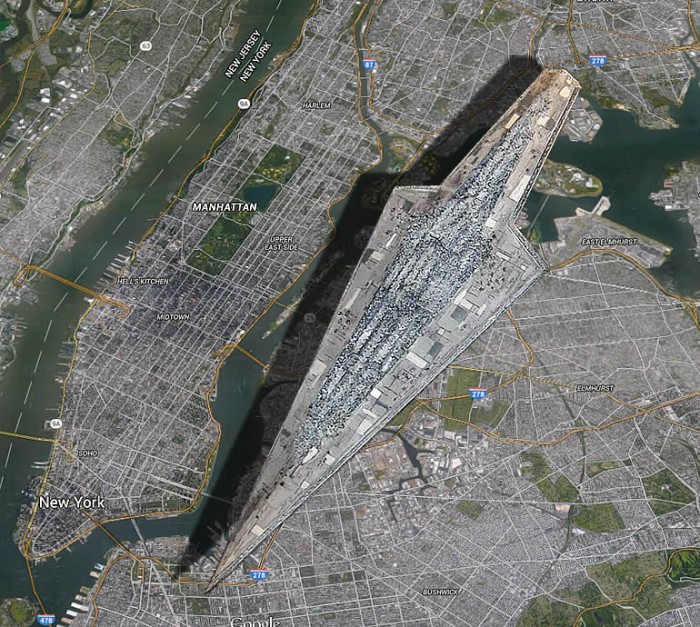 Reddit user movielover278 created the above comparison image that shows you the immense size of a Super Star Destroyer by putting it into perspective against the backdrop of Manhattan.
A Disneyland casting call reveals the official synopsis for the upcoming Star Wars Launch Bay exhibit coming to Disneyland this fall:
The Star Wars Launch Bay is an interactive experience which will take guests into the upcoming film, "Star Wars: The Force Awakens," with special exhibits and peeks behind-the-scenes, including opportunities to visit with Star Wars characters.
Nothing unexpected here.
Poster Posse is collaborating with Le Cafe' Pixel Gallery in Marseille, France on an exclusive, officially licensed Star Wars art exhibit. Working with Acme Archives LTD. and Lucasfilm, the exhibit at Le Cafe' Pixel is titled "Star Wars: An Art Odyssey" and will take place from November 10th, 2015 through January 3, 2016.
We have created over 80 original pieces of art for this amazing opportunity and we can't wait for you to see them in all their inter-galactic glory.  Good guys, villains, alien worlds, space ships, etc., it's all realized in this massive undertaking and we are beyond proud to have this opportunity.  Stay tuned to the links below for more information over the coming weeks.....and "May The Force Be With You....."
I'm excited to see what this art looks like and what might be available for purchase online.
And lastly, our spoiler page is up after the jump that includes new comments from Mads Mikkelsen on if he plays a villain in Star Wars: Rogue One, and details revealed on just how many X-Wing Squadrons to expect in Star Wars: The Force Awakens.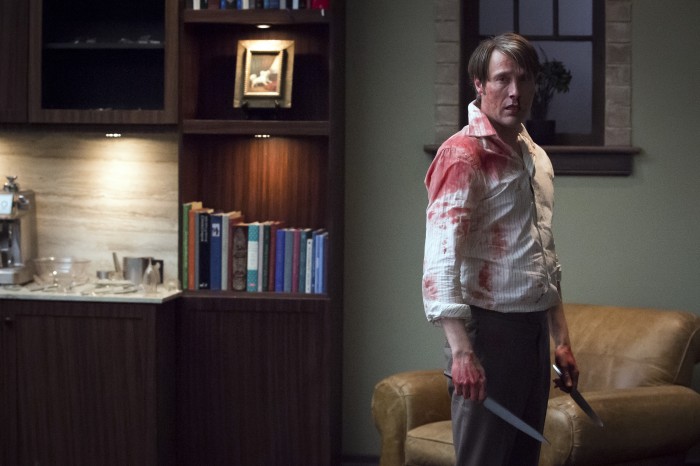 It was revealed that Mads Mikkelsen joined the cast of Gareth Edwards' Star Wars: Rogue One during the live-action film panel at D23 Expo 2015 in Anaheim. The actor wasn't present in the "good guys" cast photo revealed at the con, and since he is known for the villainous roles he has played in Casino Royal and the Hannibal television series, many people speculated that he might play a villain role in Rogue One. But according to the actor, that is not the case. The Danish actor had a recent interview with local newspaper Ekstra Bladet revealing a few tidbits about the movie and his character. Here is the transcript via StarWars7news translated with Google Translate:
Question: On IMDB your name is listed just after Felicity Jones. It suggests that it is a great role. Is it a big role?Mads Mikkelsen: I have not actually noticed that. It is probably because the other might not have come on the list yet [smiles].Question: But is it a big or a small role?Mads Mikkelsen: It is a very important role, as much I can say.Question: Are you the bad guy?Mads Mikkelsen: No, my character is actually not a bad guy, and then I can not say more. I can also say that the movie will be shot in Iceland and England. And the filming will last for three months.
So there you have it. Mads will have a "very important role" but he is not a villain, and the film will shoot for three months, in England and Iceland.
The Star Wars: The Force Awakens edition of the X-Wing Miniature Game, which will hit store shelves on "Force Friday", gives us a clue as to how many Rogue Squadrons to expect in the upcoming film. We've heard that Poe Dameron will be the Black Leader, and we've seen his black X-wing fighter, so you'd assume his squadron is the Black Squadron right? The cards in the game confirm there are also Red and Blue Squadrons — not a big surprise considering we saw the blue x-wings in the first trailer.