'Late Show With Stephen Colbert' First Week Has Amy Schumer, Scarlett Johansson And More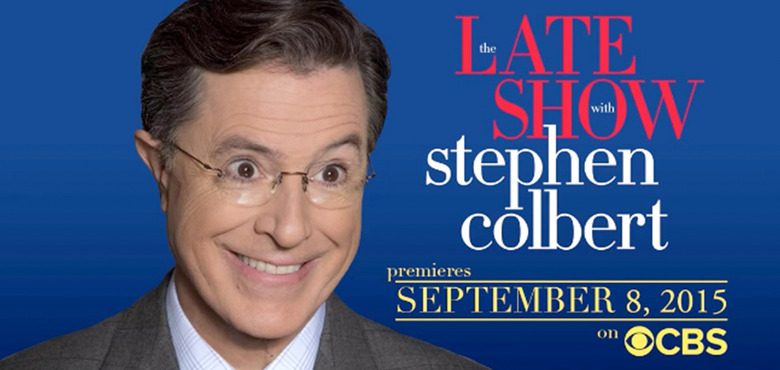 After Labor Day weekend next month, The Late Show with Stephen Colbert makes its broadcast debut on CBS, ushering in a new era for the late night talk show recently vacated by comedy icon David Letterman. We already know that Colbert's first guest will be American treasure George Clooney, but now the rest of the guests for the first week have been revealed.
The Late Show with Stephen Colbert first guests will also include Marvel Studios star Scarlett Johansson, comedian and Trainwreck star Amy Schumer, and a few other interesting guests for the late night circuit that really give us an idea of what we can expect from this new iteration of the show. Find out the full line-up below!Stephen King will also be stopping by the show along with Republican presidential candidate Jeb Bush, Tesla Motors and Space X CEO Elon Musk and Uber CEO Travis Kalanick. In addition, musical guests will include Kendrick Lamar, Toby Keith and Troubled Waters, with the first show featuring the house band Jon Batiste and Stay Human, with some unannounced special guests.
This line-up shows what an interesting variety of guests we can expect from Stephen Colbert's reign on The Late Show. While there's a few big name celebrities stopping by, Colbert is also bringing in several other prominent people from the world of technology and politics. That's not unheard of on late night talk shows, but putting them front and center in the first week of the show feels like they're making a statement that this won't just be about celebrities and goofing around all the time.
But of course, this is also a late night comedy show, so don't expect things to get overtly serious and political, even with guests like Jeb Bush stopping by. Though it does make me wonder if Colbert's persona that he brought to life on The Colbert Report will occasionally come through in the comedian's run on The Late Show. If you want to know when to watch The Late Show for your preferred guests, here's what the schedule looks like for the first week:
Tuesday, September 8th – George Clooney, Jeb Bush, performance by Jon Batiste and Stay Human with special guests
Wednesday, September 9th – Scarlett Johansson, Elon Musk, performance and interview with Kendrick Lamar
Thursday, September 10th – Travis Kalanick, performance by Toby Keith
Friday, September 11th – Amy Schumer, Stephen King, performance and interview with Troubled Waters
The line-up on Thursday seems a little light, so I wonder if there's some kind of surprise or special feature being planned for that episode that hasn't been announced yet. Also, note that there's no show on Monday in the first week because that's Labor Day. Otherwise, The Late Show with Stephen Colbert will be on five nights a week normally.
So set your DVRs to start recording The Late Show with Stephen Colbert, every weeknight at 11:35pm Eastern time on CBS. Hopefully there will be plenty of good stuff on the show that we'll be checking in with some viral videos from the program every now and then. In the meantime, check out the early promo for the show right here, as well as Colbert's hilarious public access interview with Eminem.
Are you excited for The Late Show with Stephen Colbert?