'Legend' Trailer: Tom Hardy Rules London's Underworld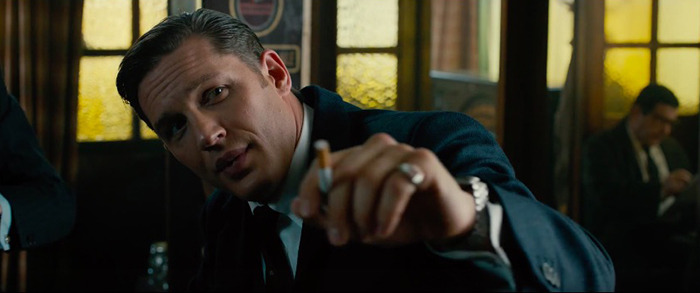 It's impossible to resist the idea of seeing Tom Hardy playing twins, and so we're going to indulge our affinity for that idea with a new trailer for Legend, the UK gangster film in which Hardy plays Ron and Reggie Kray, the twins who became infamous as rulers of London's underworld in the 1960s. The film comes from Brian Helgeland (who se credits include, among other things, being co-screenwriter of LA Confidential, and director of A Knight's Tale and 42), who writes and directs based on the true story of the brothers' wild lives. Check out the new Legend trailer after the break. 
Trailer via StudioCanal. Legend opens in the UK on September 9, and has a US release set for October 2. The cast also features Emily Browning, Colin Morgan, Christopher Eccleston, Taron Egerton, David Thewlis and Chazz Palminteri. That cast, working with Hardy, looks like it will be a big part of the appeal for the film. I'll watch Thewlis in anything, and given Taron Egerton's rising star status I'm hoping he gets some room to play here.
We've seen this story on screen before, particularly in Peter Medak's movie The Krays, from 1990, and in general the gangster "rise and fall" picture is a very familiar form. But with this roster there's got to be something lively in Helgeland's film.
Here's a pair of character posters for the film, too. They'll help you distinguish between Hardy's two characters, although all you really need to remember is that for Ronnie, he's working from the "Marlon Brando in the Godfather" approach to being the bad guy. (Physically, at least. He looks like he's got all the cotton in London in his cheeks.)
From Academy Award® winner Brian Helgeland (L.A. Confidential, Mystic River) comes the true story of the rise and fall of London's most notorious gangsters, Reggie and Ron Kray, both portrayed by Tom Hardy in an amazing double performance. Legend is a classic crime thriller taking us into the secret history of the 1960s and the extraordinary events that secured the infamy of the Kray twins.
Written and directed by Helgeland, the Studiocanal, Working Title and Cross Creek film co-stars Emily Browning, David Thewlis, Christopher Eccleston, Chazz Palminteri, Tara Fitzgerald and Taron Egerton. Working Title Film's Tim Bevan and Eric Fellner produce Legend alongside Chris Clark, Quentin Curtis and Cross Creek Pictures' Brian Oliver. Universal will release the thriller in the U.S., and Studiocanal will distribute in the U.K., France, Germany and Australia/New Zealand.