Exclusive: Details On Mark Webber's Successfully Kickstarted New Indie 'Flesh And Blood'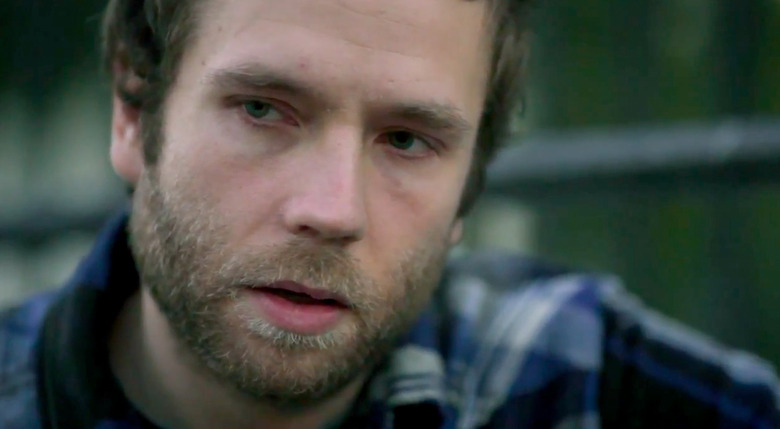 You've seen Mark Webber on the big screen in Scott Pilgrim vs. the World as Stephen "The Talent" Stills, and in a variety of solid indies like Happy Christmas, For a Good Time Call... and Save the Date. We'll also see him in Blue Ruin director Jeremy Saulnier's thriller Green Room, opening at TIFF next month.
But Webber has also gotten behind the camera to make his own indie movies, such as the SXSW Audience Award-winning Explicit Ills, the touching and genuine The End of Love, starring Webber and his real-life toddler son Isaac, and The Ever After, which he made with his wife, actress Teresa Palmer.
Now he's just successfully Kickstarted a new indie called Flesh and Blood, and Webber provided us at SlashFilm with the exclusive details on this new project, which he sees as the end of a trilogy in bringing parts of his real life to the big screen. Find out more about Mark Webber's Flesh and Blood below!
Much like Webber's previous directing efforts, Flesh and Blood will star members of the actor's real family. This time it will be his mother Cheri Honkala and teenage brother Guillermo Santos starring in the film with Webber again having a role as well. So what's the story about?
Well, Webber has told us, "I'm having to keep the plot details under wraps, because of using all real people in the film/story, there are very sensitive situations depicted in the film that if exposed publicly now would make it impossible to film." But details on his characters, inspired by his real-life family, give us an idea of the kind of drama we'll see in this movie.
Cheri Honkala is actually a radical activist (find out more about her activities right here), and for years she's been an outspoken homeless advocate, walking in protests, helping to educate voters, and volunteering to help provide food and shelter to the urban poor in Philadelphia and elsewhere. Honkala made quite the jump from activism to political candidate as she was the Green Party's vice presidential candidate in 2012.
As a young child, Webber actually accompanied his mother in the slums of North Philadelphia, spending a lot of time homeless themselves, living in cars and abandoned buildings, and supporting his mother's causes. And it was this homeless experience that drove Honkala to take a stand as a leading advocate for the poor and homeless in America. Here's some images of them protesting and living in an abandoned home, not to mention Honkala being dragged away by authorities after a protest:
Webber is 35 years old now, but Honkala also has a 13-year old son named Guillermo. He is just now going through puberty and is having some trouble being bullied in school while living in one of the most dangerous neighborhoods in Philadelphia. Webber calls this "a story of motherhood and brotherhood, like never before," and I wouldn't be surprised if the story takes some inspiration from the experiences Webber had with his mother as a child and combines them with what his brother is going through now with their mother.
Production is meant to begin this fall, and it's apparently a time sensitive project, which likely means Webber will be using some kind of upcoming real events to shoot this movie, perhaps at some political rallies or advocacy events where his mother will be working. Considering how much Webber's real life informs his movies, this isn't surprising, but it does sound like it might be his most bold project yet.
Since production won't begin until later this year, we don't know when the movie will end up getting released, but we wouldn't be surprised if it ended up on the film festival circuit at some point. Until then, I wholly recommend checking out Webber's previous efforts as a director and writer. He has a penchant for weaving authentic and intimate stories that I think you'll find rather touching and insightful. We'll keep out ear to the ground for more on Webber's project.