'X-Men: Apocalypse' Wraps Principal Photography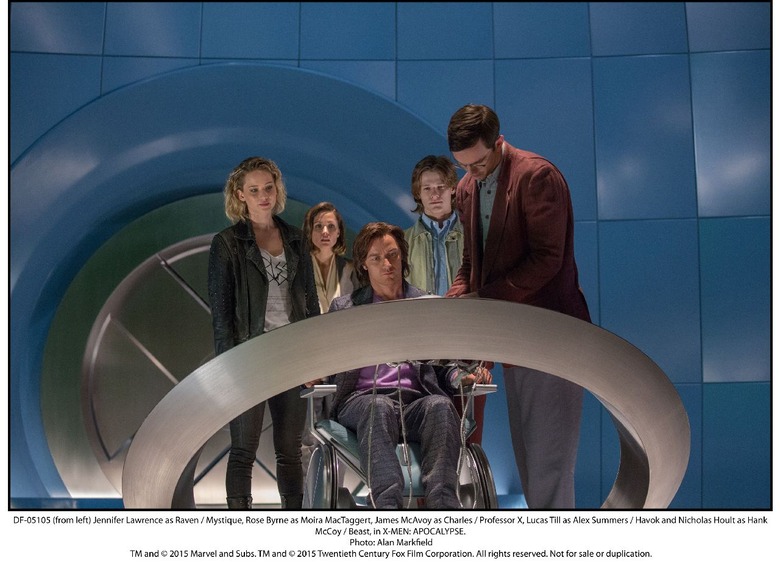 May 2016 is going to be a big month for superhero movie releases, and that means August 2015 has been a big month for superhero movie wrap parties. X-Men: Apocalypse has just completed first unit shooting, as confirmed by director Bryan Singer. The news comes hot on the heels of a similar reveal from the Captain America: Civil War team. See the X-Men Apocalypse wrap announcement after the jump. 
Singer announced the end of first unit shooting on — where else? — Instagram.
And party they did, as evidenced by the drink menu.
That's a lot of Red Bull. But that's what you get when your party is (apparently, judging by that logo at the bottom) sponsored by Red Bull.
Singer additionally shared photos of himself with some of his stars, including Josh Helman (William Stryker), James McAvoy (Professor X), Ben Hardy (Angel), Olivia Munn (Psylocke), and Alexandra Shipp (Storm).
Munn and Shipp posted some snaps of their own, too.
X-Men: Apocalypse started shooting around late April, primarily in Montreal. Singer directs from a script by Simon Kinberg. Besides the party animals seen above, the supersized cast additionally includes Michael Fassbender, Jennifer Lawrence, Nicholas Hoult, Rose Byrne, Evan Peters, Lucas Till, and Hugh Jackman from previous films, plus Oscar Isaac, Tye Sheridan, Kodi Smit-McPhee, and Lana Condor as new characters.
(Well, "new" if you discount the fact that older versions of some of these were seen in the original trilogy. Which you might as well, since the time-traveling shenanigans of X-Men: Days of Future Past essentially wiped the original trilogy off the timeline.)
The story picks up about ten years after the events of X-Men: Days of Future Past. An ancient mutant calling himself Apocalypse emerges, and decides to embark on a reign of terror aided by mutants like Magneto, Psylocke, Storm, and Angel. The other mutants must band together to stop Apocalypse from destroying the world.
The film looks like it'll serve as a sort of transition, wrapping up story arcs for some characters (such as Mystique, as Lawrence is not expected to return) while introducing new ones. In addition, it seems to bring the franchise's look closer to the source material. Psylocke's outfit, for example, looks like it was pulled straight off the pages of the comic books — a sharp contrast from Singer's first X-Men film, where Cyclops mocked the idea of wearing yellow Spandex.
X-Men: Apocalypse opens May 27, 2016.