'Terminator: Genisys' Box Office Has Life Again After Big Opening In China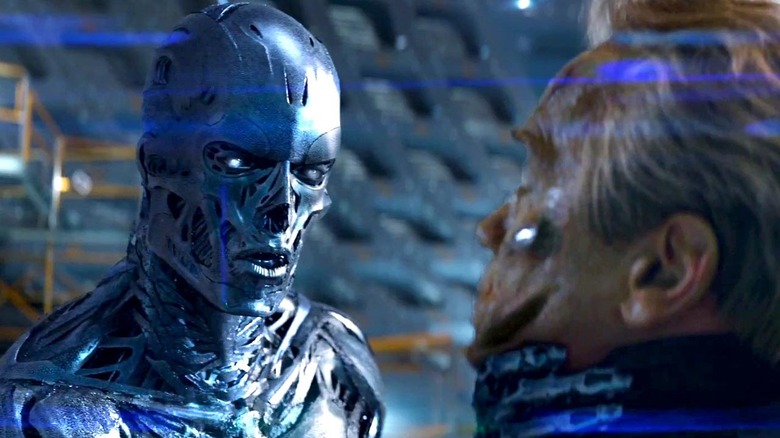 Earlier this summer, Terminator: Genisys made quite an unceremonious debut at the box office with a $27 million opening and a
domestic total of just over $89 million
before leaving theaters. The underwhelming numbers left Paramount Pictures
uncertain as to what the future would hold
for the Terminator franchise, but it had yet to debut in some international territories.
Well, the sci-fi sequel featuring Arnold Schwarzenegger back as the titular cyborg has just made a big splash in China, where studios are really trying to increase their box office appeal, and it just might end up being enough to keep the franchise going. Find out more about Terminator Genisys box office after the jump!
For its first day in China, Terminator: Genisys pulled in $27.4 million (via
), and that's as much as the movie made in three days for its opening weekend in the United States. That number makes it the 4th best opening day ever for a Hollywood movie in China, just behind Furious 7, The Avengers: Age of Ultron and Transformers: Age of Extinction (the latter two just happened to have gone out of their way to add some key Asian cast members to make it more appealing).
However, it's important to note that this happens to be the first Hollywood movie that was released in China since the summer blackout that has kept American studio movies away in favor of native Chinese movies. So audiences in China were clearly hungry for some kind of American blockbuster, and there's no guarantee that it was the appeal of the Terminator franchise or Arnold Schwarzenegger that drew them to theaters.
But still, Schwarzenegger did head to China to promote the movie big time, and the international box office count is now at $264 million, making the worldwide total currently just over $353 million. As we said, that could be just enough to keep the franchise alive so Paramount Pictures can answer a lot of the
unanswered questions and confusing plot points
of this sci-fi reboot.
This just goes to show you why studios are putting so much focus on making sure a movie like Terminator: Genisys or any other blockbuster has massive appeal in a market like China. The size of their population makes them a huge source of potential profits, and this debut for the fairly harshly criticized Terminator sequel is proof of that.
However, the real question is whether or not Chinese audiences like the film enough to want another one. Curiosity is one thing, but that doesn't mean everyone that walked out of their screening was satisfied and hoping to see the story continue. Some may have just wanted to see if this could be a satisfying reboot and were just as disappointed as many others. There's also plenty who may have just wanted to see Arnold Schwarzenegger return to his iconic role in an American blockbuster, something they hadn't seen in awhile. No matter what the reason, it sounds like the famous "I'll be back" line may yet again turn out to be true.