'Captain America: Civil War': Whose Side Does Spider-Man End Up On?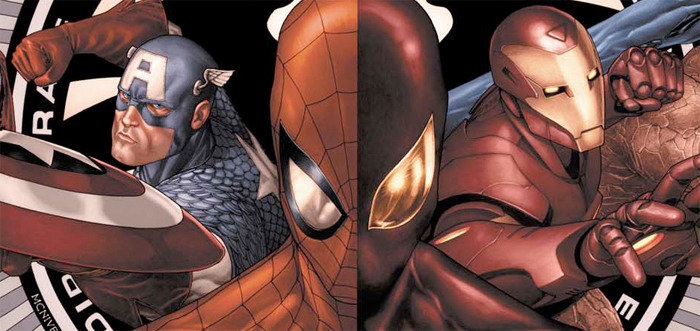 With Captain America: Civil War still in production, there's been a steady stream of updates here and there about scenes shot and sights spotted on set. We recently caught a glimpse of Black Panther on set for the first time, and there's reportedly been a sequence shot in Peter Parker's bedroom, and a rumor circulating about different Spider-Man suits being used in the movie.
Now we have another important detail on the Spider-Man Civil War involvement in the movie that might give away whose side he ends up on in this epic battle of your favorite super heroes. Beware of spoilers from here on out!
We've heard that Spider-Man doesn't just swing by Captain America: Civil War for a brief cameo, but he will have a pretty key role in the face-off between Captain American and Iron Man. And now a new rumor from Heroic Hollywood says that Spider-Man will be fighting Captain America.
Reportedly new Spider-Man star Tom Holland is over in Germany to film some more scenes as Spider-Man, and one of those scenes is a fight with Captain America. That makes sense considering that we've heard Spider-Man will have multiple suits, including one that Tony Stark helps him design. And if Stark is helping Spidey with his new suit, it makes sense that he would end up on his team.
Don't forget that we recently heard that the teams in Captain America: Civil War see Tony Stark picking up War Machine (Don Cheadle), Vision (Paul Bettany) and surprisingly, Black Widow (Scarlett Johansson) while Captain America gets Falcon (Anthony Mackie) and Bucky Barnes (Sebastian Stan), aka The Winter Soldier, as well as Hawkeye (Jeremy Renner), Scarlet Witch (Elizabeth Olsen) and Ant-Man (Paul Rudd).
Footage from Civil War that was shown at D23 last weekend (check out our footage description here and watch the panels without footage right here) pretty much confirmed rumors of who's on which team, and if Spider-Man is on Stark's team that would make it an even six-on-six for the big fight. Though he could end up changing sides eventually, just like he does in the comic book storyline.
Still, seeing Spider-Man take on Captain America should be pretty great. I was hoping there would be some bonding between them since they're both from New York, but a fight may just be even better. I'm already imagining Captain America throwing his shield, and then Spidey grabbing it with his webbing and throwing it right back at him. Captain America: Civil War is probably going to be full of cool stuff like that.
What do you think of Spider-Man's role in Captain America: Civil War?