Tom Holland Joins 'Lost City Of Z' As Shooting Begins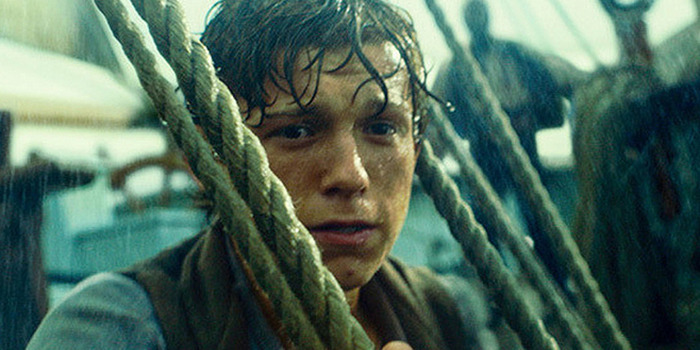 After years of development and quite a lot of uncertainty, the film adaptation of David Grann's book The Lost City of Z is now shooting, with James Gray directing and Charlie Hunnam in the lead role of Percy Fawcett, who vanished in the 1920s while searching for the fabled El Dorado, the city of gold in the Amazon which had captivated explorers for decades.
We've known most of the cast, which also features Sienna Miller and Robert Pattinson, for a while. but the start of production announcement also brings the news that Tom Holland, Marvel's future Spider-Man, seen above in Ron Howard's In the Heart of the Sea, will have a role as well.
Here's the press release. You can read a bit of Grann's book here.
Tom Holland could play Fawcett's son Jack, who was among the very small party of three who made the exploratory journey that occupies the meat of the story. (The group was Fawcett, Jack, and one of Jack's friends.) Pattinson plays Henry Costin, a friend of Fawcett's who accompanied him on earlier expeditions.
PRINCIPAL PHOTOGRAPHY COMMENCES ON JAMES GRAY'S LOST CITY OF Z
Film Starring Charlie Hunnam will be Filmed in Belfast and ColombiaLos Angeles, CA August 19, 2015 – Production has commenced on James Gray's LOST CITY OF Z starring Charlie Hunnam, Sienna Miller, Robert Pattinson, and Tom Holland. The film will first be filmed in Belfast for five weeks and continue filming in Colombia throughout September and October.David Grann's acclaimed New York Times best-selling book serves as the basis for the movie which MICA Entertainment is financing. Brad Pitt, Dede Gardner and Jeremy Kleiner are producing via Plan B Entertainment along with Anthony Katagas and Dale Johnson. MadRiver Pictures' Marc Butan is executive producing as are MICA Entertainment's Julie B. May and Glenn Murray. Sierra/Affinity is representing international sales of the title with CAA overseeing domestic rights to the film.LOST CITY OF Z follows Percy Fawcett, a conscripted soldier and born explorer who disappeared in the 1920s while searching for a mythical city in the Amazon jungles of Brazil that he believed he discovered on a prior expedition.