Why Does Michael Shannon Have Flipper Hands In 'Batman V Superman'? (No, Really, Why?)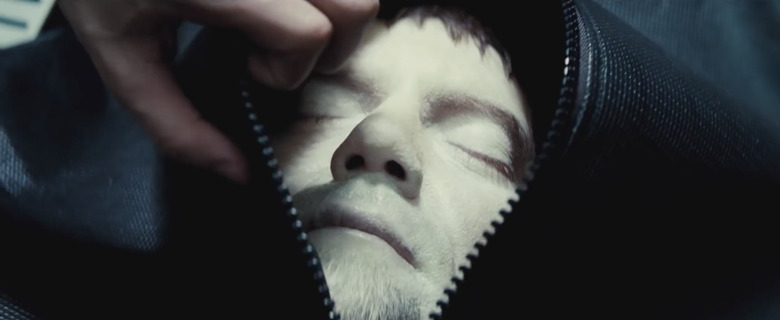 General Zod sure looked dead in that Batman v Superman: Dawn of Justice trailer, but don't assume his story is over quite yet. Michael Shannon has confirmed he'll be back for the upcoming movie — and not only that, he'll have a new look that involves flippers for hands. Wait, what? Read Shannon's comments on the Batman v Superman Zod flippers after the jump. 
At a recent screening of his new movie 99 Homes, Shannon told Vulture about the time his Batman v Superman: Dawn of Justice prosthetics got him trapped in Porta-Potty:
I was in my costume, and I couldn't use my fingers because in the sequel I have flippers instead of hands. So I had these wax flippers on my fingers, and I couldn't open the door, and I could hear Zack [Snyder, the director] being like, 'Where's Shannon? Where the f*** is he?' and the whole crew was standing around. I was like, knocking on the door with my flippers, 'Let me out of here!'
In case you were worried, Shannon was eventually rescued from this minor hell by the craft-service guy. "He came over and he opened the door for me. Otherwise I would have gotten fired," recalled Shannon.
It's a cute anecdote, but also a pretty weird one. Why on Earth (or Krypton) does Zod have flippers for hands? The character doesn't have flippers in the comics. For that matter, neither does the character Zod is rumored to become in Batman v Superman: Dawn of Justice. (Big possible spoiler at that link.)
Then again, we shouldn't assume that just because Shannon is wearing flippers, his character will be too. He could've been referring to prosthetics that'll be transformed into something else in post-production via the magic of CG. Or maybe they are actually flippers, and Snyder just felt like the cinematic version of Zod would have flippers for hands. We don't know.
Whatever the case, it sounds like we can count on Zod undergoing some changes in Batman v Superman: Dawn of Justice. However, Shannon claimed not to know anything about that. "Well, I haven't seen the trailer either, so I don't know what I am in the trailer," he said. "I could be a toaster, or a Porsche, I don't know." Zod turning into a toaster or a Porsche? Now that would be a twist.
Batman v Superman: Dawn of Justice opens March 25, 2016.