It's Business Time: A 'Flight Of The Conchords' Movie Is In The Works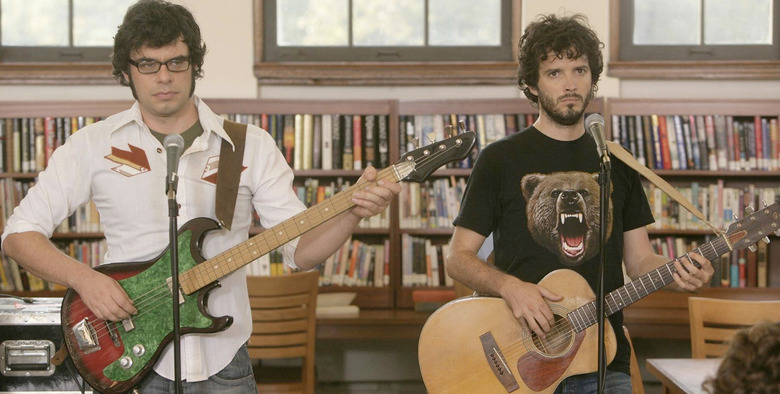 Hot on the heels of news that a sequel to the vampire mockumentary comedy What We Do in the Shadows is in the works, it seems Jemaine Clement has another big screen project in the works, and it's one that will make his longtime fans very happy.
In a new interview, Clement revealed that he just recently sat down with Bret McKenzie to begin writing a Flight of the Conchords movie, featuring their comedic folk music duo of the same name, which has already had a hit HBO show that lasted two seasons back in 2007 and 2008.
Word from Clement about the Flight of the Conchords movie comes from an interview with IndieWire where he says:
We have actually started writing one. Who knows if it will ever be made, we've written some notes for some different film ideas. We're not down to the stage where we're going, "The film is going to be like this," it could be this, this, this, this, this.
That's no guarantee that we'll actually get to see the movie happen, but it's heartening to know that they're working on getting a story together so that if they were given the opportunity, the Flight of the Conchords could return on the big screen. Just thinking about some kind of road trip comedy involving Flight of the Conchords brings a huge smile to my face, so I hope it happens. And surely many fans agree, since there's quite a few of them who feel that the HBO show ended far too early.
While the rest of the world traditionally only keeps their shows around for a much shorter amount of time, with far fewer episodes in each season, than the United States, having only two seasons for a total of 22 episodes just wasn't enough for fans of Flight of the Conchords, myself included. But Jemaine Clement and Bret McKenzie wanted to go out on their own terms while the show was still good and pursue other things.
But if this movie comes together, there's only one thing to say:
And for those who may not want to wait for a Flight of the Conchords movie to get their New Zealand folk fix, Clement has more good news. He recently told Consequence of Sound that a reunion tour is also being planned for 2016:
"We were planning on doing it this summer, but then I ended up doing [Steven Spielberg's] The BFG instead. So it's my fault we didn't do it this time. But we are hoping to announce a tour. We'll announce it before the end of the year, hopefully, and then some time next year get on the road ... after we get some new guitar strings and that sort of thing."
I was lucky enough to see Flight of the Conchords when they were part of The Oddball Comedy Tour a couple years ago, and it was an absolute treat to see the duo on stage playing their jams. No, I wasn't crying out of happiness, it was just raining on my face.
Clearly a Flight of the Conchords movie is probably a long ways off, especially since they just started writing it, but we'll keep you posted if anymore good news surfaces about its development.