'Documentary Now!' And 'Another Period' Get Second Season Orders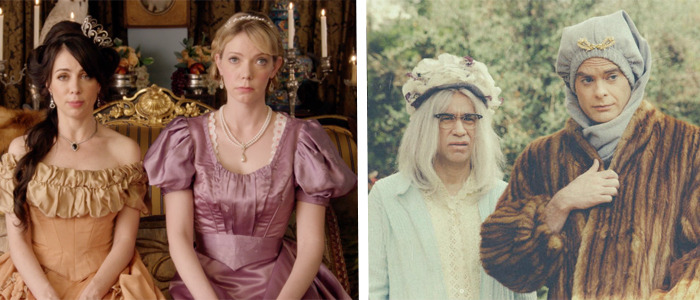 Good news for fans of the two freshman comedy shows Another Period and Documentary Now! has just arrived as both new series have just landed orders for more seasons.
Comedy Central just announced a renewal of the 1902-set faux reality series starring Natasha Leggero and Riki Lindhome while IFC has quickly ordered two more seasons of Documentary Now! with Bill Hader, Fred Armisen and Helen Mirren.
If you've yet to take a chance on either of these shows, you can find out more about them after the jump!
Another Period takes place in Rhode Island back in 1902, following Leggero and Lindhome as two spoiled, pampered, rich sisters who are basically the Paris Hilton and Nicole Richie of early 20th century America. Shot in the format of a reality series, we see the ridiculous exploits of these two sisters as they scheme to get what they want, abuse their servants and simply behave as shamelessly as they can.
There's a great supporting cast behind the two leads, who are arguably the best reason to watch the show, including Lauren Ash, Michael Ian Black, Paget Brewster, Beth Dover, Brett Gelman, Brian Huskey, David Koechner, Jason Ritter, David Wain, Armen Weitzman and Mad Men star Christina Hendricks, a maid who has been renamed Chair. I very much like to see Another Period second season get more entwined with real history.
And then there's Documentary Now!, a series which technically doesn't premiere on IFC until August 20th, but already has an entire episode available to watch on YouTube right now until August 27th:
If you've got 22 minutes to spare, this full episode (which is actually the second in the series) is definitely worth your time as Fred Armisen and Bill Hader spoof documentaries, with each episode of the show being shot in a different style of some of the most famous documentaries. Here's the official synopsis to explain things a little better:
This summer, IFC's newest original comedy series Documentary Now! will lovingly parody some of the world's best-known documentaries. Dame Helen Mirren (The Queen, The Audience) serves as host of this six part series, lending the gravitas that documentaries of this caliber so rightly deserve. Starring Fred Armisen and Bill Hader, each episode is shot in a different style of documentary filmmaking, and honors some of the most important stories that didn't actually happen.
Paying homage to everyone from the Maysles to Errol Morris, topics range from guerilla-style filmmakers who vastly underestimate the danger in exposing a drug cartel to a soft rock doc about a Chicago band's rise to fame with their hit album "Catalina Breeze." Documentary Now! also showcases an intimate portrait of socialite mother-daughter feral animal hoarders and much more.
Documentary Now! has a first season order for just seven episodes, but IFC loved it so much that they locked it down for two more seasons, presumably with just as many episodes for each one. There's not another show out there like this one, and it's the perfect series for documentary and comedy fans.
There's a lot of Saturday Night Live talent behind this series with Lorne Michaels executive producing along with Rhys Thomas and Broadway Video's Andrew Singer. In addition, Thomas directs the show with Alex Buono (also from SNL) and the sketch show's former head writer John Mulaney serves as consulting producer.
Both shows are evidence that comedy is doing very well on cable television right now, much more than increasingly stale network TV, and we're glad to hear that we'll be getting more of each of them.