Tracy Morgan To Host 'Saturday Night Live' In October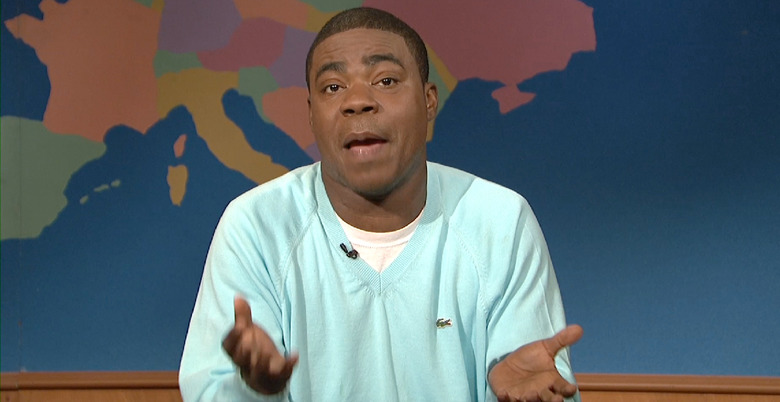 After celebrating a milestone 40th season, Saturday Night Live has officially announced a return date for the 41st season on October 3 with chart-topping, Grammy nominated recording artist Miley Cyrus hosting the season premiere.
But if Miley Cyrus isn't your cop of tea, some actual comedians will be taking the stage as hosts in Studio 8H this October, including one Saturday Night Live veteran who will be making a triumphant return to entertainment in general after a terrible accident took him out of commission over a year ago.
Today, NBC announced that Amy Schumer will make her debut as host of Saturday Night Live on October 10, fresh off the success of her big screen comedy Trainwreck, directed by Judd Apatow. Since the movie also starred former SNL cast member Bill Hader, I'm hoping that maybe he'll make a guest appearance on this particular episode in some capacity.
Schumer has sketch comedy locked down in her Comedy Central series Inside Amy Schumer, but live sketch comedy on Saturday Night Live is something completely different. I'm very interested in seeing how Schumer handles the live aspect of the show. She previously hosted the MTV Movie Awards earlier this year, and seemed to do a fine job, but again, SNL is an entirely different scenario.
In addition, NBC revealed we'll see Tracy Morgan hosting Saturday Night Live for the second time on October 17, which will mark his first on-screen performance since getting in a multi-car crash in June of last year. Morgan is likely to get a huge reception after his condition following the accident made it unclear if he would ever really be able to return to comedy in the same way. Hosting SNL will certainly be quite the test to see if Morgan is back to himself again.
The comedian appeared on The Today Show earlier this summer to talk about the accident and his condition, and things got pretty emotional. I'd be willing to bet that Morgan will get a little choked up by returning to where his career started at a time when he's coming back to show business after a long, hard break. But beyond that, it would be nice if some of Morgan's signature characters, like Astronaut Jones or Brian Fellow, made a resurgence.
Circling back around to Miley Cyrus, this will be the third time she has hosted, and while she's certainly a divisive musical talent, she's done quite well as a host of Saturday Night Live. Her last turn as host resulted in this fantastic parody of one of her own popular songs:
Be sure to stay tuned once October arrives, because I'll be reviewing every new episode of Saturday Night Live, picking the best and worst sketches of the night. As a huge fan of the show, I can't wait to see what the cast brings to air this season.