Details Emerge On Disney's First Marvel Ride, The Iron Man Experience [D23 Expo 2015]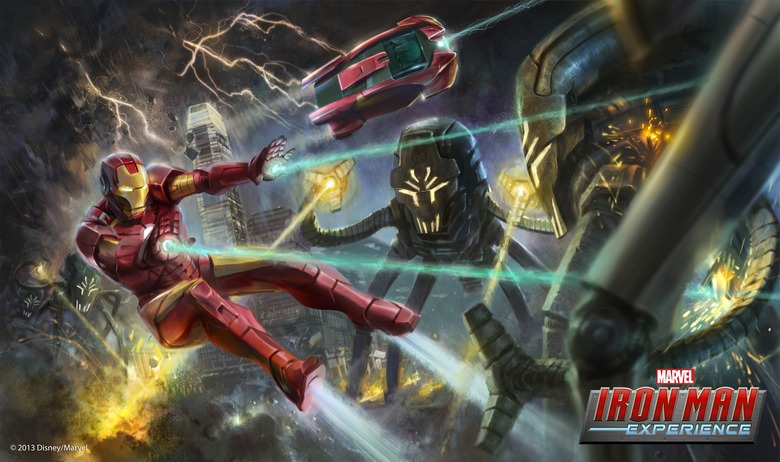 First announced in 2013, the Iron Man Experience at Hong Kong Disneyland will be the first Marvel ride in any Disney theme park. At D23 today, Disney offered an exclusive never-before-seen look at the attraction, along with a host of brand-new details. Learn all about the Iron Man Experience after the jump.
Disney teamed with ILM to create the Iron Man Experience, a simulator ride which has been likened to Star Tours. The attraction will be part of Stark Expo in Tomorrowland. Guests will get to see inventions from Howard and Tony Stark, including the Iron Wing, essentially a really big Iron Man suit that'll let guests see what it's like to be inside Stark armor.
The Iron Wing will take guests on a test flight to the top of Hong Kong's Stark Tower. When HYDRA comes to steal the arc reactor atop the tower, guests will fight alongside Iron Man to stop them.
Take a look at some concept art below:
Iron Man Experience coming to Hong Kong Disneyland #d23expo pic.twitter.com/dF6ztHpU5I

— Chip and Company (@chipandcompany) August 15, 2015
Stark Expo sets up Ironman Experience #D23EXPO pic.twitter.com/7osVt5hu4l

— MouseInfo | Disney News & Fun (@MouseInfo) August 15, 2015
#Ironman Experience in #HongKongDisneyland #Marvel pic.twitter.com/jeGT4vv2nt

— Mrs.Mouseward Bound (@MousewardBound) August 15, 2015
Ironman Experience #hongkongdisneyland #D23Expo #firstlook pic.twitter.com/lsRHd3PiZF

— Its Rannndddyyy (@RandyCruzin) August 15, 2015
And here's some previously released concept art, just to complete the picture:
The Iron Man Experience opens at Hong Kong Disneyland in 2016.