Who Is Constable Zuvio In 'Star Wars: The Force Awakens'?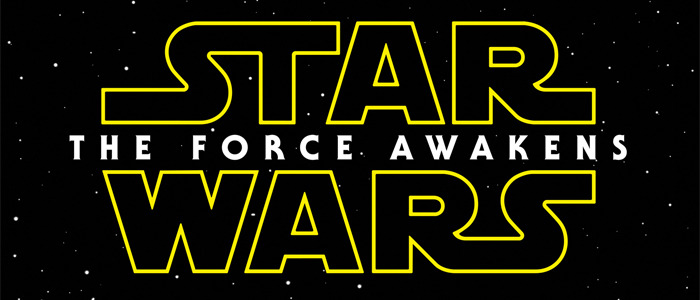 We're just three weeks away from getting a huge load of Star Wars: The Force Awakens information when new toys, books and other merchandise hits shelves on September 4th, which has been dubbed Force Friday by Disney and Lucasfilm.
Since stores actually have to receive these items in advance in order to have them in stock by the time Force Friday arrives, plenty of images are beginning to trickle online, giving us our first look at the new toys on the way, and in some cases, revealing new details and characters.
The latest round of leaks has revealed a new character named Constable Zuvio, someone we haven't heard of in any capacity, not even in rumors. So who is Constable Zuvio in The Force Awakens? We speculate below, but beware of potential spoilers!
First of all, here's an image of the new character's action figure from an eBay listing: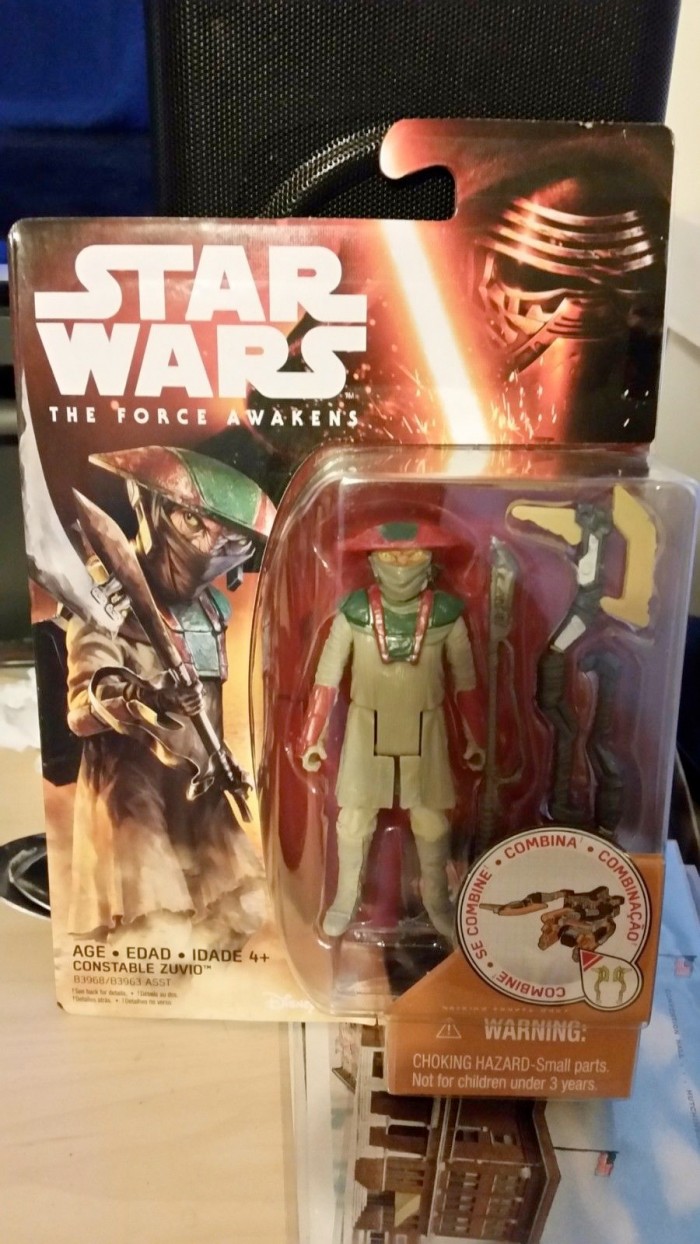 The first image of this character came from the back of the First Order Flametrooper action figure card and can also be seen on the back of the first Finn action figure, but then an image of the actual figure became available shortly thereafter. Unfortunately, there aren't any pictures of the back of Constable Zuvio's figure, so we haven't gotten a glimpse of the very short character description each figure has on the back. That means we're left to speculate just who this character is.
First of all, if Zuvio is a constable, then he's some kind of authority figure. A constable is generally defined as a peace officer, but judging by the look on his face and that deadly weapon, he doesn't seem all that peaceful, though he looks intimidating enough to keep the peace, which would be his job. So where would Zuvio be a constable?
(Update: One Twitter user says they've seen the back of the card, and that it may be that Zuvio "He keeps order on a remote trading post.")
Judging by his look, he could easily be a resident of Jakku. His clothes aren't too dissimilar from what we've seen Rey wearing on the planet in the trailers so far. But there have also been rumblings about our heroes ending up at some kind of castle owned by Maz Kanata, the character played by Lupita Nyong'o in the movie. That would be the kind of place that might need a constable too. Some are wondering if we've already seen a glimpse of Zuvio in trailers, and that this is who hands Leia the lightsaber. But I think it's far more likely that it's Maz Kanata who actually gives Leia her brother's old weapon.
Fans have also pointed out that Zuvio looks very similar to a bounter hunter named Embo from The Clone Wars. Could the two be tied together somehow in the Star Wars universe? Maybe they're just the same alien race. Check out the photo for comparison: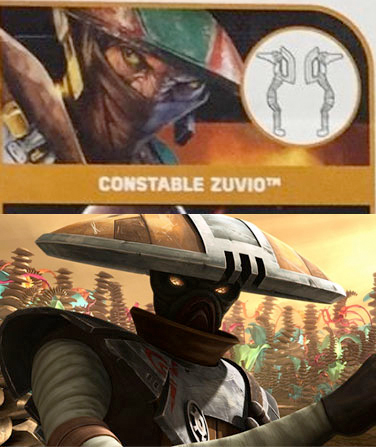 The problem is we don't know how important Zuvio is to The Force Awakens. While he's part of the initial action figure run that we've seen so far, that doesn't mean he's necessarily a key part of the story. After all, we haven't seen any new figures of Han Solo and Chewbacca yet, but we know they're important to the story.
Meanwhile, there are generic First Order TIE Fighter pilots and Resistance soldiers in this run. There's a chance we haven't seen all the figures from the first wave yet, but we'll have to wait and see who else pops up. Here are all the action figures leaked so far: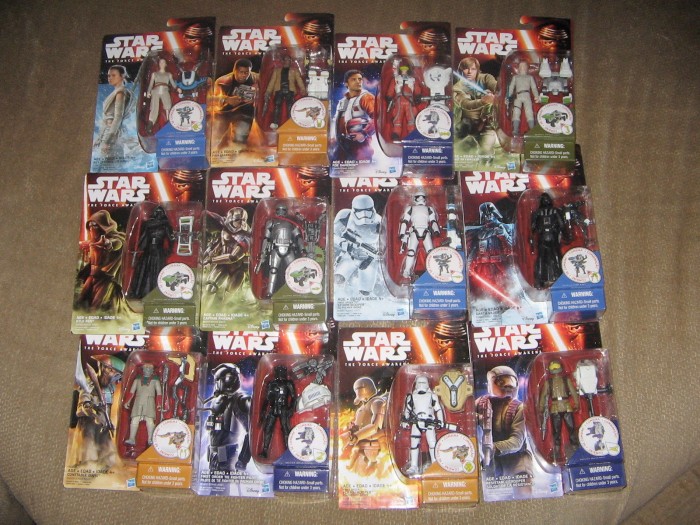 And since this is an alien character, we're also wondering who is playing Zuvio. Most of the supporting cast members we're aware of have already been linked to certain characters, but the one actor we haven't confirmed to be playing a specific role is The Raid star Iko Uwais. And considering how gifted Uwais is when it comes to fighting, he could be quite deadly with that staff.
Anyway, here's one more new character to toss on the pile, right along with the Unkar Henchman and Kanjuklub Gang Member we learned about from the LEGO set leaks recently. Stay tuned as we learn more about The Force Awakens in the coming weeks, especially from D23 this weekend.