Will Smith May Only Produce New 'Bad Boys' Sequels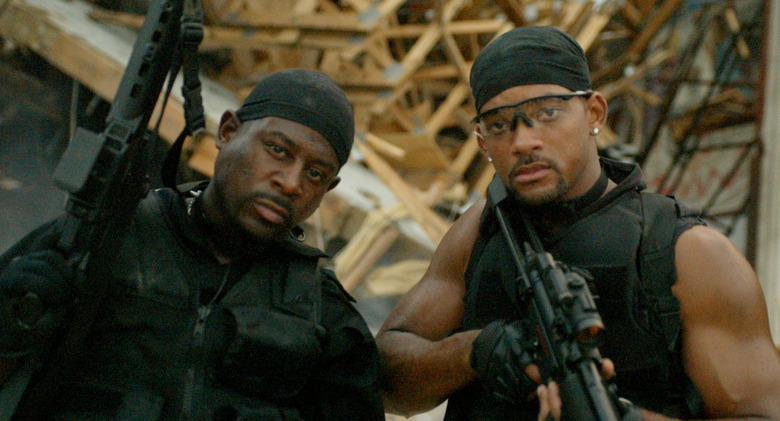 Fans of Michael Bay's action comedy franchise Bad Boys got some good news last week when Sony Pictures slated both Bad Boys 3 and Bad Boys 4 for release in 2017 and 2019. However, fans may want to keep their hype in check, because their favorite parts of the film series aren't locked in place for those movies yet.
As of now, fans were counting on seeing Will Smith in Bad Boys 3, and the studio knows he will be involved in some capacity. But there's a chance that he might only produce the films, and not actually star alongside Martin Lawrence. However, he could just as easily end up doing both. It simply hasn't been determined what the Suicide Squad star wants to do yet.
THR has the latest update on the Bad Boys sequels in a quick profile on Tom Rothman now that Sony's forthcoming film schedule has been released. And it sounds like Rothman may have dated these sequels just to stir up some publicity and excitement without really knowing whether the right pieces would fall into place or not.
Having a Bad Boys sequel without Will Smith in a lead role just seems like a waste of time. Unless you get someone like Dwayne Johnson to join the team and reinvigorate yet another franchise, I don't think fans will be all that thrilled to see just Martin Lawrence return. Though we do know Lawrence will likely be back, since he doesn't have much going on right now, and was just talking about the sequel coming together last year.
Besides the uncertain role of Smith in the Bad Boys sequels, director Michael Bay hasn't been confirmed to get behind the camera for these movies either. Bay is another piece of the puzzle in these movies that feels like a necessity in order to get fans excited, but recently Joe Carnahan was linked to Bad Boys 3, so Bay may just produce this time too. But that seems like a mistake.
After all, Bad Boys II proved to be much more popular than the first installment, and a big part of that is because Bay went a little crazy with the action in that movie to make it even more of a wild ride. It's since gone on to be emulated in Hot Fuzz and still has quite the fan following, so undoubtedly Bay's special brand of action would be wanted for these sequels.
At the same time, perhaps Bad Boys 3 will serve as a pseudo reboot where Smith and Lawrence will pass the torch, maybe to their kids, or to a new duo of mismatched crimefighters causing destruction around Los Angeles. Though I'm hard-pressed to think of another duo skin to Will Smith and Martin Lawrence that I'd like to see together.
Anyway, if Sony sticks with the February 17th, 2017 release date, we'll likely hear more about the status of Bad Boys 3 sooner than later, so stay tuned to see what happens with the sequel.